Event Information
Location
Liberty Bell Court
Belle Mead, NJ
Description
IT IS THAT TIME OF YEAR AGAIN for neighbors, friends, and families to gather, celebrate, and continue a nearly two-decade old neighborhood tradition!!! This is a great opportunity to renew acquaintances and make new ones!

BEER AND BRATWURST and hamburgers and hot dogs will be available in unlimited quantities... PLUS specialty appetizers, side dishes, and desserts prepared by your neighbors!
HACKER-PSCHORR OKTOBERFEST & HOME MADE ROOT BEER will be available on tap for adults and minors throughout the day. The latter is Bruce Allen's home brew that is well liked by our town's Boy Scout Troops. And we will also have lemonade and spring water!
RIDES IN A FIRE TRUCK AERIAL BUCKET have been arranged by Jon Kessler (one of your neighbors and a volunteer fire-fighter) and Fire Company 45. This is a great thrill for individuals of all ages and always a memorable experience! Bring your camera or smart phone and see the neighborhood from a different perspective!
ACTIVITIES FOR THE KIDS vary from year to year... We always have something for them to do and they always have a great time... Activities this year will include face painting, corn-hole toss, jumbo jenga, a movie under the stars, sack races, tug-of-war, et cetera. Plus a live show with a MAGICIAN!!! Thanks to Al DelMonte, Justin Jernigan, Fred Larcombe, Kevin McGuigan, Paul Rohmeyer, Eric Waxman, and others who make these activities possible!
WHEN & WHERE IS IT AGAIN? Saturday, September 23rd (with a rain date of Sunday, September 24th) on Liberty Bell Court right here in Belle Mead. We tap the kegs and fire up the grills at 3:00PM and then go well into the night!
WHAT DO YOU NEED TO BRING? An appetizer if you live in a house with an odd number address and a side dish or dessert if you live in a house with an even number address. Prepare a favorite item using your time-tested secret family recipes and impress us all!
WHAT IS THE COST? $20 per adult (21 years and older) / $15 per young adult (13 through 20 years) / $10 per person for those 6 through 12 years / Kids 5 years and younger are free!!! Members of the Oktoberfest Committee volunteer their time and efforts to make this event a success and foster community spirit... And cover any financial deficit... See last year's results and this year's budget included below...
EARLY BIRD PRICING is in effect through Sunday, September 17th. All tickets purchased beginning Monday, September 18th (within five days of the event) will carry a $5 per person late fee.
QUESTIONS? WANT TO HELP? Email us at millpond08502@gmail.com
____________________________________________________________
FREQUENTLY ASKED QUESTIONS
CAN I INVITE FRIENDS OR RELATIVES?
Sure! The more, the merrier!
DO I HAVE TO BRING MY PRINTED TICKET TO THE EVENT?
No, we trust you...
HOW WILL I BE INFORMED IF THERE THE EVENT IS RESCHEDULED TO THE FOLLOWING DAY DUE TO INCLEMENT WEATHER?
We will inform you via email by 9:00PM the evening before...
HOW ARE THE REVENUES FROM TICKET SALES SPENT?
Below are the results from last year (which included some one-time items) and this year's estimates... There are no costs for renting tables and chairs as they are provided by Fire Company 45. Any surplus is carried over to the following year...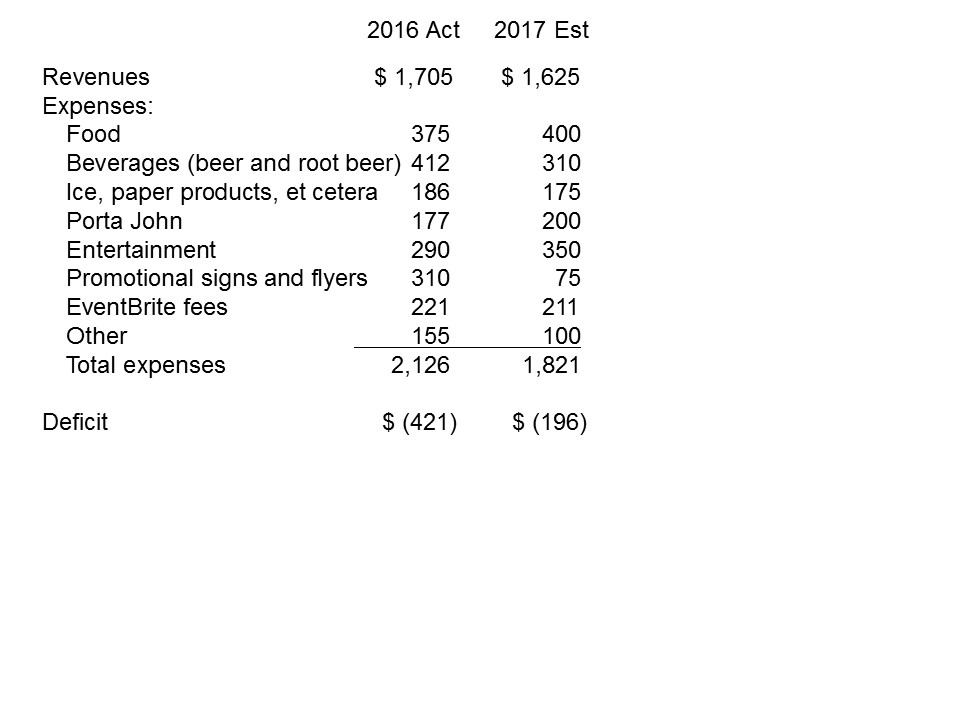 Date and Time
Location
Liberty Bell Court
Belle Mead, NJ