Description
SIERRA NEVADA OKTOBERFEST - MILLS RIVER, NC
SEPTEMBER 30, 2017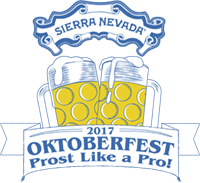 Sierra Nevada's Oktoberfest returns to Mills River, North Carolina to gather thousands of beer lovers together to "Prost like a Pro!" It's that time of year when all of our lederhosen-clad and dirndl-sporting friends travel from far and wide to hoist a stein in celebration. Join us for a fanciful evening of Sierra Nevada festbier, feasting, costumes, dancing, raucous music, and more! Dress your best and brush up on your Chicken Dance skills!
WHEN: Saturday, September 30, 2017, 5pm-10pm
WHAT: Celebrating with Sierra Nevada beer including the new Oktoberfest collaboration, German-inspired feast, musical performances, live glassblowing demonstrations, Chicken Dance contest, Flash Your 'Stache competition, and more!
WHERE: Six Row Field at Sierra Nevada Brewing Co., Mills River, NC (free shuttles from Asheville and Hendersonville or parking provided at WNC Ag Center, see below for details)
---

TICKETS: You must be 21 or older and present a valid ID to attend!
$45.00 General Admission - includes a contemporary German meal provided by the Sierra Nevada Taproom; a commemorative beer stein; shuttle; and one drink or pretzel ticket.

$30.00 Designated Driver - includes a contemporary German meal provided by the Sierra Nevada Taproom; a commemorative stein that you can use for water, lemonade or iced tea (your wristband will indicate that no beer is to be served to you); shuttle; and a pretzel ticket.

$5.00 Beer/Pretzel Tickets - Additional beer, pretzel or cupcake tickets are $5 each and are available for purchase online (recommended) or at the event.
---

BEER: Featuring Sierra Nevada's third Oktoberfest Collaboration Festival Beer. This year we worked with Germany's Brauhaus Miltenberger, whose approach to the classic style we've long admired. The result is a festival beer true to their style – deep golden in color with deceptively rich malt flavor and balanced by traditional German-grown whole-cone hops. We'll make sure there's plenty of other beer styles to try as well.
BEER LIST
Oktoberfest

German IPA

Southern Gothic

Pale Ale

Kellerweis

Otra Vez
---

FOOD: Keeping with tradition, a contemporary German feast will be provided by the Sierra Nevada Taproom. The feast will be available from 5-8pm, and is included with your ticket price. What's more, Bavarian style pretzels with Sierra Nevada mustards and German chocolate cupcakes with coconut-pecan filling are available until 10pm in exchange for a beer/pretzel ticket!
MENU
Sausage & Kraut - Nooner poached bratwurst, sauerkraut

Sauerbraten & Red Cabbage - Brasstown beef roast, Porter braised cabbage

Wood Roasted Pig - Slow roasted Heritage Farms pork, Oktoberfest wholegrain mustard sauce

German Potato Salad - Mustard vinaigrette, celery, green onions and dill

Brussels Sprouts - Roasted brussels sprouts, cranberries

Harvest Salad - Organic baby lettuces, shaved fennel, roasted butternut squash, sunflower seeds and smoked tomato vinaigrette
---

MUSIC: We'll have three bands that'll knock your clogs off!
Mountain Top Polka Band - A traditional "Oompah Band" guaranteed to get your feet moving with accordions, singers, baritones, tubas, harpsichord, clarinets, trumpets, Alpine Horns, cowbells, drummers, guitars, bells, and so much more.

Sirius.B - They'll bring you the finest Absurdist Gypsy Folk Funk Punk that the world has to offer.

Minor Mishap Marching Band - Fun, loud, and in the street! A 14-piece renegade circus-punk brass band—Bourbon Street meets Budapest inspired by a love of street music, brass bands and spectacle!
---

LIVE GLASSBLOWING DEMONSTRATIONS: Introducing Hot Glass Academy and Mobile Glassblowing Studios! They'll be setting up a glassblowing studio at the festival for live demonstrations from local artists. Enjoy glassblowers creating works of art while you watch! Select items will be auctioned off with proceeds benefiting a local non-profit.
---

TRANSPORTATION & PARKING: PLEASE DON'T DRINK AND DRIVE. Really, we can't stress this enough…if you overindulge, leave your car and come back for it the next day. Take the free shuttle or a taxi; you'll make some new friends and keep everyone safe. We also created these great options for you:
1. COMPLIMENTARY SHUTTLES
ASHEVILLE BIKE VALET AND SHUTTLE - Leave your bicycle or car in Asheville and let us shuttle you to the event. Seriously, do it! We're working with Asheville on Bikes to set up a convenient location bike valet and parking lot at A-B Tech Community College, lot B-7 in front of the Dogwood Building! A-B Tech is located at 340 Victoria Rd, Asheville, NC 28801. Shuttles will run continuously beginning at 3:30pm until the festival finishes. What's more, if you ride your bike we'll reward your efforts with a free pretzel voucher!
HENDERSONVILLE SHUTTLE – Shuttle loop taking off at 4:30pm from the Courthouse Annex Parking Lot adjacent to Fourth Avenue and Grove Street. Return trip to leave Sierra Nevada at 10pm to get you back around 10:30pm.
2. PARKING OR TAXI - Complimentary parking available at the WNC Agricultural Center located two miles from the brewery. Shuttles will be on hand to take you to the festival entrance starting at 4pm and will run until after the festival finishes. If you need to, please leave your car overnight in the parking lot and pick it up the next day. All taxi/uber/personal car pick up will be at the WNC Ag Center.
**ALL TAXI/UBER/PERSONAL CAR PICK UP WILL BE AT THE WNC AG CENTER**
**THERE IS NO PARKING ON SITE AT SIERRA NEVADA**
Oktoberfest tickets will be available online only.
Remember, you must be 21 or older and present a valid ID to attend!


PLEASE FEST RESPONSIBLY!
---