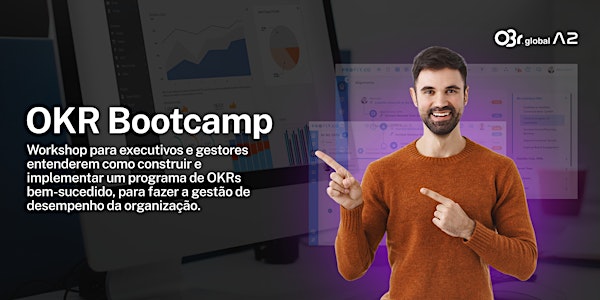 OKR Master Bootcamp - Formando os campeões da sua empresa
OKR Master Bootcamp - Preparando sua organização para aplicar a metodologia que mais resultados confere e impacta o desempenho das empresas
Refund Policy
Contact the organizer to request a refund.
About this event
OKR (Objectives and Key Results) é uma metodologia de gestão muito utilizada por empresas no Vale do Silício. De modo simplificado, pode se dizer que é uma fórmula para definir metas como "Eu vou" (Objetivo) "medido por" (conjunto de resultados-chave). Eles foram criados pelo ex-CEO da Intel, Andrew S. Grove, mas se tornaram mais conhecidos quando, em 1999, um dos investidores do Google, John Doerr, apresentou a metodologia para os fundadores e colaboradores. O método ganhou fama por ter suportado o crescimento do Google – a empresa foi de cerca de 40 pessoas em 1999 para mais de 85 mil atualmente – mostrando que pode ser utilizado tanto por pequenas empresas como por grandes corporações.
Para que a metodologia tenha impacto no negócio, torna-se imperativo entender como pensar e definir os objetivos e, ao mesmo tempo, identificar os KPIs mais aderentes para evidenciar os resultados almejados pelos objetivos estabelecidos. Objetivos são uma declaração concisa da direção desejada pela empresa. Um bom objetivo consegue sensibilizar e engajar as pessoas para que possam imaginar o quão impactante será alcançá-lo. Resultados-chave são os indicadores que confirmam diretamente o atingimento do objetivo caso seja alcançado com sucesso.
O OKR Master Bootcamp tem como objetivo instrumentar gestores e colaboradores com um entendimento prático de como aplicar a metodologia dentro do contexto cultural das suas respectivas organizações. O Bootcamp ajuda os participantes a exercitarem como definir objetivos qualitativos e identificar os resultados chave quantitativos que melhor confirmam o objetivo, além de apresentar técnicas de como buscar e promover um maior alinhamento entre todos os integrantes da organização.
• Como preparar a organização para implementar a metodologia OKR
• Como construir uma jornada para alcançar maior adesão no uso constante da metodologia
• Como acelerar o engajamento dos colaboradores em torno da metodologia
• Como explorar através de exercícios e simulações a construção de um alinhamento coletivo em torno de um propósito maior
• Como identificar e definir "campeões" para implementar a metodologia com sucesso
• Como entender as "barreiras corporativas" para implementação "company-wide" da metodologia
• Estudos de caso de implementações de OKR bem sucedidas
• Estudos de caso de implementações que ilustram "posições" que devem ser evitadas
• Demonstração de plataforma que alinha, organiza e automatiza os objetivos, resultados chaves e tarefas