Description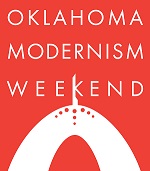 Okie Mod Squad is pleased to announce we're hosting the 2nd annual Oklahoma Modernism Weekend on June 9-11, 2017, in Oklahoma City. Once again, the iconic and very space age First Christian Church at NW 36th and Walker will be home to the fun-packed and informative weekend
FRIDAY from 6 - 8 pm: Come to our Friday Night Preview and get first dibs on the fabulous wares offered at our indoor Mod Market. The $25 admission includes snacks, adult beverages, and our popular Flashback Fashion Show (must be 21 years old to attend).
FRIDAY @ 8 pm: 5-4-3-2-1!!! ... BLAST-OFF !!! ... With his keen expertise and sharp eye for oddball detail, pop culture humorist, Charles Phoenix is coming to Oklahoma City with his exciting and hilarious show that explores America's Tomorrowland era of out-of-this world suburban style, extreme architecture, car culture, tourist traps, theme parks, and much more. He will also share his guide to Oklahoma's extreme and over-the-top architecture, vintage neon signs, and hidden treasures. Sit back and enjoy the fabulous flight as we time travel to a time and place where your imagination will be inspired and your space age spirit will soar ... Tickets only $35.
SATURDAY from 8am - 5pm: Enjoy a fun-filled day of free activities including the vintage Wheel-o-Rama that will feature vintage cars, bikes, trucks, and trailer. Also, check out our lecture series, including one for Evel Knievel fans!, and all of the shopping opportunities available at our indoor Mod Market and outdoor Mod Swap. We'll have food trucks to quench your thirst and hunger, and the Spy will be there broadcasting live!. Missed the church lecture / tour last year? We are offering it again for only $10.
SUNDAY from 12pm - 5pm: Sit back and relax in our comfy bus while we take you to some of the best mid-century and modern homes in Oklahoma City. You'll learn some fascinating history and will get plenty of interior design ideas while touring these beauties. Tickets $50.
If you'd like more information about becoming a vendor for the Mod Market or Mod Swap, please go to our website, okcmod.com, and look under the Events tab. You can also find our group – Okie Mod Squad -- on Facebook.
We hope to see you there!
Organizer of OKLAHOMA MODERNISM WEEKEND