Oklahoma City, OK Truth About VBAC Workshop with Jen Kamel

Saturday, July 25, 2015 from 9:30 AM to 4:30 PM
Event Details
Despite national guidelines and medical evidence calling vaginal birth after cesarean (VBAC) "safe," "reasonable," and "appropriate" for most women, many hospitals and care providers deny women the option. Driven by liability and profit concerns, over 40% of facilities around the country have policies of mandatory surgery for women who have given birth by cesarean previously, and many more have restrictive policies to limit access to vaginal birth. Widespread misrepresentation of the risks and benefits of repeat cesareans and VBAC also fuel a lack of social support resulting from urban legends about the safety of cesareans and dangers of VBAC.
This lack of access exposes women and their babies to a variety of serious, even life-threatening, complications of which women were often never informed prior to consenting to the first surgery.
"The Truth About VBAC" unveils all of that information at a level geared toward professionals (see details for information on continuing education hours) but accessible to parents, including: the benefits and risks of both repeat cesarean and VBAC, the history of why VBAC is so hard to access, how to interpret medical evidence, how to tell if you have a supportive care provider, a woman's rights in birth, and what national guidelines say regarding medical and non-medical factors.
What I will gain in this workshop
Understanding current ACOG VBAC guidelines

How non-medical factors impact medical decision making

Why VBACs are banned in over 40% of American hospitals

Uterine rupture: Risk, rates, & outcomes

The "immediately available" recommendation and how it impacts access to VBAC

The skills to identify a strong medical study

The evidence & recommendation on birth intervals, big babies, & post dates

The risks and benefits of out-of-hospital birth

Mode of delivery and the microbiome

Deciphering between birth myths, scare tactics, and informed consent

The legal rights of the birthing mother

The future implications of repeat cesareans

Why all hospitals aren't the same

Tips on planning a successful VBAC


Your instructor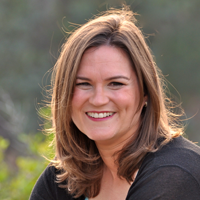 Jen Kamel is a consumer advocate and a leading national speaker on the medical facts and political, historical climate surrounding vaginal birth after cesarean. She is the founder of VBACFacts.com and has brought her workshop "The Truth about VBAC: Politics, History and Stats" to over 900 people around the country, giving accurate, current information about post-cesarean birth options directly to families, practitioners, and professionals.


Is the goal of the class to convince women to plan a VBAC?
VBAC Facts does not advocate for a specific mode of delivery, birth attendant or birth location. This class is a respectful environment and as such, your choices will be respected. There is no "right way" to birth, only the right way for a specific mother based on her personal risk assessment. Learn more about Jen's unique style of advocacy.
Continuing education hours
This program has been approved for 6.6 continuing education hours by the California Board of Registered Nursing. These CEs are accepted by all RN boards, NARM, ICEA, Lamaze, DONA, and CAPPA as well as many other medical and health organizations.
Provider approved by the California Board of Registered Nursing, Continuing Education Provider #16238, for 6.6 continuing education hours. 
Workshop Testimonials
Doctors
"I'm a busy OB/GYN physician with a particular interest in ensuring that women in my region have a safe and well-publicized option for post-Cesarean hospital birthing.
However, my interest in attending Jennifer Kamel's 'Truth about VBAC' workshop in July 2014 was in knowing what was being discussed in the greater birthing community and I couldn't have more pleased, even happily surprised.
Ms. Kamel has put together a presentation that is biased in only one very appropriate direction — that of fully informed patients and birth attendants. She not only presents the most recent ACOG guidelines and the studies by which they were formed, but also leads a well-informed discussion about historical perspectives and the challenges faced by providers and hospitals, careful to never to excuse us from doing the one thing we all promised at our professional outset — to do no harm.
and post-Cesarean birthing and we're all lucky to have someone out front with such informed passion." – Nathan Meltzer, OB/GYN, Spokane, WA
Nurses
"Bravo! I absolutely loved the VBAC Facts Class– I learned SO much! Jen does an amazing job of summarizing the latest evidence on VBACs and repeat Cesareans in a way that is easy to understand. If you're worried that Jen is going to try and talk you into a VBAC– well, that's not how she does things. In this class, Jen simply presents accurate facts and lets the evidence speak for itself. Every woman and family needs to make the decision that is best for them. In this class, Jen has created a non-judgmental environment for people who are exploring their options. I strongly recommend this class to anyone who is interested in learning about VBAC!" – Rebecca Dekker, PhD, RN, APRN, Founder, Evidence Based Birth. Read Rebecca's entire review.
Advocates
"For practitioners or for women exploring their options after cesarean, Jen Kamel's VBAC Facts Class is a must. VBAC is unique in that you have to understand more than just the science in order to wade through the myths and misinformation, and here is thorough, unbiased, and hard-to-find information on the subject as a whole: science, history, and politics. I wish every OB, L&D nurse, and midwife out there could sit through this class — and, even more important, that every woman out there who has had a cesarean had the opportunity to get the truth about what her options are and why they may be so artificially limited. This class has the power to change how we think about VBAC." – Cristen Pascucci, Vice President, ImprovingBirth.org
Midwives
"This webinar was just as valuable for me as it was to sit in four years of midwifery school!! You did an incredible job Jen and I just want to thank you again for all of the trillions of little (and big) labors of love (that I can only imagine) that went into birthing this. Everything you have pulled together is priceless and as a birth professional, brings a huge sigh of relief to me to know that others are out there just as passionate and just as dedicated to educating the people. This makes *my* work much easier as a birth professional." – Serena Lynch
Doulas and Childbirth Educators
"Thank you so much for your wonderful workshop. I have to say, honestly, I was coming into this workshop thinking I knew a lot about VBACs already. I wasn't sure how much I would learn from it. Well, you blew my mind! I'm so grateful to be connected with you!" – Gwendolyn, Doula, Lancaster, PA
"Jen's VBAC Facts webinar is interesting, organized, and most importantly, evidence-based! Some of my favorite parts included the many charts Jen created, which illustrate statistics regarding Cesarean section and VBAC in the U.S. I'm a visual learner, and putting those numbers in perspective really made it click for me. This class would be a great fit for parents, educators, doulas, and any health professional working with mothers and babies. A fabulous educational opportunity!" – Lindsey Rupp, CD(DONA), CLS, PCD (DONA)
Mothers
"This class is all about the facts. It is low pressure. It gives you information from scientific journals that will help you make the best decision for you and your baby. At the end, you get to decide which set of risks you are willing to accept. It opened my husband's eyes. Even though I've been telling him, he needed to hear the research and the numbers. Thank you!!!" — Mom seeking VBA2C, Los Angeles, CA
"My husband and I certainly felt even more confident after the class. I would definitely recommend it to anyone considering a VBAC." — A mom planning VBA1C, Wilmington, DE
Partners
"Jen has a strong understanding of statistics and did an admirable job communicating statistical principals to a non-mathematical community. Also helped explain what a medical study entails, how it is done, and how to interpret these studies." – Father & Math Educator (MA), Sacramento, CA
 FAQs
What is the refund policy?
Your purchase is non-refundable. Those who miss the workshop due to attending a birth can either attend the online class, transfer their registration to the next workshop or donate their ticket to the VBAC Facts Scholarship Fund.
Will we be taking a break for lunch?

Your ticket includes lunch provided by the Cowboy Catering Company if you registered before the morning of Thursday, July 23. We did order a couple extra lunches, and those will be available to registrants based on the time they registered.
If I can't attend this date, can I still take the class?
Registration for the online class will open in the coming months. Subscribe to the VBAC Facts Newsletter to be notified when registration opens.
Have questions about Oklahoma City, OK Truth About VBAC Workshop with Jen Kamel?
Contact VBAC Facts
When & Where

Oklahoma State University OKC, Conference North
900 North Portland Avenue
Oklahoma City, OK 73107


Saturday, July 25, 2015 from 9:30 AM to 4:30 PM
Add to my calendar
Organizer
VBAC Facts
The mission of VBAC Facts is to close the gap between what the best practice guidelines from ACOG and the NIH say about VBAC and repeat cesarean and what people generally believe. While making information relative to post-cesarean birth options easily accessible to the people who seek it, VBAC Facts strives to create a deep understanding of "the why" by providing political and historical context of the current VBAC climate as well as medical and scientific context for understanding obstetrical risk and evaluating birth-related research. VBAC Facts is an advocate for accurate and fair information and does not promote a specific mode of delivery, type of health care professional, or birth location. Read more about this unique approach.
Oklahoma City, OK Truth About VBAC Workshop with Jen Kamel