Description
Here is what you can expect from PRO DAY Combines- Oklahoma:
---
Who:
Development Directors: Professional and Collegiate Athletes
Evaluators: Highly Trained A&M Sports staff
Participants: Athletes from every sport, every skill level, boys and girls, grades 6-12 (Younger athletes may be allowed to participate on a case-by-case basis) please email addmultiplysports@gmail.com
---
What: Only at PRO DAY can athletes test, in a controlled environment, on the exact same combines that the Pros compete in (NBA NFL, MLB etc). Results will provide Tulsa-area athletes their rank on these sports fitness skills and how they compare to their peers.
S

peed

P

ower

E

xplosiveness

A

gility

R

eaction
---


When: Every First Saturday of the Month, register for your 30-Minute Session upon checkout (limited to 4 athletes per session... so sign up with your friends)
Basketball:
8:00a.m., 8:30a.m., 9:00a.m., 9:30a.m., 10:00a.m., 10:30a.m.
Volleyball:
11:30a.m., 12:00p.m., 12:30 pm,1:00p.m., 1:30p.m., 2:00p.m.
Baseball:
3:00p.m., 3:30p.m., 4:00p.m., 4:30p.m., 5:00p.m., 5:30p.m.
Soccer:
6:30p.m., 7:00p.m., 7:30p.m., 8:00p.m., 8:30p.m., 9:00p.m.
---
Where: Add & Multiply Sports 101st and Elm, Broken Arrow, OK (Directly behind Kum and Go)
---
Why: Why not? You're in sports, right? Do you have a competitiveness in every aspect of life including who among your friends can finish their food the fastest? This is the event for you! Tackle the tests that Russell Westbrook, KD, Kyler Murray and others tested to get into the league. It takes away your inevitable dependence on your teammates abilities (good or bad) and solely tests YOU as an individual. Now that you know your individual SPEAR Score you have the knowledge on how to attain your dreams and compete with the BEST.
---
Results: Rankings will be recorded in real time and computed for participants before they leave their session.
---
Cost: $55 includes:
Minimum Five (5) Pro Style combine skills evaluations

FREE T-shirt (size guarantee if registered by May 20th)

FREE Pre-workout drink from PRO DAY Nutrition (NSF Certified for Sport)

Additional 10% OFF lowest marked price for Add & Multiply Sports Fitness packages if purchased on same day of event.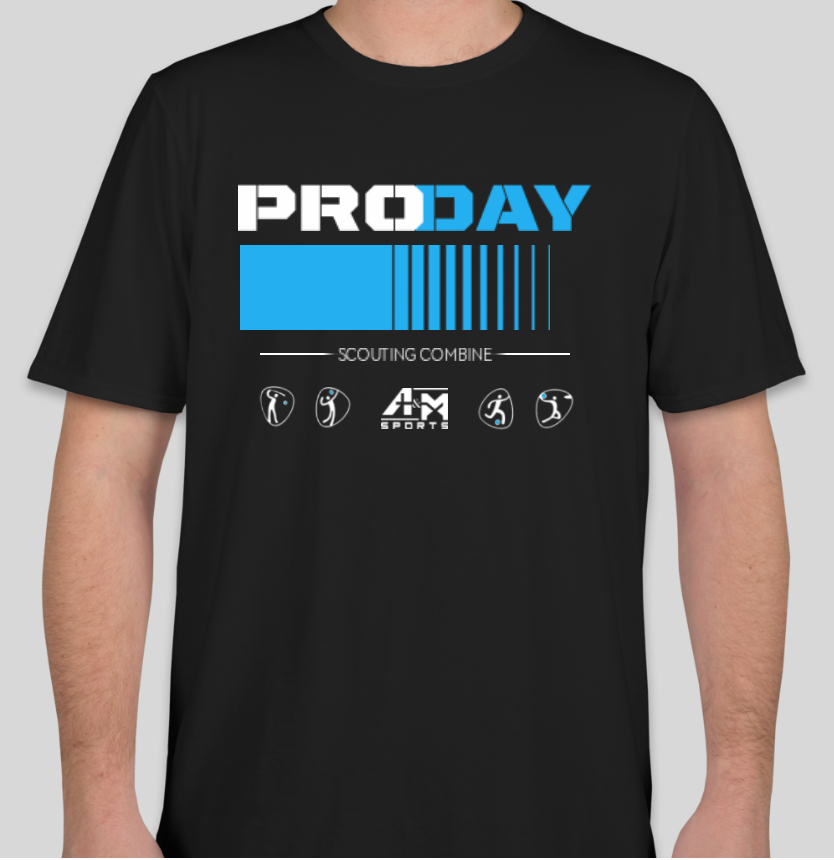 ---
Preparation: Athletic wear. No equipment is needed. It is also recommended you show up 20 minutes prior to your session start time. This allows for time to prepare your athlete for their best results: dynamic warm up/stretching, claim your free pre-workout drink (NSF certified for sport), understand the rules of the combine as disqualification can/have result(ed) for improper skill attempts.
---
Spectating Parents: due to facility limitations, parents may be asked to wait outside. Instead please consider visiting our local business neighbors on the intersection of 101st and Elm during the time your athlete is testing.
---
Contact:
Corey Else -Director PRO DAY Combines- Oklahoma
918-625-4011