Description
OKEx Talks 2019 - Taipei: How to Trade like a Pro
Meet us in the fascinating city of Taipei on 21 March 2019 and enjoy a night of conversations, giveaways, drinks, and nibbles.
Get 25 USDT on Your First Deposit at The Event!

1. RSVP & Attend our Meetup
2. Sign up an OKEx account via this link and make your first deposit
3. Get your bonus (to be distributed by Apr 4)
Terms & Conditions
Promotion Period: 08:00 Mar 21 to 08:00 Mar 28, 2019 (HKT)
Valid for new users only (must register via the link: https://www.okex.com/account/register?channelId=45217)
Not valid for users reside in China
Limit 1 entry per user
The participant must register a new account via the provided link to get 5 USDT; and make a minimum of 5 USDT equivalent deposit to get an extra 20 USDT.
The first 50 new users who made their first deposit will be prized
Each winner can get 25 Tether (USDT)
Prizes will be credited to the winners' OKEx accounts by Apr 4, 2019
In case of any dispute, OKEx reserves the right of final decision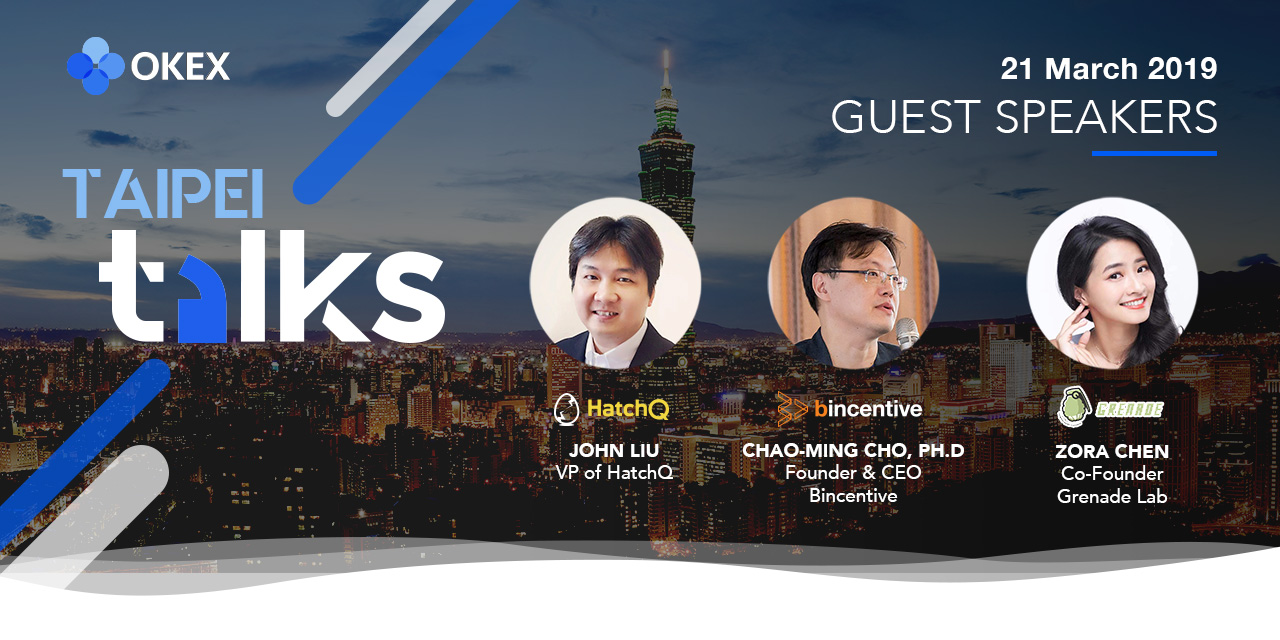 Speakers:
John Liu - VP of HatchQ
Dr. Cho - Founder & CEO of Bicentive
Zora Chen - Co-Founder Grenade Lab
---
OKEx Talks 2019台北:如何像高手般交易

於2019年3月21日在迷人的台北市與我們會面,享受一夜的對話,贈品,飲品和小吃
在活動中首次存款可獲得25 USDT!
1. 回覆並參與我們的聚會

2.通過此連結註冊OKEx帳戶並進行首次存款

3.獲得獎金(將於4月4日前分發)
條款及細則
推廣期:2019年3月21日08:00至2019年3月28日08:00(HKT)
僅對新用戶有效(必須通過連結註冊: https://www.okex.com/account/register?channelId=45217)

不適用於居住在中國的用戶
每位用戶只能參與一次
透過這次活動特別連結註冊的新使用者可獲得5 USDT,若儲值5 USDT等值以上資產入帳號的使用者則可獲得額外20 USDT獎勵
首50位新用戶成功存款將獲得獎賞
每位得獎者可獲得25 USDT
獎賞將在2019年4月4日之前存入得獎者的OKEx賬戶
如有任何爭議,OKEx保留最終決定權
演講嘉賓:
John Liu - VP of HatchQ
Dr. Cho - Founder & CEO of Bicentive
Zora Chen - Co-Founder Grenade Lab