About this Event
OKEx Talks 2019 - Istanbul
Meet us in Istanbul on 11 Oct 2019 to discuss the "Rise of Blockchain in Turkey". Come and enjoy an evening of conversations, giveaways, drinks, and nibbles.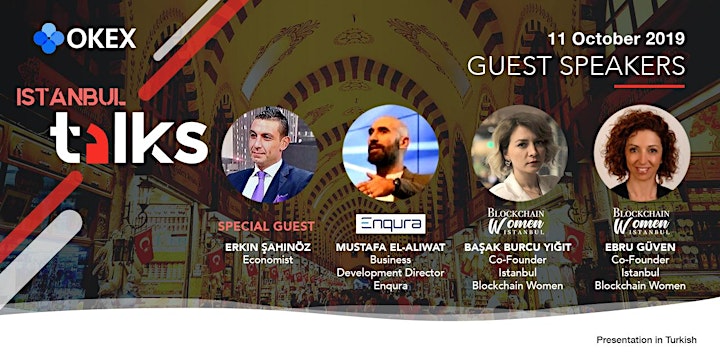 Guest Speakers
Erkin Şahinöz: reputable strategy / business development and economy adviser for many companies and institutions. Sahinoz is a contributing columnist in many Turkish national newspapers, especially Dunya and Sabah, and is regularly conducting current economic and market interpretations on mainstream TV channels; such as NTV, CNN Turk, TRT News and TGRT.
Mustafa El-Aliwat: Business Development Director at Enqura.
Başak Burcu Yiğit: Co-founder of Istanbul Blockchain Women.
Ebru Güven: Co-founder of Istanbul Blockchain Women.
Presentation will be in Turkish.
LIVE Lucky Draw
50 USDT for 6 Lucky Winners!
RSVP & attend our Talk
For new users please sign up an OKEx account via this link
Get your bonus (to be distributed by 31 Oct)
Terms & Conditions
Valid for OKEx users only
Each winner can get 50 USDT
Lucky draw to be done on the event date
Valid only for 6 winners who attend the Talk
In case of any dispute, OKEx reserves the right of final decision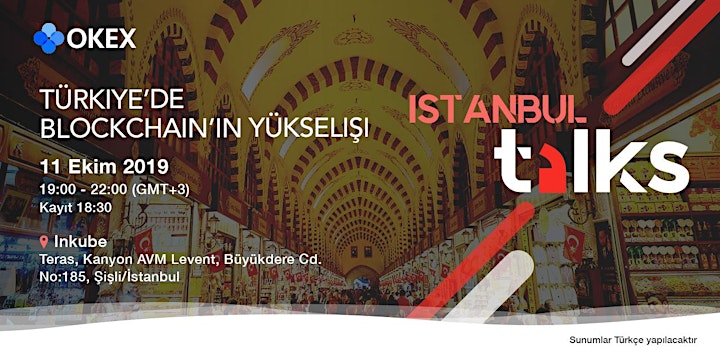 Gelin "Türkiye'de Blockchain'in Yükselişi" konusunu konuşmak için 11 Ekim 2019'da İstanbul'da buluşalım. Keyifli sohbetler ile birlikte atıştırmalıklar, içecekler,giveaway ve networking fırsatlarıyla dolu bir akşamın tadını çıkarın.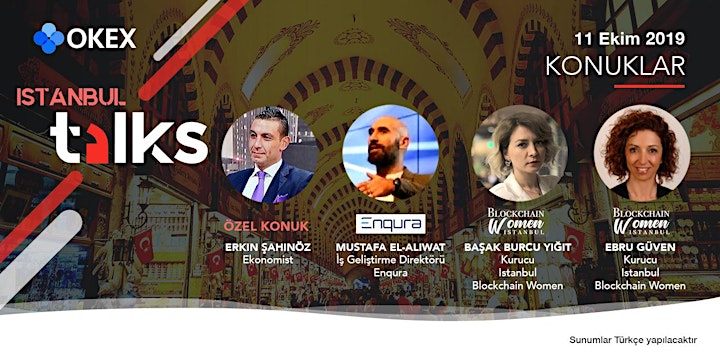 Sunumlar Türkçe yapılacaktır
CANLI Çekiliş
6 Şanslı Kazanan için 50 USDT!
Etkinliğimize kayıt olun ve buluşmamıza katılın.
Yeni kullanıcılar için lütfen bu bağlantı üzerinden bir OKEx hesabı açın
Ödülü Kazanın (31 Ekim de dağıtılacaktır)
Çekiliş Koşulları
Sadece OKEx kullanıcıları için geçerlidir.
Her talihli 50USDT alabilir
Çekiliş etkinlik gecesinde yapılıcaktır.
Sadece etkinlik katılımcıları ödüle hak kazanabilir
Herhangi bir anlaşmazlık durumunda OKEx nihai karar hakkını saklı tutar.
Follow our Turkey Telegram Group to stay up to date on future events and news!