About this Event
Join us on the last leg of our Cryptour in Ukraine - Kyiv!
We are spending Nov and Dec on tour around the beautiful country of Ukraine, bringing your fantastic speakers to discuss the "CryptoRevolution 2020". Bring you friends, family and colleagues, and become a part of the crypto community in Kyiv.
Presentation will be in Ukrainian and Russian.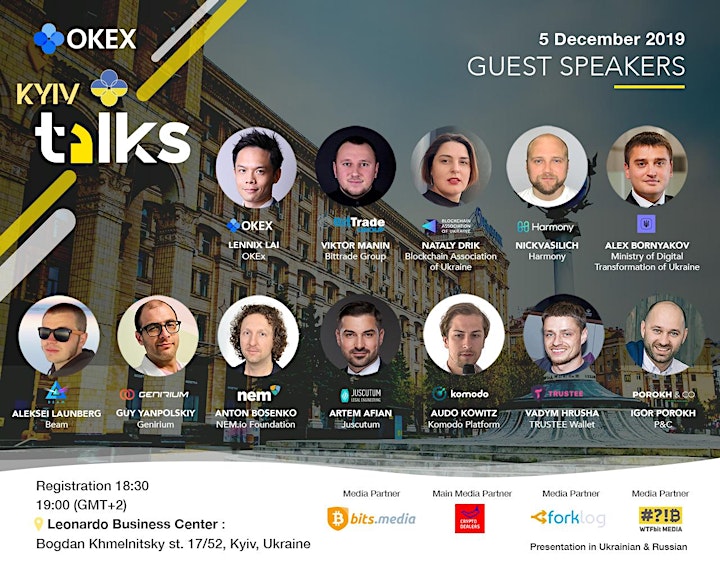 LIVE Lucky Draw
50 USDT for 6 lucky winners!
RSVP & Attend our Talk
For new users please Sign up an OKEx account via this link
Get your bonus (to be distributed by 26 Dec)
Terms & Conditions
Valid for OKEx users only
Each winner can get 50 USDT
Lucky draw to be done on the event date
Valid only for 6 winners who attend the Talk
In case of any dispute, OKEx reserves the right of final decision
GIVEAWAYS
Attend one of our Cryptour Ukraine Talks and get an exclusive, limited-edition T-shirt from us.
7 Nov - Kharkiv
13 Nov - Dnipro
20 Nov - Odessa
27 Nov - Vinnytsia
5 Dec - Kyiv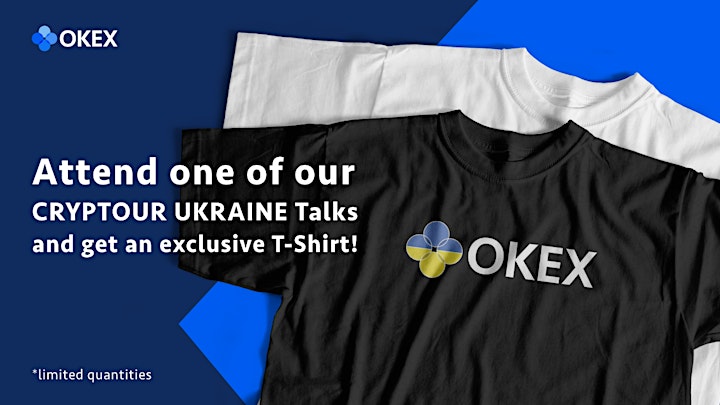 Disclaimer:
Pictures and videos will be taken during this event and this may be used in the future in OKEx's promotional materials. By registering and attending this event, you grant OKEx full rights to use the images resulting from the photography/video filming, and any reproductions or adaptations of the images for promotional purposes. If you do not wish to be photographed, please inform an event organizer.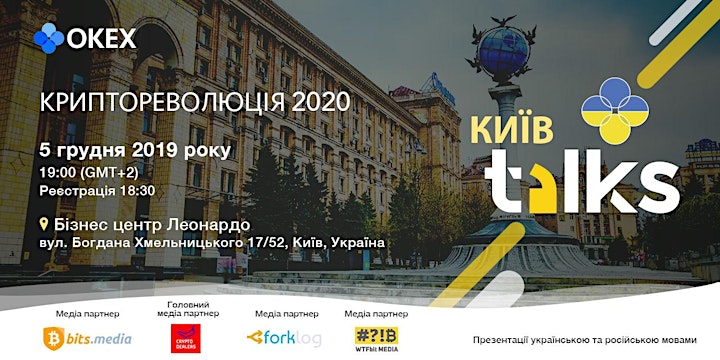 Приєднуйтесь до нашого завершального заходу OKEx Talks у цьому роцi, який пройде у мiстi Київ, в рамках крипто-туру Україною!
Ми проведемо листопад і грудень в турі по Україні, залучаючи найцікавіших доповідачів для обговорення Криптореволюцiї 2020. Приводьте своїх друзів, родину і колег, і станьте частиною крипто спільноти в вашому місті.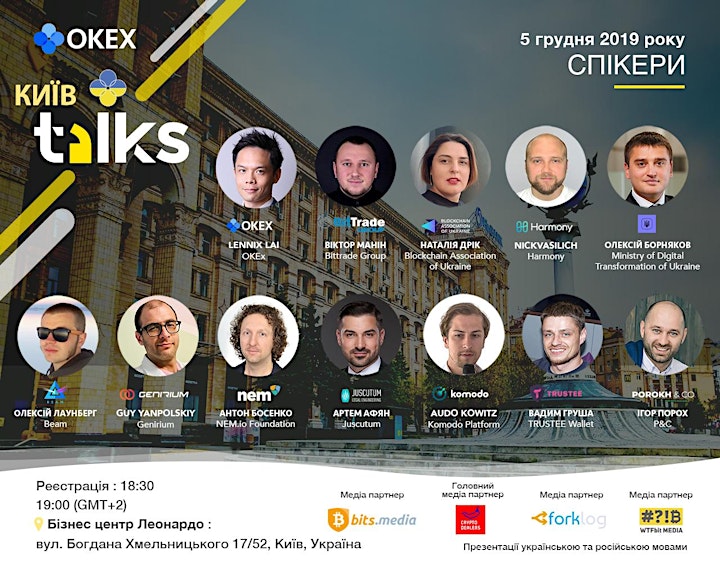 Розіграш різних призів, у тому числі і грошових!
50 USDT для 6 щасливчиків!
Заповнюйте форму реєстрації та приймайте участь в спiлкуваннi на тему Криптореволюції 2020!
Для нових користувачів зареєструйте обліковий запис OKEx за цим посиланням
Умови грошового розіграшу:
Дійсно тільки для користувачів OKEx
Кожен переможець може отримати 50 USDT
Розіграш буде проходити на заході
Дійсно тільки для 6 переможців, які відвідають івент
У разі будь-яких спорів OKEx залишає за собою право остаточного рішення
ПОДАРУНКИ
Відвідайте один з наших OKEx Talks в рамках крипто-туру по Україні i отримаєте від нас ексклюзивну футболку лімітованої серії.
7 листопада - Харків
13 листопада - Дніпро
20 листопада - Одеса
27 листопада - Вінниця
5 грудня - Київ
Приєднуйтесь до української телеграм спільноті біржі OKEx для того щоб бути в курсі останніх оновлень: https://t.me/okexofficial_ua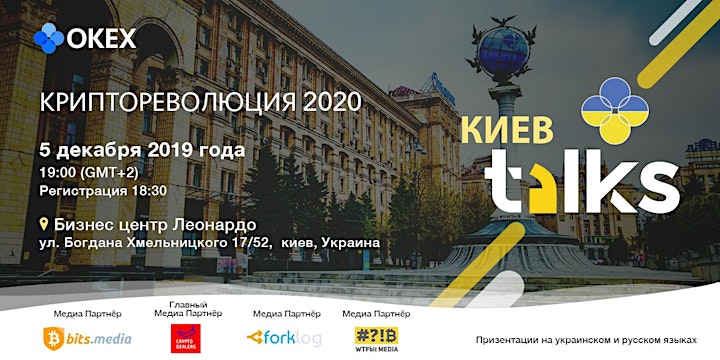 Присоединяйтесь к нашему заключительному мероприятию OKEx Talks этого года, которое пройдет в Киев, в рамках крипто-тура по Украине!
Мы проведём ноябрь и декабрь в туре по Украине, привлекая интереснейших докладчиков для обсуждения Криптореволюции 2020. Приводите своих друзей, семью и коллег, и станьте частью крипто сообщества в вашем городе.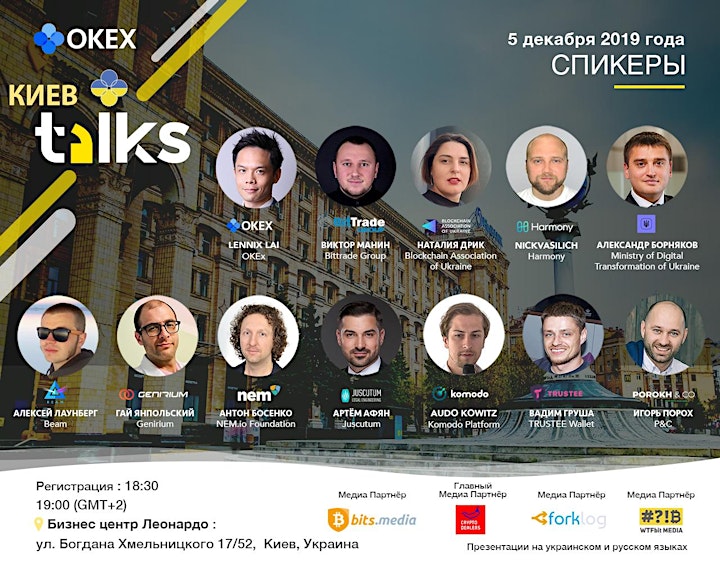 Розыгрыш различных призов, в том числе и денежных!
50 USDT для 6 счастливчиков!
Заполняйте форму регистрации и принимайте участие в обсуждении Криптореволюции 2020!
Для новых пользователей зарегистрируйте учетную запись OKEx по этой ссылке
Условия денежного розыгрыша:
Действительно только для пользователей OKEx
Каждый победитель может получить 50 USDT
Розыгрыш будет проходить на мероприятии
Действительно только для 6 победителей, которые посетят ивент
В случае каких-либо споров OKEx оставляет за собой право окончательного решения
ПОДАРКИ
Посетите один из наших OKEx Talks в рамках крипто-тура по Украине и получите от нас эксклюзивную футболку лимитированной серии.
7 ноября - Харьков
13 ноября - Днепр
20 ноября - Одесса
27 ноября - Винница
5 декабря - Киев
Присоединяйтесь к украинскому Телеграм сообществу биржи OKEx для того чтобы быть в курсе последних обновлений: https://t.me/okexofficial_ru