Description
OKEx C2C Launch Event - Berlin
Meet us in the capital of Germany on 10 April 2019 and enjoy a night of conversations, giveaways, drinks and nibbles.

In view of the fast-growing digital asset community in Germany, OKEx has launched the C2C (customer-to-customer) fiat-to-token trading service for European Union (EUR) on its platform, filling the high demand in the global markets, and at the same time, fulfilling our role of a trailblazer in driving blockchain adoption globally.
Get 25 USDT on Your First Deposit at The Event!
1. RSVP & Attend our Meetup
2. Sign up an OKEx account via this link and make your first deposit
3. Get your bonus (to be distributed by Apr 24)
Terms & Conditions
Promotion Period: 12:00 April 10 to 12:00 April 17, 2019 (HKT)
Valid for new users only (must register via the link: https://www.okex.com/account/register?channelId=45230)
Not valid for users reside in China
Limit 1 entry per user
The participant must register a new account via the provided link to get 5 USDT; and make a minimum of 5 USDT equivalent deposit to get an extra 20 USDT.
Limited to the first 1,000 users only
Each winner can get 25 Tether (USDT)
Prizes will be credited to the winners' OKEx accounts by April 24, 2019
In case of any dispute, OKEx reserves the right of final decision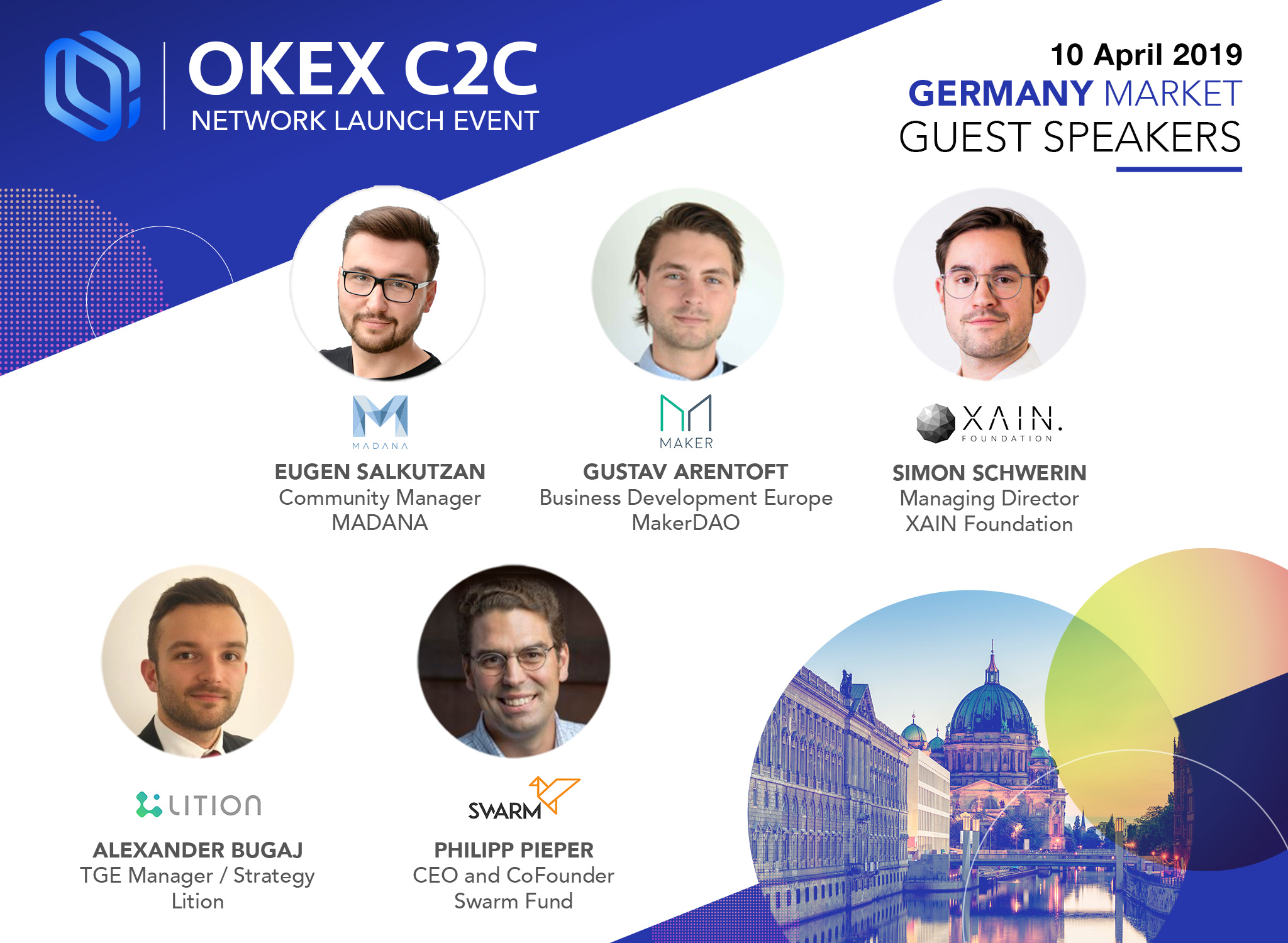 Speakers
Eugen Salkutzan - Community Manager of MADANA
Gustav Arentoft - Business Development Europe of MakerDAO
Simon Schwerin - Managing Director of XAIN Foundation
Alexander Bugaj - TGE Manager / Strategy of Lition
Philipp Pieper - CEO and Cofounder of Swarm Fund
---
OKEx C2C Auftaktveranstaltung – DEUTSCHLAND
Treffen Sie uns am 10. April 2019 in der Hauptstadt Deutschlands und genießen Sie eine Nacht voller Gespräche, Giveaways, Getränke und Snacks.
Angesichts der schnell wachsenden Digital Asset Community in Deutschland hat OKEx den C2C (Customer-to-Customer) Fiat-to-Token-Handelsservice für die Europäische Union (EUR) auf seiner Plattform eingeführt, um die hohe Nachfrage auf den Weltmärkten zu befriedigen und gleichzeitig unsere Rolle als Vorreiter bei der weltweiten Verbreitung von Blockchain zu erfüllen.
Erhalten Sie 25 USDT auf Ihre erste Einzahlung bei der Veranstaltung!
1. RSVP & Teilnahme an unserem Meetup
2. Registrieren Sie ein OKEx-Konto über diesen Link und tätigen Sie Ihre erste Einzahlung.
3. Hol dir deinen Bonus (wird bis zum 24. April verteilt)
Allgemeine Bedingungen
Aktionszeitraum: 10. April 12:00 Uhr bis 17. April 2019 12:00 Uhr (HKT)

Nur für neue Benutzer gültig (muss sich über den Link registrieren: https://www.okex.com/account/register?channelId=45230)

Nicht gültig für Benutzer mit Wohnsitz in China.

Limit 1 Eintrag pro Benutzer.

Der Teilnehmer muss ein neues Konto über den angegebenen Link registrieren, um 5 USDT zu erhalten; und mindestens 5 USDT gleichwertige Einzahlungen tätigen, um zusätzliche 20 USDT zu erhalten.

Nur auf die ersten 1.000 Benutzer beschränkt.

Jeder Gewinner kann 25 Tether (USDT) erhalten.

Die Preise werden bis zum 24. April 2019 auf den OKEx-Konten der Gewinner gutgeschrieben.

Im Falle von Streitigkeiten behält sich OKEx das Recht auf eine endgültige Entscheidung vor.
Gastredner
Eugen Salkutzan - Community Manager of MADANA
Gustav Arentoft - Business Development Europe of MakerDAO
Simon Schwerin - Managing Director of XAIN Foundation
Alexander Bugaj - TGE Manager / Strategy of Lition
Philipp Pieper CEO and Cofounder of Swarm Fund