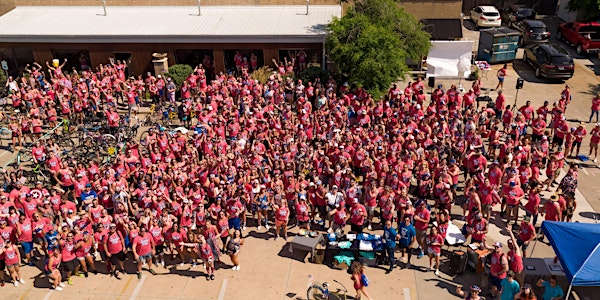 OKC's Tour de Biere 2023
A Bicycle Pub Crawl Raising Money For Local Animal Rescues. Beer. Bikes. Puppies!
Date and time
Saturday, May 20 · 9am - 9pm CDT
Location
Oklahoma City, OK Locally Owned OKC Bars Oklahoma City, OK 73118
About this event
It's that time of year again friends! The 14th annual, OKC's Tour de Biere.  This event will be held on Saturday May 20th, 2023.  For those of you who have participated in this crazy event you know all the proceeds from T-shirt sales go to benefit local animal rescues. The ticket price includes a bad ass, locally designed t-shirt and access to all venues and drink specials along the way.
We ride rain or shine. There will be no refunds, as this is a donation for a GREAT cause!!!! There will be no ticket transfers. All riders must check in with a valid ID under the name on the ticket. Again NO REFUNDS, all sales are final.
There will be limited spots due to bar capacity, so early registration is encouraged, this event will sell out quick.
READ THIS:  BY REGISTERING FOR OKC TOUR DE BIERE 2023 ON THIS WEBSITE YOU ARE AGREEING TO ALL TERMS AND CONDITIONS LISTED BELOW: 
I wish to participate in OKC Tour de Biere, on May 20th, 2023. In signing this release, I acknowledge that I understand its intent, and I for myself, my heirs, executors, administrators and representatives, do hereby agree and will absolve and hold harmless the OKC Tour de Biere Foundation, OKC Tour de Biere LLC, Marisa Frye, the event sponsors, event volunteers, event staff, cooperating organizations, and any other parties connected with this event in anyway together with their respective successors and assigns singularly and collectively, from and against any blame and liability for any injury, harm, loss, inconvenience or any other damage of any kind whatsoever, which may result from or be connected in any way to my participation in OKC Tour de Biere. I understand that there are risks inherent with riding a bike on public streets where many hazards exist. I also understand that there will be a large number of cyclist, some of whom are inexperienced, creating further hazards. I am voluntarily participating in this event with knowledge of the hazards involved and accept all risks of injury, inconvenience, harm, loss or death. I am physically capable of participating in the event and the equipment I will use will be in proper working condition. I acknowledge that I, and I alone, am solely responsible for my personal health and safety, and the personal property I bring with me. I have read the event description and agree to obey all traffic laws and regulations as provided by the Oklahoma State Vehicle Code and the Oklahoma Motor Vehicle Commission. I will completely stop at all stop signs and red traffic lights, ride in the same direction as other traffic, keep off sidewalks, and use hand signals when turning. If I decide to leave the route, I am technically off the ride for the day and am no longer a participant of OKC Tour de Biere. I consent to and permit emergency medical treatment in the event of illness or injury, including transportation to a medical facility, and will be responsible for any and all related costs. I understand that I am encouraged to drink responsibly, and I am encouraged to not drink to excess. I agree not to drive during or after OKC Tour de Biere after consuming alcoholic beverages.