Description
Grassroots Oklahomans don't want to miss this exciting opportunity to hear from experts across the state on how our budget process works. What are the pitfalls and obstacles in creating a budget for the many agencies and departments within Oklahoma. Do tax credits benefit Oklahoma citizens? What influence does the Oklahoma state constitution have on our budget process?
The Oklahoma Growth and Opportunity Summit 2018, focuses on the facts behind Oklahoma's state budget, and the sharing of knowledge to arm citizens with a better understanding of the budget process. Once again OCPA (Oklahoma Council of Public Affairs), AFP-OK (Americans for Prosperity – Oklahoma) and Tulsa 9.12 Project, join forces to deliver a day long educational opportunity to explain the state budget, how departments and agencies are funded, tax credits and our state constitution.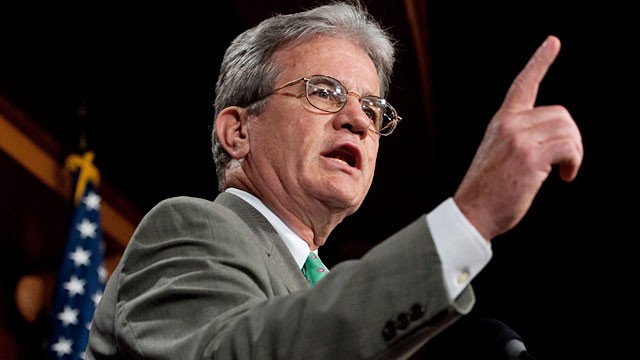 Former Oklahoma U.S. Senator, Dr. Tom Coburn, will keynote the opening session.
** Lunch will be provided.
Growth and Opportunity Summit Agenda
9:00-10:15 – Welcome and Introductions (Main Ballroom)
Welcome and Introductions

Morning Keynote Address by Dr. Tom Coburn

Dismiss for Breakout Sessions
10:30-11:30 – Breakout Session
Main Ballroom: Fact or Fiction – "The Oklahoma Budget"

Presented by OCPA's Jonathan Small and Small Business owner Tom Culver

Room A: Hollywood Handouts

Presented by Grassroots Leadership Academy, Zak Kubin

Additional Presentation by Curtis Shelton, OCPA

Room B: Occupational Licensing 101 – "I need a license to do that?"

Presented by Byron Schlomach, 1889 Institute
11:45-1:00 – Lunch Presentation (Main Ballroom)
Oklahoma Constitution, Everything You've Never Wanted to Know.

Presented by OCPA Executive VP Trent England
1:15 to 2:15 – Breakout Session
Main Ballroom: Inside the OK Education Funding Formula

Presented by Jason Nelson, E Foundation of Oklahoma and Rob Sellers, OSF Kids

Room A: Impacting Your Legislator

Presented by Grassroots Leadership Academy

Room B: Healthcare and Medicaid Reforms

Presented by Tom Newell, Foundation for Government Accountability
2:30 to 4:00 – Legislative Roundtable (Main Ballroom)
A Legislator's View of the Budget "Crisis" and How We Move Forward

Moderator: John Tidwell, AFP Oklahoma

Panelists:

Sen. Julie Daniels

Rep. Kevin Calvey

Rep. Chuck Strohm
Organizer of OK Growth and Opportunity Summit
About Tulsa 9.12 Project
Tulsa 9.12 Project is a conservative grassroots organization whose focus is educating, empowering, and activating concerned citizens; in pursuit of limited government, free markets individual liberty and personal responsibility.
Tulsa Area Republican Assembly (TARA)
The National Federation of Republican Assemblies is a grassroots movement to take back the Republican Party for the vast and disenfranchised majority of its members: Reagan conservatives, who believe in small government, lower taxes, free market capitalism, a strong defense, the right to life, and a decent America.