OK County GOP Lincoln Reagan Dinner: Keeper of the Flame of Freedom
Oklahoma County Republican Committee announces Lt. Governor Mark Robinson of North Carolina as keynote speaker at the Lincoln Reagan Dinner!
About this event
The Oklahoma County Republican Committee's Annual Lincoln Reagan Dinner will be extra special this February, so be sure to put Friday, February 4th on your calendar TODAY!
We are excited to host the outspoken patriot Lt. Gov. Mark Robinson of North Carolina as our keynote speaker. Abraham Lincoln once said, "How many legs does a dog have if you call his tail a leg? Four. Calling his tail a leg doesn't make it a leg." Lt. Gov. Robinson, like Abraham Lincoln, isn't afraid to speak the truth. Boldly.
Co-hosting this event with us is Oklahoma's Lt. Governor - our very OWN, Matt Pinnell! This year's Lincoln Reagan Dinner will ignite the brushfire of freedom in the grassroots of Oklahoma County and inspire attendees to take to heart Ronald Reagan's message, "All great change in America begins at the dining room table." We are the sparks that will ignite that fire, carrying it back to our homes and neighborhoods, and finding opportunities to impact our civic lives!
This fundraiser makes it possible to support our explosive growth in the grassroots movement.
Doors open at 5:30PM so that guests will have ample time to mix and mingle while bidding on silent auction items and previewing some outstanding live auction items! Bring your credit card!
Held in the newly-renovated and extremely posh Embassy Suites on NW Expressway, this night will be a night you simply can't miss. Please take the opportunity to reserve your tickets NOW for this memorable evening.
Sponsorships are available! Contact Ken Warner, 405-640-4633, or Ralph Crawford, 405-229-7591, to be a sponsor!
SOLD OUT!!! $10K Platinum Sponsor will be the Official sponsor of the Keepers of the Flame of Freedom Gala and VIP room! Includes best seat in the house, reserved seating for a table of 10 and a private reception for all of the sponsor's guests with Lt. Gov. Mark Robinson (NC); sponsor will be advertised in all pre-event and event media.
$5K Gold Sponsor receives premium, reserved seating near the host table along with personal VIP passes for all 10 guests; sponsor will be advertised in all print and digital event media.
ALMOST SOLD OUT!!! $2500 Silver Sponsor receives reserved, preferred seating with four VIP passes; sponsor(s) are encouraged to invite guests of their choice to fill the remaining seats; sponsor's names will be listed in all print and digital event media. Perfect for one or two couples who recruit others to join them at their table!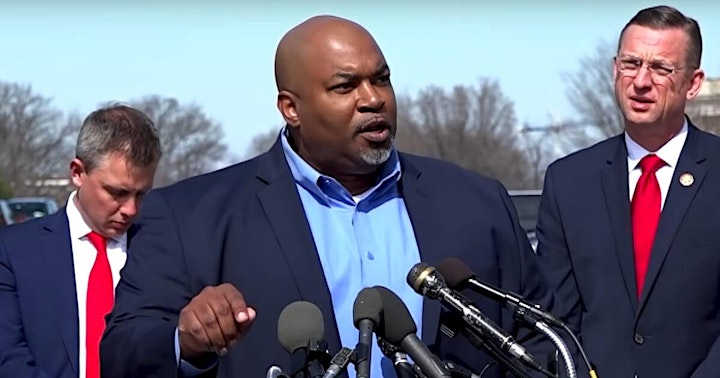 About North Carolina Lt. Governor Mark Robinson
Mark became a household name in 2018 when he delivered an incredibly strong address to the Greensboro City Council defending the 2nd Amendment. This speech went viral and to- date has been viewed over 200 million times online.
Following this speech, Mark began traveling to spread a message of common-sense conservatism: Protecting the life of the unborn, defending the 2nd Amendment, giving parent's back control over their children's education, standing up for law enforcement, addressing veteran's care, and enacting election reform.
It was from this platform that in July of 2019, he launched his historic campaign for Lieutenant Governor of North Carolina.
In the primary election, Mark achieved a strong victory in a crowded field of eight impressive candidates, garnering just over thirty- two percent of the vote, allowing him to avoid a runoff, and send a strong message that North Carolina was ready for a Patriot to lead the state.
Upon his successful general election, Mark Robinson became the first black American to be elected to Lieutenant Governor of North Carolina. He is one of the most sought after Republican speakers in America.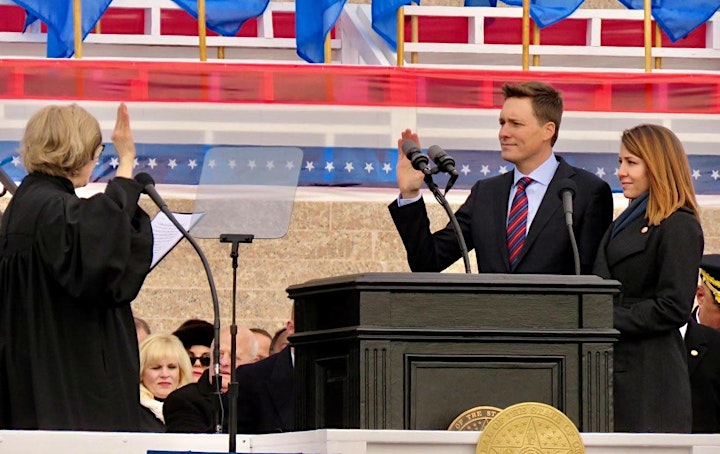 About Oklahoma Lt. Governor Matt Pinnell
Matt Pinnell was elected as the 17th Lieutenant Governor of the State of Oklahoma on November 6th, 2018. In that role, he serves as President of the Oklahoma State Senate, and is a member of multiple constitutional boards and commissions. Lt. Governor Pinnell also serves as Secretary of Tourism, Wildlife and Heritage on Governor Kevin Stitt's cabinet.
In his role as Secretary of Tourism, Wildlife and Heritage, Pinnell oversees the Oklahoma Department of Tourism and Recreation and the state's efforts to promote tourism, the third largest industry in Oklahoma. Pinnell led the successful effort to rebrand the State of Oklahoma, a component of the overall effort to retain and recruit more jobs to the state of Oklahoma.
Pinnell also currently serves on the Department of Commerce executive committee focusing on small business growth, entrepreneurship, and workforce development. Pinnell has a background in entrepreneurship and is a small business owner with his wife, Lisa, who is an inventor and entrepreneur.
Matt is a graduate of Oral Roberts University with a degree in Advertising and lives in Tulsa with his wife and their 4 children who attend Jenks Public Schools.
Venue | Embassy Suites, 3233 Northwest Expy, Oklahoma City, OK 73112
Now with $20 million in renovations for an extensive remodel inside and out, Embassy Suites is the perfect venue for our Lincoln Reagan Dinner.
The hotel's former step-down lobby has been opened up and leveled out with new marble flooring, new woodwork, furniture and lighting, creating an inviting atmosphere.
Oklahoma County Republican Party looks forward to hosting the event in this beautiful spacious location.
Authorized and paid for by the Oklahoma County Republican Committee.
Organizer of OK County GOP Lincoln Reagan Dinner: Keeper of the Flame of Freedom