Location
Philadelphia Navy Yard
1101 Kitty Hawk Avenue
League Island Park
Philadelphia, PA 19112
This is a 1.9 mile Family Fun Walk/Run for all ages. Donate towards our fund on Eventbrite but visit https://bit.ly/ojanae to register.
About this event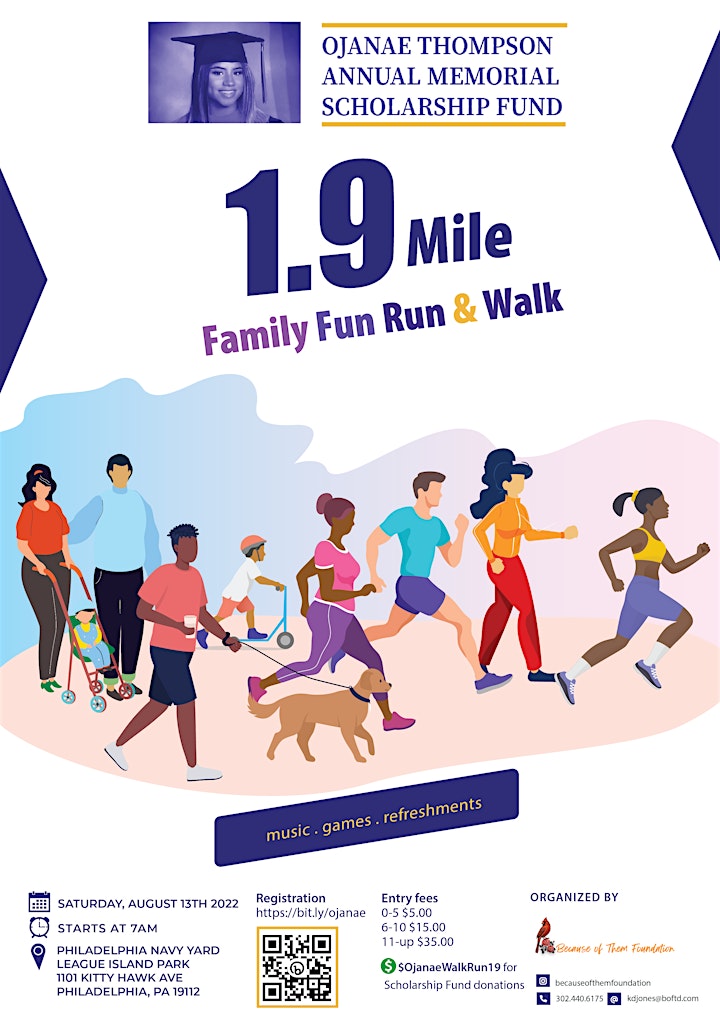 Because of Them Foundation (BOTFD) was established to help future students succeed without having to worry about tuition, food, board, clothing, footwear, childcare, and transportation, a story that is familiar to its founder.
We are excited to share the vision with so many people to help propel the inaugural event to raise funds for a scholarship program. As many of you are aware, our family suffered a tremendous loss in the summer of 2021 and that loss had compelled us with even more vigor to establish this Foundation.
In speaking with Keavin Thompson, he has graciously allowed our foundation to name the first program after his daughter Ojanae Thompson. Ojanae Thompson was tragically murdered in the summer of 2021 in Philadelphia by the hands of gun violence. Keavin Thompson was excited because he was going to be able to put his only daughter through college. But this will never occur and so we are starting this fund in her honor.
The Because of Them Foundation would therefore like to invite you to register for our inaugural event to establish the Ojanae Thompson Memorial Scholarship Fund. We will begin to raise funds through this inaugural 1.9 mile family fun walk/run.
This event is scheduled for Saturday, 13th August 2022 at Navy Yard, League Island Park, 1101 Kitty Hawk Ave Philadelphia, PA 19112. Come join us and hear more about the Foundation or find us at www.botfd.com.
Kindly donate on Eventbrite but SIGN UP today at https://bit.ly/ojanae to register for the event.
We are looking for companies who would like to support us in achieving our mission by being Platinum ($5000), Gold ($3000), Silver ($1000) or Bronze ($500) sponsors. If you cannot help us financially, please consider becoming an in-kind sponsor and provide in-kind support like water, branded materials etc.
The goals of the event are to raise funding for our scholarship fund as well as increase awareness of local services, resources, motivate participants to make positive life & behavior changes, teach self-care and to have fun participating in the family fun walk/run.
The individuals participating will be people of all ages living in the Greater Philadelphia area.
Contact person: Kearline Jones
Contact person number: 302.440.6175