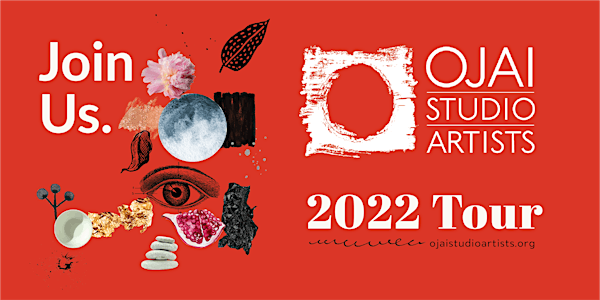 Ojai Studio Artists Tour 2022
The 39th annual self-guided Ojai Studio Artists Tour is FREE this year! Join us on Oct. 8, 9, 10. Tickets are for the duration of the tour.
When and where
Location
Ojai Valley Museum 130 W. Ojai, Ave and Various locations throughout the Ojai Valley Ojai, CA 93023
About this event
PLEASE NOTE: LINKS TO THE MAPS AND THE INTERACTIVE ONLINE TOUR BOOK ARE AT THE VERY BOTTOM OF YOUR CONFIRMATION EMAIL!
The 39th annual self-guided Ojai Studio Artists Tour, one California's premier art events — is set for October 8 - 10.
Once again, our tour will be FREE! You must register to access OSA Tour maps. One ticket gets you three days' access to over 60 open artist studios, all weekend, 10 am to 5 pm.
Saturday, October 8 | Sunday, October 9 | Monday, October 10
Showcasing a bevy of local painters, sculptors, jewelers, ceramists, woodworkers, and glass and fiber artists, the 2022 Studio Tour will be captivating. Over 60 studios throughout the enchanting Ojai Valley will be open each day from 10am to 5pm, with artist demonstrations at select studios.
While you're here, check out Ojai Studio Artists' exhibit, Perception & Persistence, at the Ojai Valley Museum. This show will serve as a preview for Artists opening their studios for the 2022 OSA Tour. They are hosting our exhibit and don't have details about the tour. PLEASE DO NOT CALL THE MUSEUM WITH ANY QUESTIONS!
More about the Ojai Studio Artists: The Ojai Studio Artists Tour has a rich legacy — from its early days in which Beatrice Wood, Horace Bristol, and Otto & Vivika Heino were members — to today's membership of distinguished, award-winning artists.
Come experience one of California's first studio tours with a wide variety of artists in a stunning valley known for its unparalleled beauty and charm, delightful restaurants, and authentic shops in one of the world's most desired travel destinations.
Ojai Studio Artists is committed to safety, so masks may be required based on local regulations and individual artists' preferences.