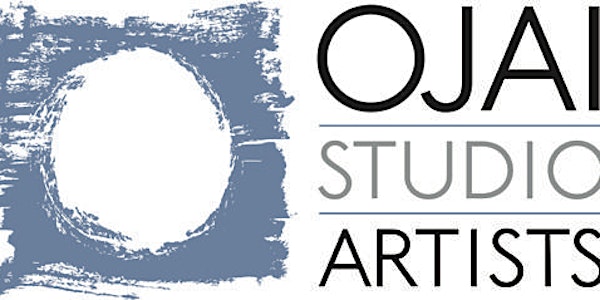 Ojai Studio Artists Tour 2018
When and where
Location
Ojai Valley Various locations throughout the Ojai Valley Ojai, CA 93023
Refund Policy
Contact the organizer to request a refund.
Description
The 35th annual Ojai Studio Artists Tour – a premier art event in California – is set for October 13, 14 & 15. "Over 70 artists will open their studios this year," enthuses Martha Moran, OSA board president. "Painters, sculptors, jewelers, ceramists, a woodworker, digital, glass and fiber artists – and new this year, a clothes designer! The 2018 Tour should be amazing!"
Studios across the verdant Ojai Valley will be open each day from 10am to 5pm. Many studios will be open on Monday, giving collectors an extra day to see all the work.
Another highlight is the "Pre-Tour Artist Profiles" at 7 pm on Friday, October 12 for locals and early arrivals. Led by an OSA artist, the program introduces the work of each Tour artist and is designed to help people plan their Tour schedules. A special feature this year will be a video introducing the 2018 OSA scholarship winners.

OSA's Saturday night reception is a perennial favorite and free to ticket-holders. It provides tour-goers an opportunity to socialize with OSA artists and also serves as a vital fundraiser for OSA's "ArtReach Program," featuring large raffle baskets filled with original OSA art and fine local products, such as Ojai honey, olive oil and lavender.
"We're changing it up this year. It should be great fun and a terrific opportunity to win an outstanding piece of art." Moran explains. "Many of our artists are creating 12" x 12" original artworks, each of which can be bid on individually along with our traditional raffle baskets."
The bidding will kick off on July 1 with an online exhibit on the OSA website. Ticket buyers can get a discount on raffle tickets and bid early. Proceeds from the Tour and Raffle fund OSA's youth art scholarships and funding for community arts needs.
On Sunday night, OSA is again delighted to partner with ​Topa Mountain Winery for a Sunday Wine Social from 5 - 8 pm. The Social features complimentary appetizers and wine specials to artists and Tour-goers. Come relax at the scenic Topa Mountain Winery and enjoy a spectacular view of Ojai's Pink Moment sunset. ***[The OSA artist whose work will be featured on the 2018 Topa Mountain dessert wine label will be announced that night.] Topa Mountain Winery is located at 821 Ojai Avenue.
Tour tickets are $30 in advance, $35 day of event, $20/person for groups of 10 or more, $15 for students, 17 & under free, and cover studio visits all three days and admission to Saturday's Reception and Sunday Social. Tickets and Tour brochures will be available starting in April at OjaiStudioArtists.org.
The Ojai Studio Artists Tour has a rich legacy, from early days which included Beatrice Wood, Horace Bristol and Otto and Vivica Heino, to today's membership of distinguished, award-winning artists.
Come experience one of California's first studio tours with a rich variety of artists in a valley known for its beauty and charm, great restaurants and shops and currently one of the most desired traveler destinations in the nation.