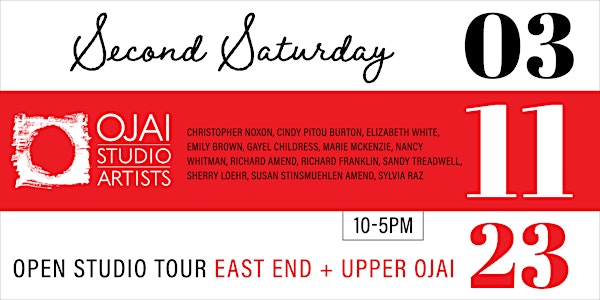 Multiple dates
Ojai Studio Artists 2023 Second Saturday
New! Sign up for one Second Saturday and receive maps for the different neighborhoods monthly!
When and where
Date and time
February 11 · 10am - August 12 · 5pm PST
About this event
"SECOND SATURDAYS" OFFERS INTIMATE, UNHURRIED tours of OJAI ART STUDIOS
Offering neighbors, collectors and the curious a rare opportunity to experience world-class artwork in the spaces where it's made. Studios across the Ojai Valley will open to the public in neighborhood-specific tours on the second Saturday of every month from February through August.
Painters, sculptors, potters, weavers, printmakers, glass artists, jewelers and apparel makers are participating in the Ojai Studio Artists (OSA) Second Saturday program, kicking off on February 11 with eleven artists in and around the Oakview area opening their doors.
Unlike the October tour, a three-day extravaganza in which more than 70 OSA artists open their doors, Second Saturdays offer a more casual and intimate opportunity to see Ojai artists at work. Crowds are smaller and artists are more available to meet and talk.
"Second Saturdays are the best-kept secret of the local arts scene," says Linda Taylor, OSA's president. "There's no way to see everything in the October tour - there's just too much ground to cover. By breaking up the artists into smaller neighborhoods, Second Saturdays gives you a chance to take your time and really appreciate the incredible array of artwork being made here."
The February Oakview lineup includes landscape painter Shahastra Levy, painter of fantastical dreamscapes of the Ojai valley, Carlos Grasso, maker of gorgeous mystical abstractions and famed fashion printmaker Leslie Plimpton.
The March event features 14 artists from the East Side of the Valley, followed in April by a Downtown group, the Arbolada in May, Mira Monte in June, the West End in July and Meiners Oaks in August. Check the OSA website for a full list of participating artists.
Ojai Studio Artists supports community education that promotes art awareness, preparing the next generation of artists, and celebrating the importance of the arts within the region. To date, OSA has given more than $200,000 in art scholarships. It also purchases art books for local libraries, partners with schools in teaching classes and mentoring students, and supports public art projects and other community programs.
For more information and a full list of artists, see the OSA website: www.ojaistudioartists.org.
Frequently asked questions
Where is my map for the studios?
Do I have to sign up every month to receive a map?
I thought an artist was going to be participating and they aren't on the map?