OIW 2018: Finpact - Global Impact through Financial Technologies
Description
British Embassy Oslo – Department for International Trade and Oslo Fintech Hub are bringing to life the concept of Finpact – Global Impact through Financial Technologies, in partnership with Nordea. This is part of Oslo Innovation Week 2018, September 24-28! Learn more at www.oiw.no #oiw2018
In recent years, Fintech is becoming more and more popular. It has not only disrupted the traditional banks but also become a global power source for bridging the gap between finance and global impact, increasing profitability while lifting low-income populations out of poverty.
We are therefore proud to introduce, in cooperation with Nordea, the first ever Finpact event! The focus will be on the massive opportunities that lie in the intersection between fintech and global impact. We believe that true global impact can be made through financial technologies in cooperation between startups, corporate sector and governments.
Agenda:
14.00 – 14.05 Introduction by Anja Reiler (moderator for the day)
14.05 – 14.15 Welcome by the British Embassy by Richard Wood, Ambassador
14.15 – 14.25 Why Oslo + fintech + impact by Liv Freihow, Oslo Fintech Hub
Theme One - Green finance
14.25 - 14.35 - Intro by Thina Saltvedt, Nordea
14.35 - 14.45 - Case presentation - Empower by Wilhelm Myrer
14.45 - 15.05 - Audience discussions moderated by Anja Reiler
15.05 - 15.15 - Finpact from a UK perspective by Clare Black - Strategic Communications Advisor, Innovate Finance
15.15 - 15.25 - Finpact from a corporate perspective by Liina Aagedal - Strategic Partner, Group Digital at Nordea
15.25 - 15.35 - Finpact from a tech perspective by Snorre Lothar von Gohren Edwin - Diwala
Theme Two - Impact and profits hand in hand
15.35 - 15.45 - Intro by Espen Daae, Ferd Social Entrepreneurs
15.45 - 15.55 - Case presentation David Alexandre Salvail, Zeipt
15.55 - 16.15 - Audience discussions moderated by Anja Reiler
16.15 - 16.25 - Finpact from a political perspective by Kjetil Lund, The Vice Mayor for Business Development and Public Ownership in the City of Oslo
16.25 – 16.55 Investor Debate – Why invest in Finpact
- Moderated by Rikke Høvding, NVCA (Norwegian Capital and Private Equity Association)
- Charlotte W. Rakner, PwC
- Trond Riiber Knudsen, TRK Group
- Jonas Tesfu, Pangea Accelerator
- Randi Marjamaa, CEO Nordea Liv
+ More to come
16.55 - 17.00 - Final remarks
18.00 - 20.00 Reception - by invitation only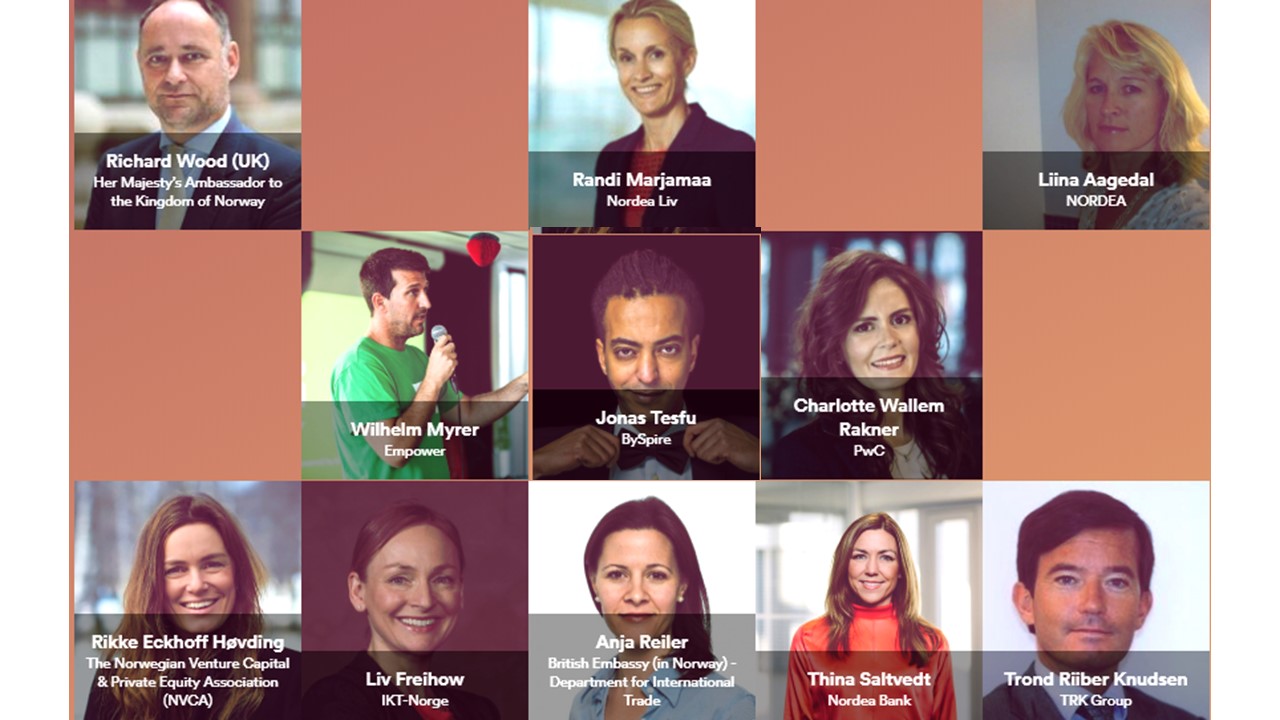 From 14.08, we change our refund policy to no refund option