Meet and socialize with other LGBTQ+ folks from Out In Tech while participating in Out in Tech's Community Research Program.
About this event
Want to meet other LGBTQ+ UIUX Designers and Researchers? Tired of Zoom and want to try out new things? Want to learn about UX Heuristics and Research on the field? This is the event for you! Join us as we try out different social video conferencing platforms for a series of months. Enjoy and attend as a Guest - or be EXTRA and join the RUXSTAR Program. We aim to learn and have fun!
Introducing Happy Hour Labs - the event series for RUXSTARS, Out in Tech's UI/UX Community Research Program. This year, we want to gain insight on the Experiences of Social Video Conferencing and how we can create more engaging events. Learn more about RUXSTARS.
Every month we will feature and use a different platform to use for our Happy Hours - expect things to get crazy and face issues along the way. This is no perfect event and we want it that way - this event is meant to explore a different way events would be.
-------
For May: We will be using Kumospace. Immersive video chat built for groups. Say goodbye to boring video calls.
This event is first come - first serve.
-------
Link with 14k LGBTQ+ tech professionals in our Slack channel.
-------
Note: Out in Tech's Code of Conduct applies to all our spaces, online and IRL.
For this Happy Hour Labs, we will be having a Cinco De Mayo Themed Party on Kumospace!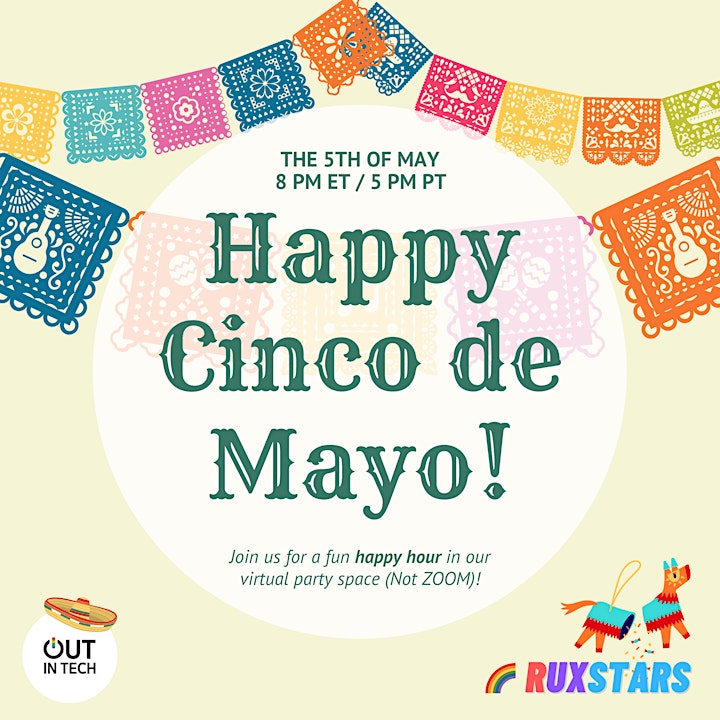 Organizer of OiT #UIUX RUXSTARS | Happy Hour Labs - May