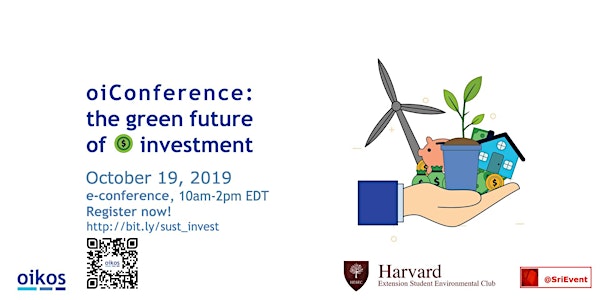 oiConference: The Green Future of Investment
When and where
Location
https://harvard-dce.zoom.us/j/109424408 Virtual Conference
Description
oikos International and Harvard's Environmental Club are partnering to bring you a virtual, student-led conference focused on helping you learn about Sustainable Investing.
WEBINAR LINK - https://harvard-dce.zoom.us/j/109424408
This series of workshops will be held in an interactive style, encouraging you to learn and discuss. Each session will run about 45mins long with plenty of time for Q&A. Come learn from experts in the field, your fellow students, and professors/researchers.
---
Agenda - Saturday, October 19, 2019 (EDT):
Session 1, 10am - What does Sustainable Finance/Investing Mean?
Session 2, 11am - The Environment and Profit - an Industry Perspective
Session 3, 12pm - Innovation, Sustainability, and the Financial Revolution
Session 4, 1pm - World Cafe and Breakouts - Reflection and Networking

Read more about the agenda here - Google Doc
Read more about the speakers here - Google Doc
---
Purpose:
Sustainable Investing is a growing niche within traditional finance as investment professionals around the world are increasingly considering Environmental, Social, and Governance (ESG) factors in their decision making. This conference will delve into this niche by having both theoreticians and practitioners present their take on the current state and the development of sustainable investing. We will critically discuss the connections between theory and practice as well as the limits of this approach, and we will question the validity of the supposed trade-off in our investment decisions between profitability, risk, and considerations for the planet and people.
Are you curious about how you can get involved? Do you want to learn what all the jargon really means? Is Responsible Investing just a trend? We will tackle these questions, and more together!
---
Participation:
This eConference will be live-streamed globally. ZOOM video conferencing will be used. You do not have to download the application, but for the best quality video, it is advised to do so. You also have the option to call in using your phone. Click this link to participate
---
Partners:
Thank you to oikos International, Harvard's Environmental Club, and SRI Events for their support and sponsorship.