Event Information
Refund Policy
Contact the organizer to request a refund.
Eventbrite's fee is nonrefundable.
About this Event
Overview
On Friday, March 6th, the 34th SXSW was cancelled by The City of Austin. 400,000+ techies, creatives, film-makers & artists were scheduled to attend this year. OHUB followed suit by cancelling it's Austin in-person programming and hiring experience. Opportunity Hub (OHUB) was preparing for 500 Black & Latinx college students from around college the nation, including HBCU's & MSI's in Atlanta, to attend its 5th annual OHUB.SXSW & HBCU@SXSW program for an immersive exposure, learning, mentoring, networking & hiring experience of a lifetime.
In an innovative pivot to continue forward with the planned program, OHUB is partnering with The Legacy Center (Jay & Ernestine Morrison), Momentum @ Morehouse & New Birth Church (Dr. Jamal Harrison Bryant) for the Atlanta experience; and the Economic Development Corporation of Kansas City, KC.UP & Civic Council's KC Global Design Group for the Kansas City experience. Now that we're going virtual, we're going to admit all 1,500 of this year's applicants into the program; and open up the experience globally.
Also, as part of this year's SXSW, OHUB was planning to announce some major new partnerships:
OHUB launches AI platform with SAM.ai to scale Black & Latinx connections, community, hiring, startups, investment and multi-generational wealth creation
OHUB launches new code school with Momentum Learning and Morehouse College
OHUB launches future of work initiatives with The Legacy Center & New Birth
These major announcements will be now announced as apart of OHUB's pivot of OHUB.SXSW online to ensure that this year's cohort is #BlackAndHired.
Like other small businesses and foundations, OHUB also stands to lose more than one million ($1M US) dollars due to the cancellation of SXSW and is requesting that anyone and everyone that can support the active GoFundMe that was launched to support this year's program and beyond do so.
#BlackAndHired is our theme for 2020 and this decade as it is predicted by McKinsey that Black America will lose 4.5 million jobs this decade due to automation.
We've got work to do, together.
Participation Options
Full virtual badge (Fri, Mar 13; Sat, Mar 14; Sun, Mar 22)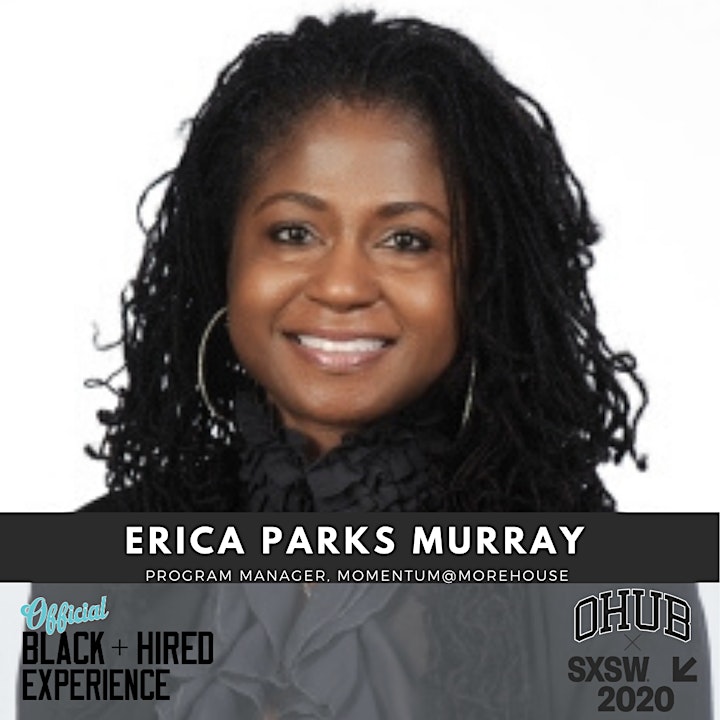 Co-Host
Erica Parks Murray, Program Manager, Momentum@Morehouse
Erica is the Program Manager for Momentum@Morehouse responsible for overseeing the student experience and collaborating with Morehouse College on the delivery of the code school experience. Erica started her career in a Human Resources Leadership Development Program at Lockheed Martin Aeronautics. Today, she has over two decades of practical, hands-on consulting experience in the demanding field of information technology, with most of her career focused on effectively implementing and managing Human Resources Management projects. She also led her own consulting business guiding companies to navigate the people-driven dynamics and changes associated with growing business and technology needs. Erica has a lifelong passion for people and organizations and pushing mindsets beyond familiar norms.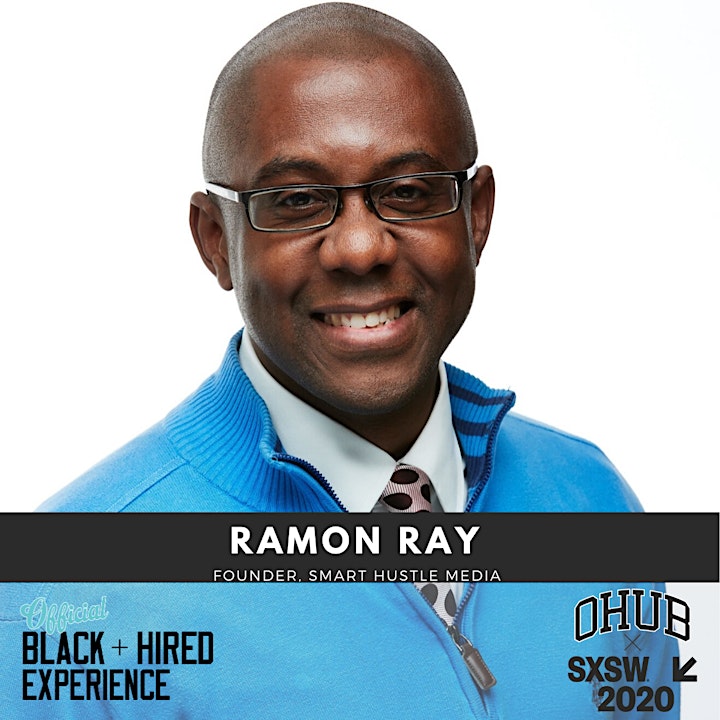 Co-Host
Ramon Ray, Founder, Smart Hustle Media
Ramon is an entrepreneur, best selling author and global speaker. He's started four companies and sold two of them and is the founder of Smart Hustle Media. Read more about Ramon at www.ramonray.com. 
Ramon's interviewed President Obama in the President's first live video chat, was with Ivanka Trump at the Global Entrepreneurship Summit in India and has testified to Congress about small business advancement.
Ramon eats burnt pancakes and bacon on Saturday's, eats an apple every day and plays piano.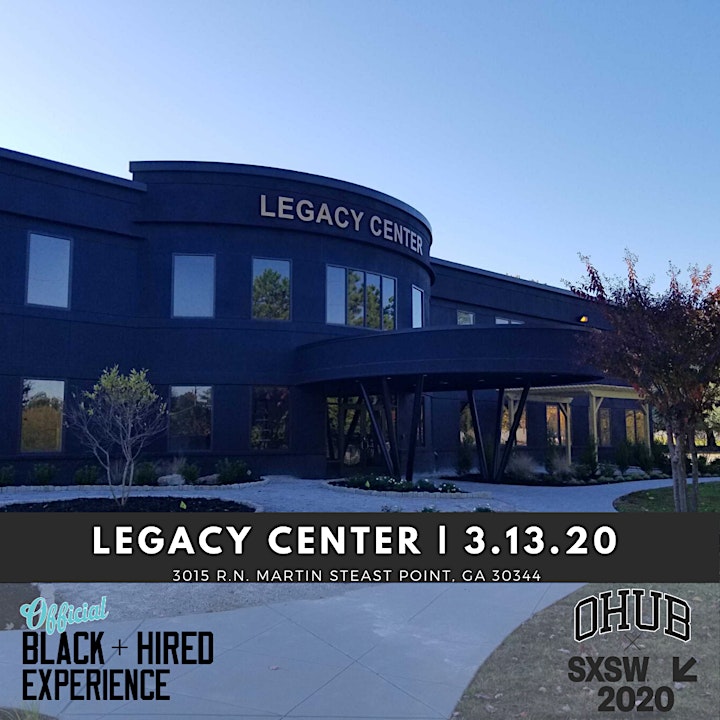 Friday, March 13th, 9A - 8P ET | The Legacy Center
Join Jay & Ernestine Morrison, Founders, Tulsa Real Estate Fund on Friday, March 13th for a day of live viewing of the #BlackAndHired Webinars and tours of The Legacy Center. 9A - 8P ET. At 6.30P ET, Jay & Ernestine will host a Corner Class on Multi-Generational Wealth Creation at the intersection of The Future of Work, Real Estate & Equity Crowdfunding.
Schedule
Deloitte Hiring Presentation, 09.00A - 10.00A
Momentum@Morehouse, 10.30A - 11.30A
Twitter Hiring Presentation, 12.00P - 01.00P
Capway Finacial Education Presentation, 1.30P - 2.30P
York Exponential Fourth Industrial Revolution Presentation, 3.00P - 4.00P
KC Global Design Group Hiring Presentation , 4.30P - 5.30P
Fireside Chat w/ Janice Bryant Howroyd, Executive Chairman & CEO, ActOne Group; Brett Howroyd, CEO, AppleOne Employment Services
Corner Class w/ Jay & Ernestine Morrison, Founders, Tulsa Real Estate Fund , 6.30P - 7.30P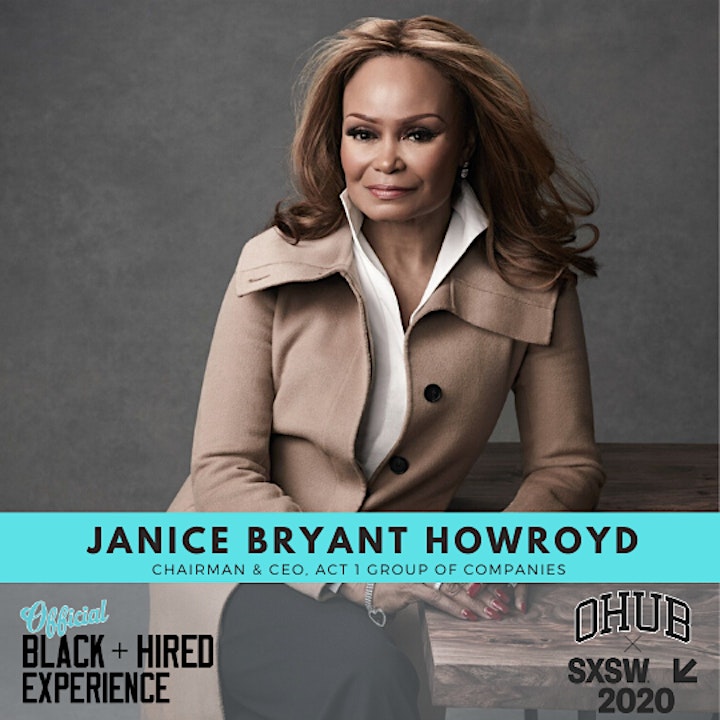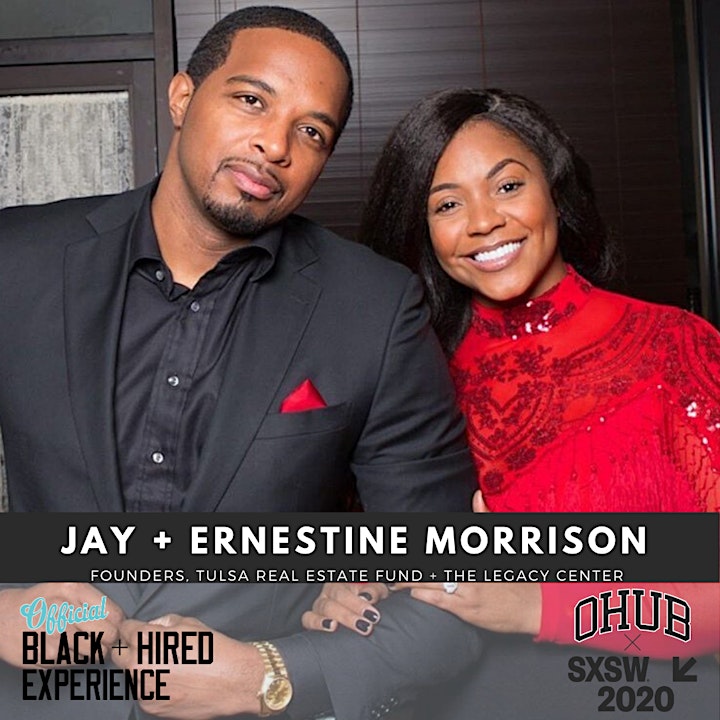 Saturday, March 14th | The Legacy Center
Legacy will host the production of Day 2 of OHUB's #BlackAndHired Virtual Experience
Schedule
Keeping 4.5M Jobs in the Hands of Black America, 09.30A - 10.30A
How to be Ethical in the Bleeding-Edge Wild West, 11.00A - 12.00P
Are "Equity Districts" the New Smart Cities, 12.30P - 1.30P
Creating True Inclusivity in Tech Hubs, 2.00P - 3.00P
Venture CapitaALL: Bringing Equity in Funding, 3.30P - 4.30P
Coding is Key for HBCU's, MSI's and YOU, 5.00P - 6.00P
6th Annual Inclusive Innovators, Investors & Influencers Reception, Awards & Momentum@Morehouse Launch Event, 7.00P - 10.00P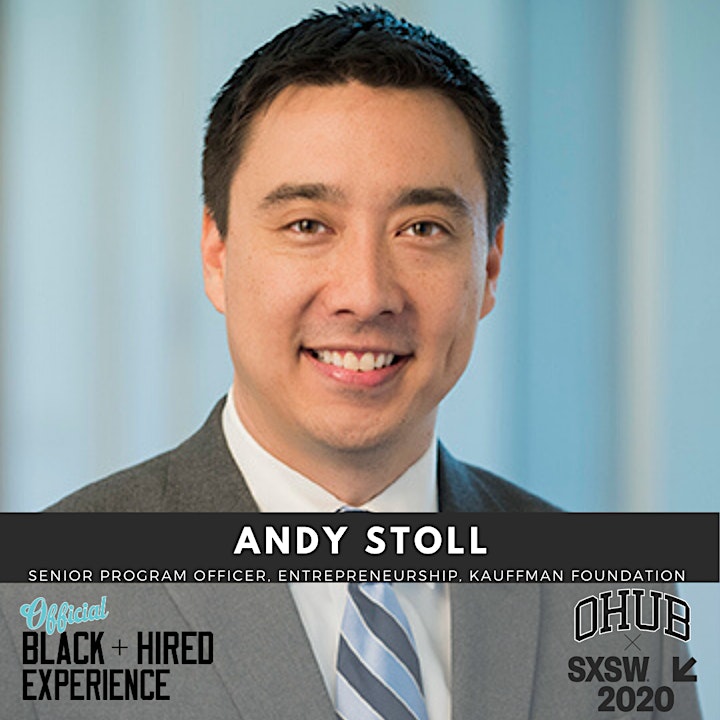 6th Annual Inclusive Innovators, Investors & Influencers Reception, Awards & Momentum@Morehouse Launch - Livestream
Featured Speaker
Andy Stoll, Chief Program Officer, Kauffman Foundation
Andy Stoll is a serial entrepreneur, entrepreneurial ecosystem builder and currently serves as a Senior Program Office at the Ewing Marion Kauffman Foundation – one of the world's largest philanthropies dedicated to promoting entrepreneurship and education.
Growing up Andy traveled throughout the US, but never had the opportunity to leave the country. Set on solving that problem, and with the desire to better understand how the world works, Andy decided shortly after college graduation that he would attempt a trip around the world. After three years of planning and saving money, in a normal 9-to-5 job, Andy set off on what would become a 4-year, solo trip around the world, where he lived, worked and volunteered in more than 40 countries on six continents.
Since his return to the US, he'd founded a half-dozen businesses and organizations focused on fostering creativity, entrepreneurship and innovation in communities across the country and around the world. He's lived in a Buddhist Temple in Korea, handed out micro loans in China, worked on movies in Bollywood and climbed Mt Kilimanjaro. His portfolio of work includes projects in collaboration with AOL Founder Steve Case, Microsoft Founder Paul Allen and Zappos CEO Tony Hsieh.
Andy's taught entrepreneurship as an adjunct faculty member at Cornell College, serves as a Global Facilitator for Startup Weekend and has spoken at SXSW, multiple TEDx events and The White House.
He will join the OHUB 6th Annual Inclusive Innovators, Investors & Influencers Reception, Awards & Momentum@Morehouse Announcement to share his story, along with some of the lessons he's learned on how you people can survive and thrive as leaders, entrepreneurs and change agents in an ever changing, hyper connected world.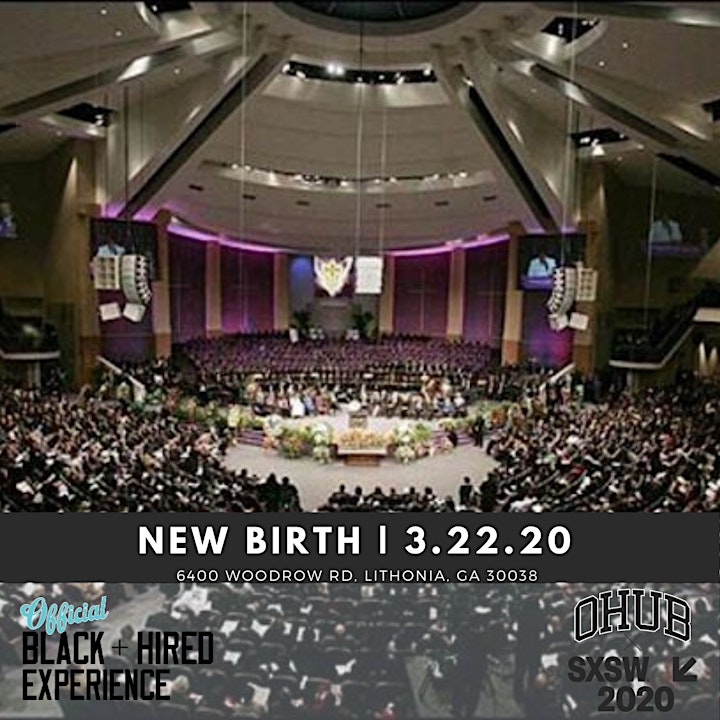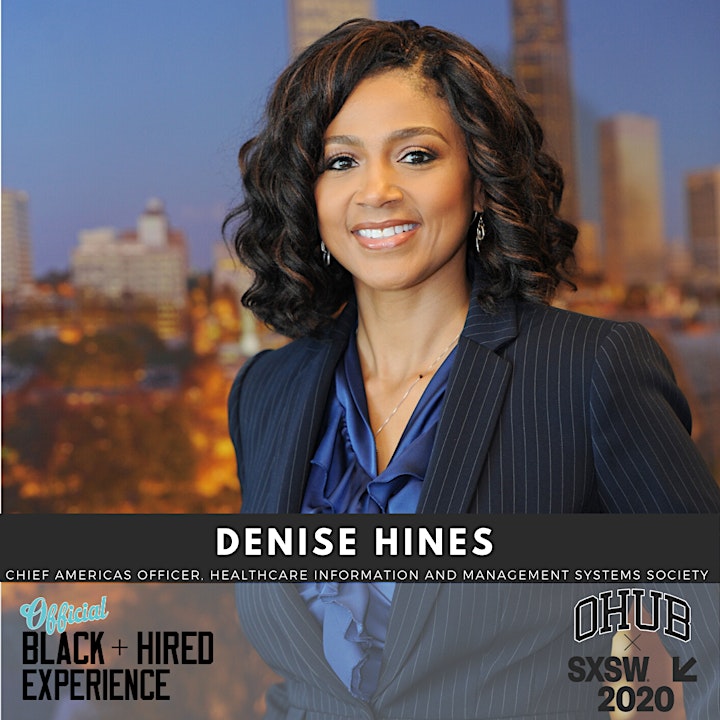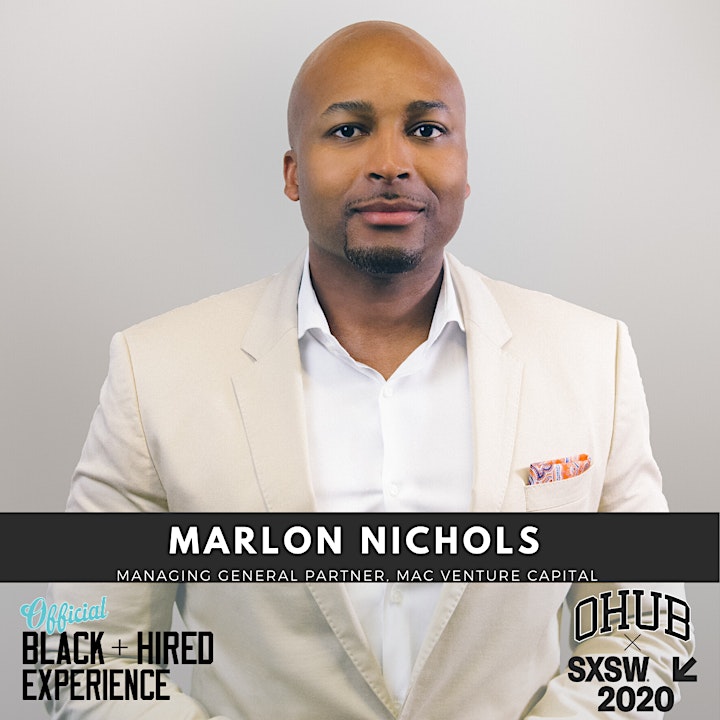 Sunday, March 22 | New Birth
Dr. Jamal Bryant & New Birth Church are joining forces with Opportunity Hub (OHUB) to increase the equitable representation of Black & LatinX talent throughout the tech, startup and venture ecosystem as a path to shared prosperity and new multi-generational wealth creation for all with no reliance on pre-existing multi-generational wealth. Together, they are launching the nation's first Faith & Family Based Future of Work Initiative.
On Sunday, March 22, Newbirth & OHUB will host its first #BlackAndHired Sunday. Immediately following the morning service, OHUB will host a Future of Work series featuring vetted and accomplished technologists, startup founders and venture capitalists who will talk about their uncanny journeys into the future of work, fourth industrial revolution and beyond.
Atlanta based college students that were admitted into the competitively selected cohort from OHUB' student membership of 5,000+ cross 400 colleges and universities will be invited to attend the service and sessions for acknowledgement and encouragement in their educational, career and entrepreneurial journeys.
The experience will be live-streamed.
A #BlackAndHired pop-up shop featuring custom t-shirts and backpacks designed Black designers will take place simultaneously in the vestibule.
Future of Work Series, 12.30P - 3.00P
Confirmed Speakers include Marlon Nichols, Managing General Partner, MaC Venture Capital; Denise Hines, Chief Americas Officer, Healthcare Information and Management Systems Society (HIMSS); Rodney Sampson, Executive Chairman & CEO, Opportunity Hub & Nonresident Senior Fellow, Brookings Institution. More to come.
Video Testimonial
OHUB student members are #BlackAndHired. Watch this video testimonial of Lynette, Atkins (2019 OHUB.SXSW Cohort) as she talks about her journey to a full time role at Amazon.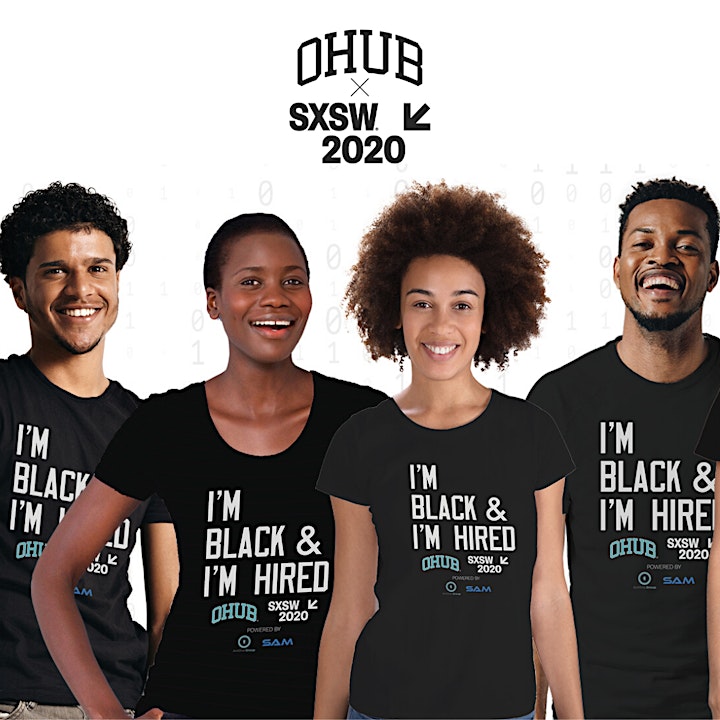 Why #BlackAndHired
Job losses for African Americans could reach 4.5 million individuals in the next 10 years, according to a report from the consulting company McKinsey & Co. The report, called "The Future of Work in Black America," details the challenges American workers will have in the coming decade due to automation in the workforce. African Americans will face 10% more job losses than the general population.
Workforce automation is being driven by the commercialization and industry adaptation of edge technologies such artificial intelligence, machine learning, quantum computing and blockchain. This commercialization is being fueled by technology transfer, corporate innovation and high growth company building by technology startups fueled by angel and venture capital.
Black and LatinX Americans are under-represented, under-estimated and under-tapped across this entire innovative supply chain. Without correction, and according to Prosperity Now and The Institute for Policy Studies, Black Americans and LatinX Americans are projected to have a median wealth of zero (0) by 2053 and 2073, respectively.
Partner with #BlackAndHired today with your gift of any amount. Give $100+ and receive our official OHUB.SXSW #BlackAndHired t-shirt.
2020 Sponsors & Hiring Partners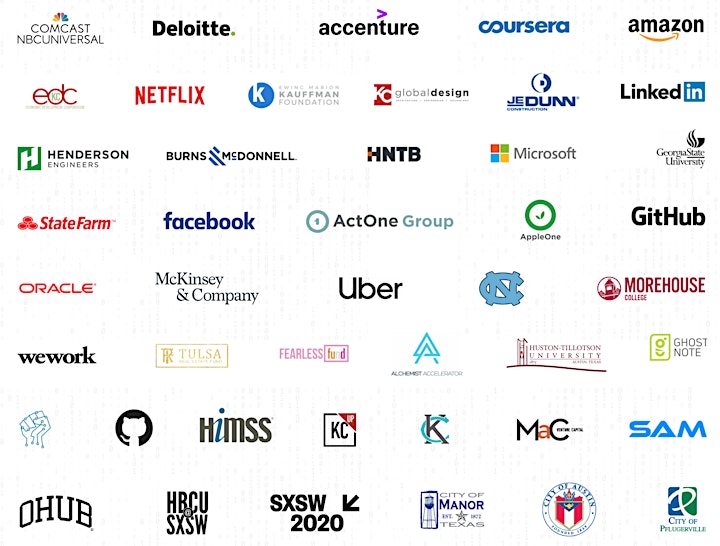 Date and Time
Refund Policy
Contact the organizer to request a refund.
Eventbrite's fee is nonrefundable.