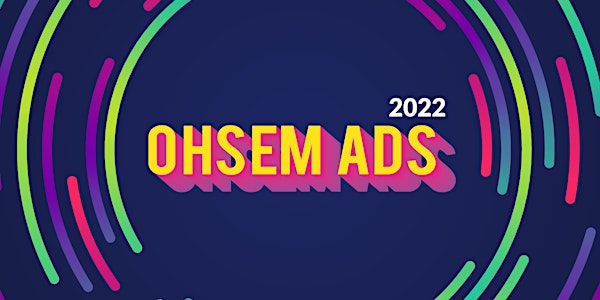 OHSEM ADS 2022
ROI Meletop dengan Kuasa Data!
About this event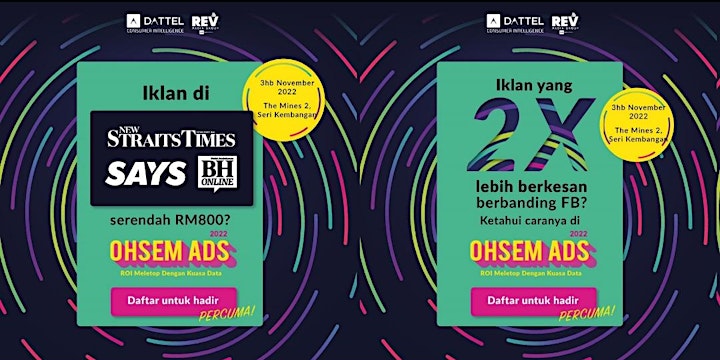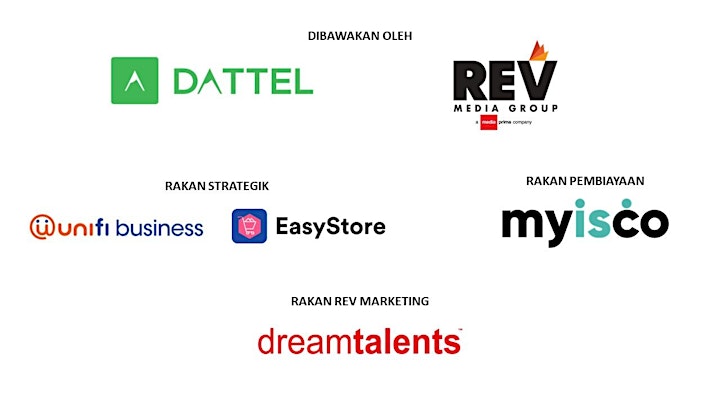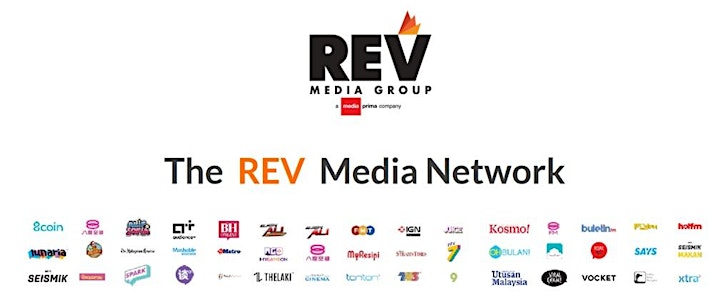 Apakah OHSEM ADS 2022?
OHSEM ADS merupakan acara khas selama 1 hari bagi usahawan PKS untuk menyelami tentang pengiklanan digital melalui Rangkaian Media REV yang dijana oleh data perilaku pengguna Malaysia.
Sebagai usahawan sama ada yang menjalankan perniagaan Mikro, Kecil, mahupun Sederhana, anda tidak mampu lagi menentang arus pendigitalan yang deras. Pelanggan anda sudah berada dalam talian, dan di situlah anda sepatutnya beriklan untuk menarik perhatian mereka!
Siapa yang patut hadir?
OHSEM ADS 2022 ialah acara "wajib hadir" bagi pemilik perniagaan atau pegawai pemasaran PKS yang:
Menyediakan produk atau servis kepada segmen B2C (Bisnes ke Pengguna) atau B2B (Bisnes ke Bisnes)
Sudah menjalankan iklan dalam talian
Berminat untuk memulakan pengiklanan dalam talian
Mengapa anda patut hadir?
Hadirin akan mendapat
Akaun REV Ad Manager yang memberi akses kepada 15.8 juta khalayak unik bulanan di Rangkaian Media REV
Langganan PERCUMA platform Maklumat Pengguna oleh Dattel selama SATU tahun bernilai RM750
Tawaran eksklusif pakej pengiklanan dalam talian hanya di acara OHSEM ADS
Jom ketahui lebih lanjut dan rebut tawaran pengiklanan yang OHSEM hanya di Rangkaian Digital #1 Malaysia!
Data seumpama bahan api
Dalam era pendigitalan ini, data seumpama bahan api yang memacu pertumbuhan perniagaan. Malah PKS perlu menyalurkan aktiviti pemasaran dan pengiklanan dengan jenis data perilaku pengguna yang betul untuk menjangkau audiens yang sesuai dan menggandakan ROI dengan efektif.
Jika anda ingin tahu caranya, hadirkan diri ke OHSEM ADS 2022.
Untuk maklumat lanjut, sila hubungi 017-2348876 atau tekan pautan di bawah. https://wa.me/60172348876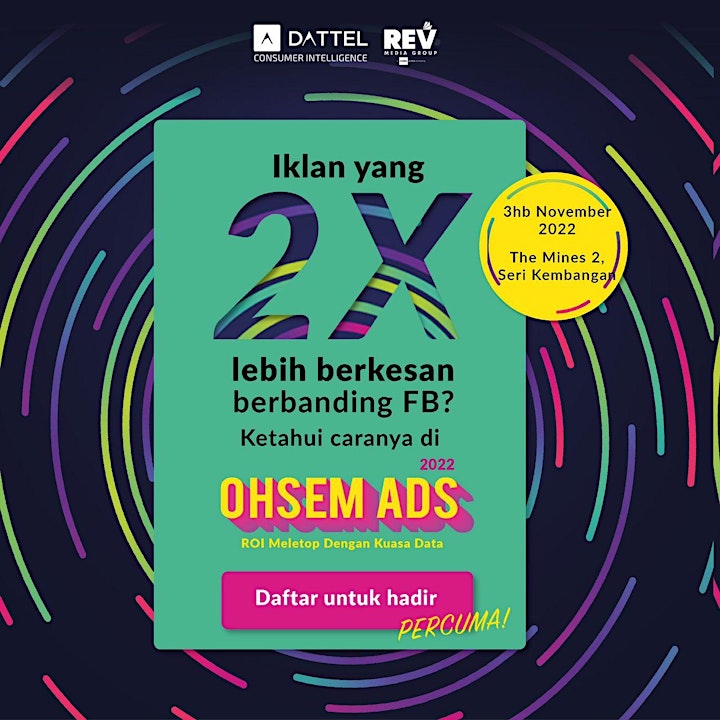 MENGENAI REV MEDIA GROUP
REV Media Group adalah penerbit digital terkemuka di Malaysia, mewakili lebih 35 jenama terbaik dengan rangkaian yang luas menjangkau lebih 15 juta orang setiap bulan, sekitar 80% dari jumlah keseluruhan populasi internet di Malaysia. Di REV Media Group, kami percaya dengan pemanfaatan kekuatan teknologi dan data untuk menyampaikan kandungan menarik buat audiens kami dari pelbagai platform dan bahasa terdiri daripada Berita, Hiburan, Gaya Hidup, Teknologi dan banyak lagi. Dengan memanfaatkan jangkauan dan platform kami yang komprehensif, kami berusaha untuk membawa jenama-jenama ke tahap yang lebih baik melalui penyelesaian pemasaran digital berdasarkan data yang berpengaruh dan kandungan luar biasa khusus untuk memberi yang terbaik buat para pengguna kami.
MENGENAI DATTEL ASIA GROUP
Dattel Asia Group ialah syarikat terkemuka ASEAN dalam maklumat perilaku dan analisis pengguna yang menumpu pada pemasaran, media, dan e-dagang. Kami menjadikan data mudah diakses dan digunapakai agar anda boleh fokus pada pengendalian perniagaan anda. Produk utama kami ialah 'Voyager' – platform Maklumat Perilaku Pengguna dan 'REV Ad Manager' – alat pengiklanan layan diri yang menggunakan teknologi AI bagi Penerbit Kandungan Premium.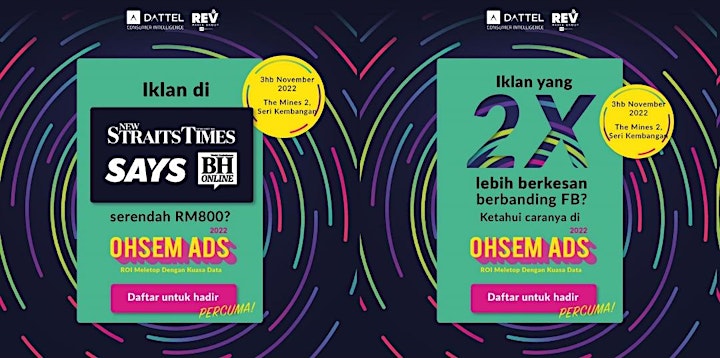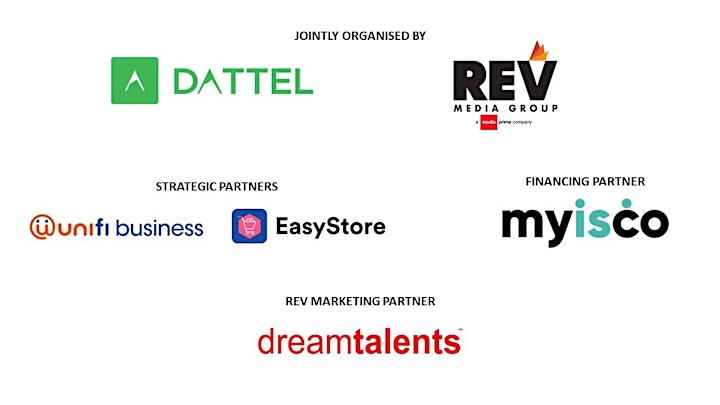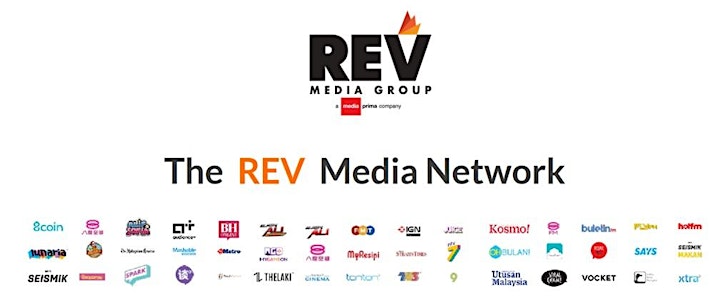 What is OHSEM ADS 2022?
OHSEM ADS is a 1-day event especially for SMEs to learn about digital advertising on REV Media Network, powered by Malaysian consumer behaviour data.
Whether you are a Micro, Small, or Medium Enterprise business, you cannot outrun the rapid pace of digitalisation. Your customers are online, and that is where you and your ads should be!
Why should you attend?
OHSEM ADS 2022 is a must-attend event for SME business owners or marketers who are:
Serving B2C or B2B segment
Running online ads
Interested to start advertising online
Why should you attend?
Attendees will get:
REV Ad Manager user account with access to 15.8 million monthly unique audience on REV Media Network
FREE subscription to Dattel's Consumer Intelligence platform for ONE year worth RM750
OHSEM ADS exclusive event-only online advertising packages
Come find out more and pick up OHSEM advertising deals only on Malaysia's #1 Digital Network!
Data is the new oil
Data is the fuel that powers business growth. Even SMEs need to feed their marketing and advertising with the right type of consumer data to reach the right audience and grow their ROI exponentially.
OHSEM ADS 2022 is the place to be if you want to know how.
Untuk maklumat lanjut, sila hubungi 017-2348876 atau tekan pautan di bawah. https://wa.me/60172348876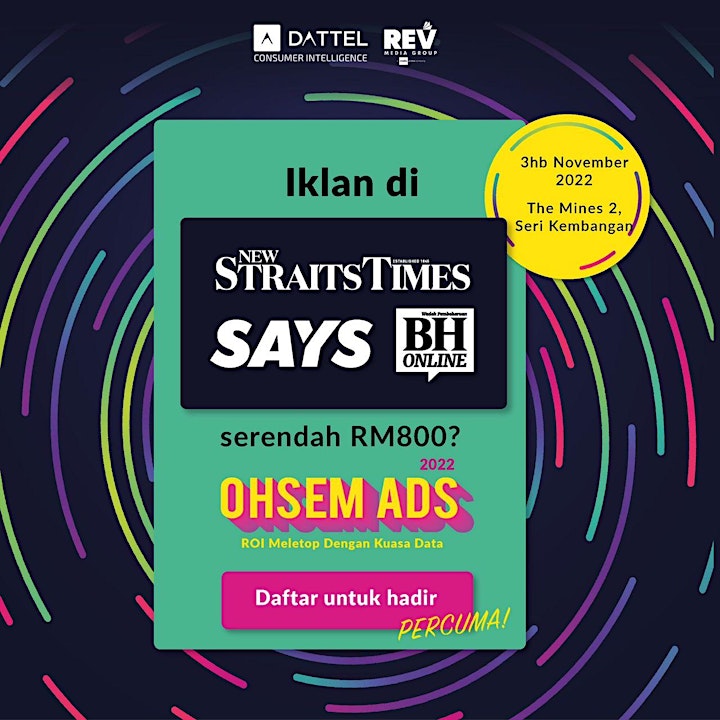 ABOUT REV MEDIA GROUP
REV Media Group is the leading digital publisher in Malaysia, representing over 35 top authority brands with an extensive distribution network that reaches out to more than 15 million people each month, about 80% of Malaysia's internet population. At REV Media Group, we believe in harnessing the power of data and technology to deliver engaging content that matters the most to our audience across multiple languages and platforms comprising News, Entertainment, Lifestyle, Technology and more. Leveraging our comprehensive platform and reach, we strive to elevate brands to greater heights through influential, data-driven digital marketing solutions and exceptional content aimed at winning the hearts of consumers.
ABOUT DATTEL ASIA GROUP
Dattel Asia Group is ASEAN's leading consumer intelligence and analytics company with a focus on marketing, media and e-commerce. We make data accessible and actionable so that you can focus on running your business. Our flagship products are Voyager – our Consumer Intelligence platform and REV Ad Manager – an AI-powered self-service advertising tool for Premium Content Publishers.