Join OHNY for a journey through the names of New York City in a conversation between author Joshua Jelly-Schapiro and Saundra Thomas
About this event
The stories of places lie in their names. Nowhere is this more true than in the names of the streets, parks, neighborhoods, and boroughs themselves of New York City.
In Names of New York, Joshua Jelly-Schapiro explores the power of naming to shape experience and our sense of place. From Bowery to Brooklyn, Jelly-Schapiro traces the ways in which native Lenape, Dutch settlers, British invaders, Revolutionary war heroes, and successive waves of immigrants have left their marks on the city's map. As we examine the names that make up New York City, we unveil layers of its history and the people who have defined that history—as well as those who have been unseen and overlooked. While the names that are largely visible to the maps and streets of New York hail historical figures who have held power, rarely do we see women, people of color, and members of the working classes recognized in public spaces or place-names.
As New York City's population changes, so too do its place-names and what they mean for new arrivals. The study of place names reveals the evolution of neighborhoods, geographies, boundaries, and function not just as portals to explore the past but also as a means to reimagine what is possible now.
This OHNY Stacks conversation between author Joshua Jelly-Schapiro and moderator Saundra Thomas will explore who is named in New York, who is not, and what these names say about the past, present, and future of our city.
Purchase Names of New York here (or from your local bookstore).
Access
This event will be hosted live on Zoom. You will receive the link to the event content in your order confirmation email, and in a reminder email before the event starts. The event will be recorded and shared with all ticket buyers.
Note: AIA CES credits are pending.
Author Bio
Joshua Jelly-Schapiro is a geographer and writer whose work has appeared in The New Yorker, The New York Review of Books, The New York Times, and Harper's Magazine, among many other publications. He is the author of Island People: The Caribbean and the World, the cocreator (with Rebecca Solnit) of Nonstop Metropolis: A New York City Atlas, and a scholar in residence at the Institute for Public Knowledge at New York University, where he also teaches.
OHNY Stacks
OHNY Stacks is a series of virtual book talks exploring the unknown, the unseen, and the unnoticed. Join us on Thursdays, 5:30—6:15pm ET through February with authors of highly acclaimed books critical to understanding the past, present, and future of New York—as well as national trends or global issues that influence the shape, structure, and experience of cities and urban life today.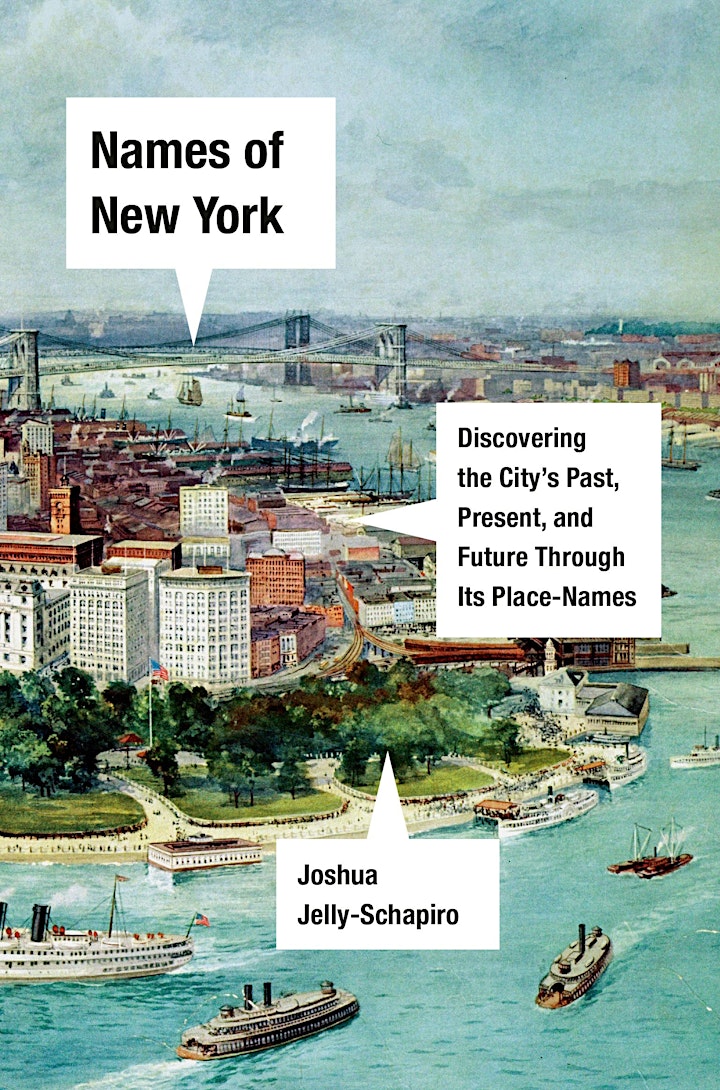 Organizer of OHNY Stacks: Names of New York
Open House New York (OHNY) is a non-profit 501(c)3 organization. The mission of OHNY is to promote a greater appreciation of the city's built environment; broaden public awareness by exposing diverse audiences to distinctive examples of architecture, engineering and design; educate and inspire discussion of issues of excellence in design, planning and preservation; and showcase outstanding new work as well as structures of historic merit.