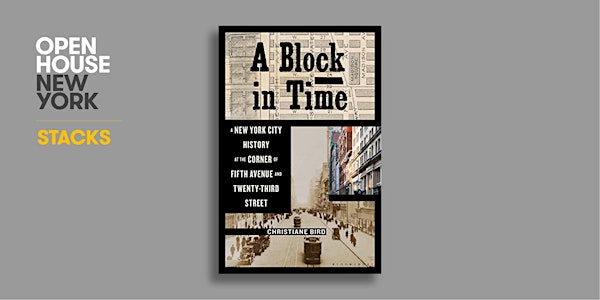 OHNY Stacks: A Block in Time
Join OHNY and author Christiane Bird for a conversation on how the history of New York City can be told through the history of single block.
Refund Policy
Contact the organizer to request a refund.
About this event
How can one of Manhattan's 30,000 blocks tell the story of New York City through the ages?
A Block in Time (Bloomsbury, March 2022)is a deep dive into the history of 23rd Street between Fifth and Sixth Avenues, tracing its changes from the Ice Age to the present day. Author Christiane Bird explores the lives and stories of this block's residents, workers, and visitors - a cast of glamorous, grimy, and notorious characters - to tell the story of New York City's growth and transformation.
A Block in Time takes readers on a lively journey through New York City history through the lens of a single block. Bird uses to journalistic research to tell the stories of the remarkable characters and diverse places, from gambling dens to gourmet restaurants, associated with this corner of the city.
This OHNY Stacks talk will feature a conversation between author Christiane Bird and OHNY to uncover the sordid, eye-opening, and ultimately human stories of Fifth Avenue and 23rd Street.
Purchase A Block in Time here.
Access
$5 General Admission. This event is FREE for OHNY Members and Volunteers.
It will be hosted live on Zoom. You will receive the link to the event content in your order confirmation email, and in a reminder email before the event starts. The event will be recorded and shared with all ticket holders.
Author Bio
Christiane Bird is the author of The Sultan's Shadow; A Thousand Sighs, a Thousand Revolts; and Neither East Nor West, among other titles. She has worked on staff for the New York Daily News and has written for the Wall Street Journal, Washington Post, Los Angeles Times, and Miami Herald, among other publications. She holds a BA in literature from Yale University and an MALS in American Studies from Columbia University.
OHNY Stacks
OHNY Stacks is a series of book talks exploring the unknown, the unseen, and the unnoticed. Join us on Thursday evenings with authors of highly acclaimed books critical to understanding the past, present, and future of New York—as well as national trends or global issues that influence the shape, structure, and experience of cities and urban life today.