Description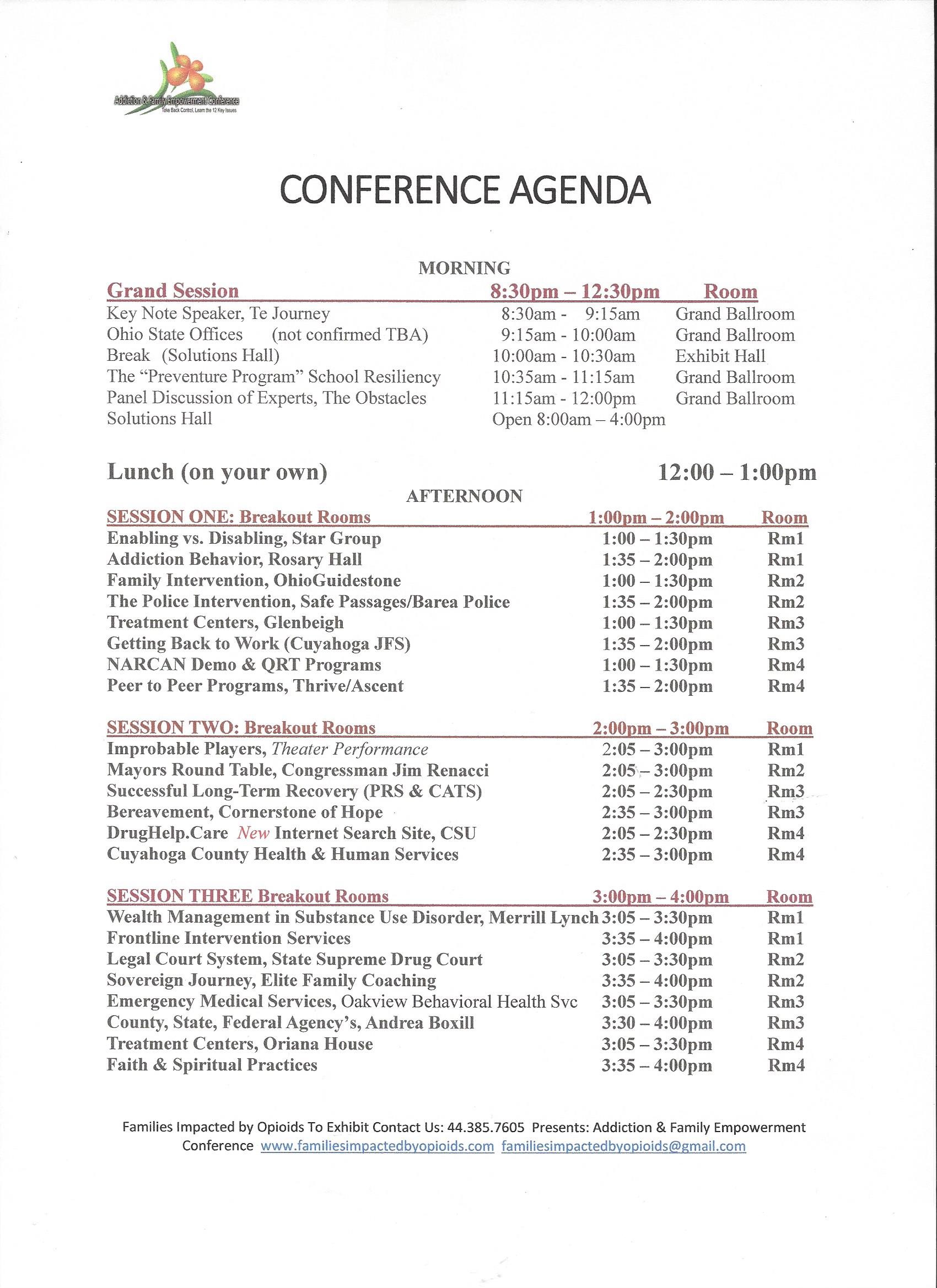 Addiction & Family Empowerment Conerence, a unique new opportunity to gather various service providers from across Northeast Ohio in the support of strengthening Families on their journey with opioids and other addictions. 12 panel members identify the obsticles a family is likely to face, 16 learning sessions in afternoon breakout rooms, 2 ground breaking school programs, a mayor's round tablie revewing best practices in our local cities, 50 exhibitors in exhbit hall to help the family with key issues. Empowerment through Knowledge. Come to this event: Get Educated, Get Organized, Get Networked.
1st HIT THE GREEN "Register" BUTTON ON YOUR upper right hand of the SCREEN AND REGISTER, No payment, just register and print your ticket. On the day of the event, bring your registration ticket to the registration desk and pay $5.00 for your seat.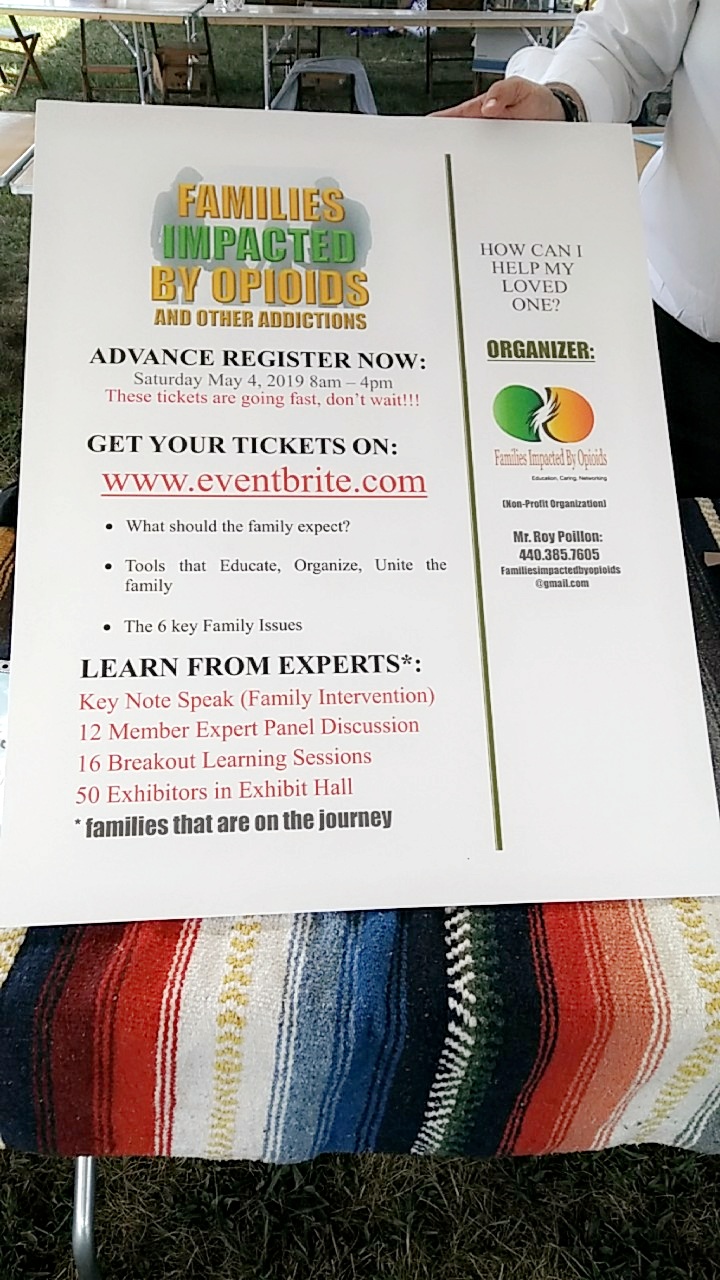 Conference Goals:
To focus attention on the 12 Key Issues that impact most families. To educate the family on each issue, provide skills on how to organize around each issue. To strengthening families through awareness of the journey, how it progresses, the roles and skills needed to respond and the need for family members to seek their own therapy in coping skills.

Learn from the experts, what are these key 12 issue, when they are likely to happen, how to get in front of them and how get prepared to inorder to respond. IT'S ABOUT EMPOWERING THE FAMILY WITH KNOWLEDGE.

While attending the conference, the family will interactively use their conference book in each session to develop their next steps. This empowering tool will be filled in with the topics that our community experts want us to use, with work sheets, names and numbers of organizations, and by willing following up with these organizations after the conference when the family is at their home. THE CONFERENCE BOOK BECOMES THE FAMILY'S " FAMILY PLAN OF ACTION". This is a familymatters moment.

The conference schedule follows the families journey, it starts with the Key Note Speaker, Jim Joyner with over 40 years of family counceling and intervention work, identifies the twists and turns of the journey. Then a 12 member panel of experts in eash issue forms our discussion group. This is where the issues will be openned up for clearity. Then the attendee's select from 16 breakout learning seminars. See Conference Schedule, it follows the family journey. To sure up the family understanding a one on one with our community experts is available at over 50 tables in the Exhibit Hall. These are local providers covering services that address the needs of the 12 issues the family will face.

Our children are not negotiable in this epidemic. The ground breaking program "Preventure" will be presented by Sean McAndrews from Bay City Schools Middle School where it is currently being implemented. We are inviting all Middle school principles and guidance counselors to this event. They will learn how to start a Preventure program at your child's school. Let's catch them early so they do not fall.

A Theater Company will present "ImprobablePlayers", a playwrite on the topic of the family's journey with addiction. This theater medium enhances the students understand from a more emotional connection, while we deliver the real message of drugs and the family. Come see their production. Here too school administrators are invited to learn how this theater company can come to their schools to be used supporting the message of avoiding drugs.

In a separate event, DAY TWO at your own church we are calling for all churchs, parishes, temples and mosques to open their doors and open their hearts to pray at their locations with families impacted by opioids, May 5,2019 2:00pm to 4:00pm. A list of participating locations will be posted on www.familiesimpactedbyopioids.com
Who Should Participate:

All families across Northeast Ohio in the journey of addiction should register and attend. Also, public departments, School superintendent's, principles and guidance counselors, social workers, clinical therapist, hospital departments, treatment centers, police officials, government agencies, charity organizations, religious faith groups focused on addiction.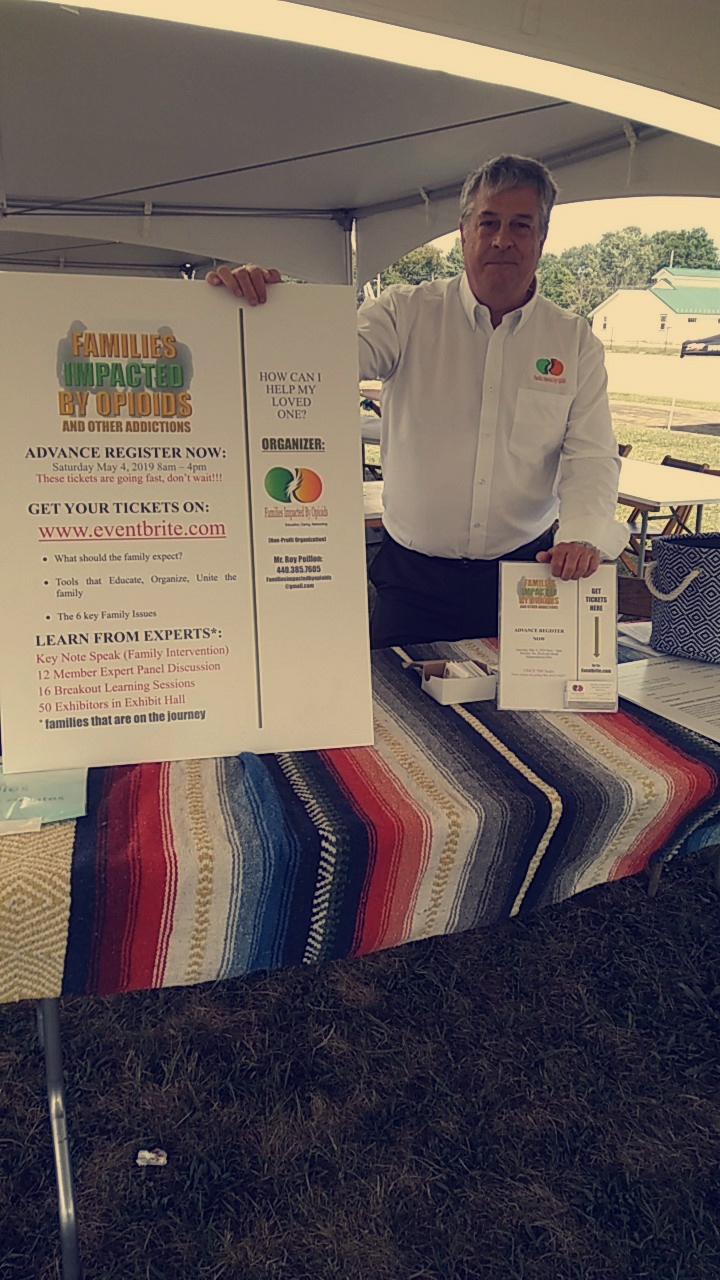 Organization Involvement
Conference content will be geared towards professionals assisting in the Family Strengthening & Support Field for addiction, so it would be most relevant for these groups to display their programs and services in the exhibit hall for our families to review. Contact us to apply for a table in the exhibit hall ask for Ms. Montana Banner, Director of Operations: 440.444.6485

Organizations are welcome to bring their best programs, contribute content material to the conference book and in some cases provide a speaker for a special breakout session. contact us: 814.722.8946

Sponsors are welcome and needed to fund this event and show their support to the community and our families. Ask for Roy Poillon: 440.385.7605