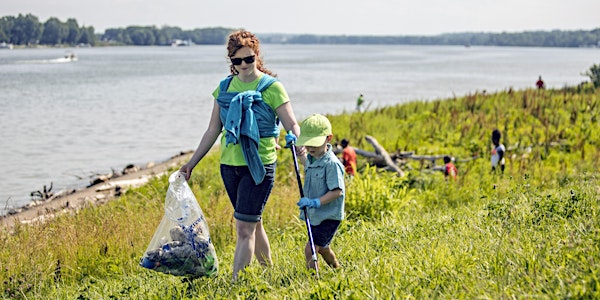 Ohio River Sweep 2017
Description
We are seeking volunteers for Ohio River Sweep, which is an annual six-state event that extends the entire length of the Ohio River from Pittsburgh, PA to Cairo, IL. It is one of the largest and longest-running environmental events in the nation.
Ohio River Sweep is sponsored by the Ohio River Valley Water Sanitation Commission (ORSANCO), and locally by MSD, Louisville Water and LG&E.
Each year during River Sweep, approximately 40 tons of trash are collected along the shoreline in Jefferson County alone. This year's River Sweep marks the 28th anniversary for the event.
We will host our six traditional cleanup sites in Jefferson County, and we are introducing a new site this year at Karen Lynch Park, which provides access to the west side of Beargrass Creek and the confluence with the Ohio River via the Butchertown Greenway.
An MSD employee will coordinate each site, supplying volunteers with gloves, trash bags and a commemorative T-shirt*. Feel free to attend the cleanup site of your choice:
Hays Kennedy Park – 7003 Beachland Beach Road

Juniper Beach Area – Harrods Creek Fire Department, 5230 Upper River Road

Carrie Gaulbert Cox Park – 3730 River Road

Eva Bandman Park – 1701 River Road

Karen Lynch Park - 1731 Brownsboro Road - NEW SITE

Shawnee Park – W Market Street, between Northwestern Parkway and Fontaine Landing Court

Riverview Park – 8202 Greenwood Road (Greenwood Road and Cane Run Road)
For more information about the Louisville cleanups, contact MSD coordinator Rhonda Boyle-Crotzer, 502.548.8409, rhonda.boyle@louisvillemsd.org.
*While supplies last.
FAQs
Are there ID requirements or an age limit to enter the event?
No, there are not, but when deciding if you should bring a young child, you should remember that we will be picking up trash right along the shoreline, and the terrain will not always be level. There may also be sharp objects, such as broken glass, so children of any age should be accompanied by an adult.
Volunteers of any age should also be mindful of the heat of summer while assessing their fitness for this activity.
Do volunteers have to sign up for this cleanup in advance?
No, volunteers do not have to sign up in advance, but we recommend that they do so. We may need to notify volunteers if plans change, and signing up here at Eventbrite beforehand will help us do that.
Do I have to bring my printed ticket to the cleanup?
We would appreciate it if you could bring your ticket in, so we can collect it and refer to it when monitoring participation. However, you may also sign in at your chosen cleanup site.
Do I have to register for a specific site beforehand?
No.
What should I wear?
We recommend loose-fitting, light clothing appropriate for a hot day and which you do not mind getting dirty; a sturdy pair of shoes you can work and walk around in; a hat to keep the sun of your face; and sunscreen.
Can I get volunteer credit for this?
Yes, we will provide you with a letter stating that you volunteered.
Do I need to send you my t-shirt size when I register?
No. We will have t-shirts of various sizes at the site, and you can give your shirt size to the site coordinator who will accomodate you if there are enough shirts in your size.
Do I need to tell you which site I will be attending beforehand?
No need. There should be plenty of space (and trash, unfortunately) for everyone at each site.