| | |
| --- | --- |
| Ohio Peer Support Symposiums | |
Event Details
presents
Peer Support Symposiums:

The Path of Peer Support In Ohio
Whether you are new to peer support or have been working in the field for years, this symposium is for you! The certification requirements for Ohio Peer Supporters are changing and these events will give you the opportunity to have all your questions answered by representatives of OhioMHAS. Don't rely on rumors, get accurate information straight from the source.  
OhioMHAS will be hosting symposiums in multiple locations in order to engage peer supporters throughout the state. The first four will be held in Fulton, Butler, Jackson, and Guernsey counties.

Tentative Schedule:
  9:30 am - 10:00 am      Registration
10:00 am - 10:30 am       Opening Remarks 
10:30 am - 12:00 pm       Talk on Peer Support and Q&A by Mindy Vance of OhioMHAS
12:00 pm -  1:30 pm       Lunch Break*
  1:30 pm -  3:00 pm       Panel Discussion:  The Role of a Peer Supporter
        3:00 pm                 Closing Remarks
  Although held in different locations, each symposium will present the same information.  
*Please note that lunch is not provided, attendees are welcome to pack ahead or visit local restaurants during the break.
We will answer questions such as:


How can peer support help someone reach recovery?
Is peer support right for me or my organization?
How do I become a certified Ohio Peer Supporter?

How has the certification process changed?

How will the new rules impact current peer supporters?

What do I need to know to update my credentials?
LOCATIONS:
Fulton County:

Wednesday, May 18

Sauder Village Conference Center

22611 State Route 2
Archbold, OH  43502
Butler County:
Wednesday, June 15
Courtyard Marriott
1 Riverfront Plaza
Hamilton, Ohio  45011
Jackson County:
Thursday, June 23
James A. Rhodes Community Center
11 Stewart St
Coalton, Ohio  45621
Guernsey County:
Wednesday, June 29
Pritchard Laughlin Civic Center
7033 Glenn Highway
Cambridge, Ohio  43725
Please choose the location that is most convenient.  All of the symposiums will present the same information.  There is no need to attend on multiple dates.
Space is Limited: Register Today!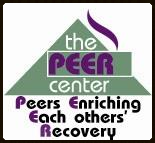 FAQs
Will you be answering question about Medicaid billing and peer support?
No.  This presentation is being made by Ohio Mental Health and Addiction Services and The PEER Center. We are not involved with the Medicaid or Medicare program and are unable to answer any questions about these types of topics.  There will be NO information available about Medicaid.
Are CEUs provided for this symposium?
No.  This is NOT a training, there are no CEUs offered, and attendance does NOT fulfill any of the requirements of becoming a certified peer supporter.  These events are simply information sessions for people who want to learn more about peer support and the new certification requirements.
Are there any fees to attend?
No.  Registration is free and there are no other fees.  Even parking is free!
I am not a certified peer supporter.  Can I still attend?
Absolutely!  These symposiums are designed for everyone - both those currently working in peer support and those who are considering entry into the field.
I am not a peer, can I attend?
Absolutely!  These symposiums are for both peers and anyone else who is interested in learning more about peer support.  We encourage organizations who offer peer support or who are considering offering peer support to attend.
Organizer
The PEER Center
The PEER Center (Peers Enriching Each others' Recovery) is a drop-in wellness, recovery, and support center. We provide a safe place where individuals receive respect, encouragement, and hope that supports and strengthens their recovery in mental health, addictions, and trauma.