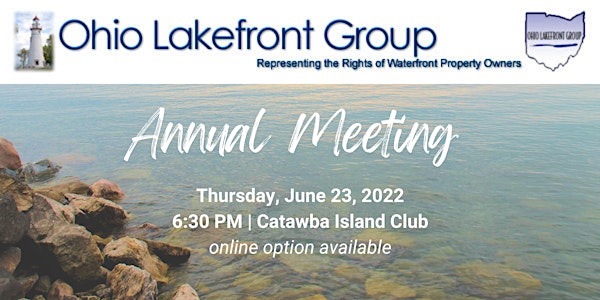 Ohio Lakefront Group Annual Meeting 2022
2022 Ohio Lakefront Group Annual Meeting
Date and time
Thursday, June 23, 2022 · 6:30 - 8:30pm EDT
Location
Catawba Island Club 4235 East Beach Club Road Port Clinton, OH 43452
About this event
The Ohio Lakefront Group Annual Meeting will be held on Thursday, June 23, 2022, at the Catawba Island Club (CIC). For those who prefer to attend in person, you may arrive beginning at 6:00 p.m., when the parking lot is available and doors will open for registration. Light hors d'oeuvres, coffee, and soda will be available for a social (half) hour beginning at 6:30 p.m., and the meeting will start promptly at 7:00 p.m. For those who prefer to join online, we will have a Zoom option. The Zoom link will be opened by 6:50 PM.
We are asking all who plan to attend, whether in-person or via Zoom, to register by selecting one of the registration options. Registration will close on June 20th at noon so that we can make the appropriate arrangements. Please refer to your invitation email or letter for full meeting details, and read the information below; it should answer most questions that you have. You can also find all this information on our website.
AGENDA
The formal part of the meeting should last less than 20 minutes and will consist of only two items: a Treasurer's Report and a vote to elect 3 members to a 3-year term to the Board of Directors.
Listed below are the candidates for the Board. All candidates are currently serving on the Board of Directors.
Greg Baeppler (Bay Village)
Bob Bunsey (Huron)
Vitas Cyvas (Willowick)
Following the formal business meeting we will have several timely presentations to include SB 313, SIDs, and a CIC update. Once all speakers are confirmed we will update this information and our website.
FAQs
How do I know if I owe dues before the meeting?
Our activities and expenses have been mostly curtailed because of COVID. Therefore, we are again not requesting dues to be paid this year. However, contributions are always welcome. If we file another lawsuit because of the proposed legislation we will be asking for dues/contributions.
Are masks being required?
No. Masks are not going to be required for the meeting. We will be in the Pavilion. Those who need to or prefer to wear a mask are welcome to do so. For those who are still exercising caution, we are providing an opportunity to join us via Zoom. If you feel unwell, please stay home; we will get you all the information from the meeting.
What are the driving and parking instructions for CIC?
Directions: From the East or West:\Take Ohio Route 2 and go toward Port Clinton as appropriate.
Follow Ohio Route 2 to Ohio Route 53 North. Take Exit 124 North.
Follow Ohio Route 53 North (W Catawba Rd)
Turn left (West) onto CR-30 (N West Catawba Rd.)
Turn right onto East Beach Club Rd.
PLEASE NOTE that parking is located at the pickleball court and gravel lot (across from the golf shop). Shuttles will be available to bring all guests to the Pavilion.