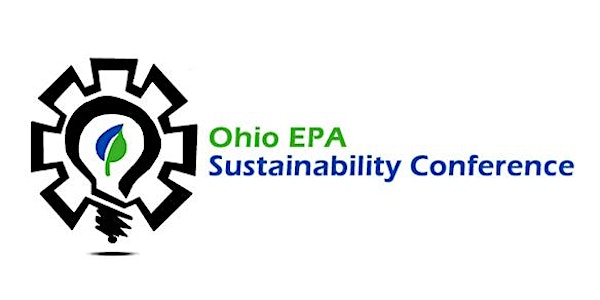 Ohio EPA 2019 Sustainability Conference
When and where
Location
Hyatt Regency Columbus 350 North High Street Columbus, OH 43215
Description
Ohio EPA recognizes that many businesses, communities, and other organizations are moving beyond compliance and incorporating sustainable environmental practices into their daily operations. To help you become more sustainable, on April 17, 2019, Ohio EPA will host its second Sustainability Conference. This conference will show attendees how to leverage sustainable practices and resources to strengthen Ohio communities and businesses.
A large part of the conference is targeted to businesses and communities that are moving beyond basic environmental requirements into cost-effective sustainable strategies to improve environmental performance and save valuable resources. The agenda focuses on ways to become a part of the circular economy, how sustainability can improve communities, how our water resources can benefit from sustainable approaches, and the resources and incentives that can help your sustainability efforts. During the event, you will hear from business and community leaders eager to share their insight as to how they've gone above and beyond to implement sustainable practices.
How to Start a Sustainable Business in Your Community

Green Roofs

Composting and Organics Diversion

Integrating Sustainable Practices within your Community

Innovative Approaches to Protecting or Restoring a Community's Water Bodies

Save Money by Saving Energy through the Industrial Assessment Center Program

MORPC Sustainable 2050 - Making Your Community More Sustainable

Funding Assistance for Ohio Businesses and Communities to Grow, Create jobs and Protect the Environment . . . and much more!
FAQs
What's the registration fee?
The conference registration is $150.00 for the one-day event.
Can I pay by check?
Yes, you will have the option at the end to choose to pay by credit card or pay by check. If you choose to pay by check, your payment must be received no later than March 29, 2019.
Are there refunds if I can't make it to the event?
No. Ohio EPA will not issue refunds, however, you can send someone else in your place as a substitute if you are unable to attend.
Contact us to transfer your registration spot.
Is there free parking at the Hyatt Regency Columbus?
No. For your convenience, valet parking is available at the hotel, with off-site self-parking just one block south at the Chestnut Street Garage, accessible via enclosed walkway. Additional parking provided by Convention Center Underground Garage.