Description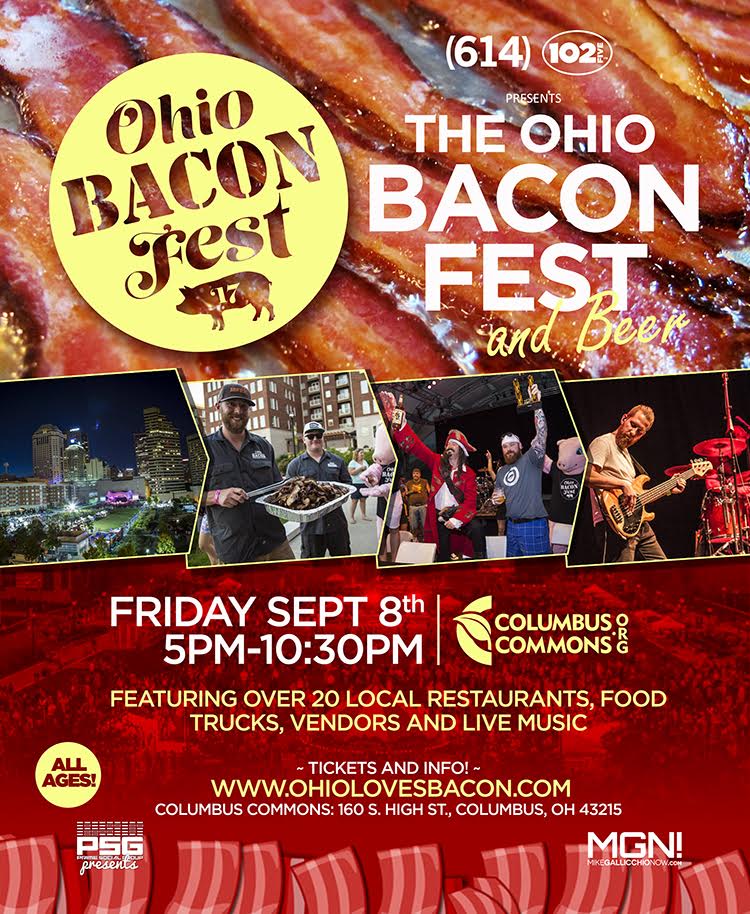 Prime Social Group and MikeGallicchioNow are pleased to bring Columbus the third annual OHIO BACON FEST! Ohio Bacon Fest is focused on America's favorite delicacy, BACON! Participating vendors, including local food trucks and restaurants, will have the opportunity to serve one-of-a-kind and signature bacon creations during this one-day event. From 5PM until 10:30PM on Friday, September 8, 2017 attendees will be immersed with music, entertainment and beverages in the heart of the city at Columbus Commons.
Columbus Commons have become a staple for hosting premier events in Columbus, including the Columbus Food Truck Fest, Picnic At The Pops, and many other community affairs.
Ohio Bacon Fest is proud to be working with our media partners, (614) Magazine & CD1025.
There will be competitions with local celebrity judges along with the third annual Bacon Eating Contest.
Local restaurants are strongly encourage to participate in this great event and can do so by signing up at http://ohiolovesbacon.com/vendors/.
Children 6 and under are admitted FREE! Bring the family!
IMPORTANT: GA Ticket is valid for entry only. Bacon and beer can be purchased inside! Tickets will also be sold at the door.
4pm-5pm - *ULTIMATE VIP TICKET HOLDER ENTRANCE*
4:30PM - 5PM - *VIP TICKET HOLDER ENTRANCE*
5pm-10PM - *GA TICKET HOLDER ENTRANCE*
Any further questions about your tickets can be answered at www.primesocial.com/faq