Sales Have Ended
Registrations are closed
This site has been updated with the latest information available for the event. Registration for this event has closed. We will not allow on-site registrations.
Sales Have Ended
Registrations are closed
This site has been updated with the latest information available for the event. Registration for this event has closed. We will not allow on-site registrations.
Description

We are so excited to be invited by the Rangers and to have the opportunity to bring handbell ringers together for a unique and fun experience to showcase our instrument to a diverse audience! This site has been updated with the latest information available for the event. Registration and updates for this event has closed. We will not allow on-site registrations.
This event is sponsored by Handbell Musicians of America.

---
Repertoire
Each person is responsible for preparing and memorizing The Star-Spangled Banner in advance.

The Star-Spangled Banner | arr. John A. Behnke | AG36050
Helpful Hint: Each ringer is only responsible for two notes. Ringers will be required to carry their bells on and off of the field. No one choir/ensemble is expected to cover all of the notes.


---
Tentative Schedule
3:00 pm – Check-in/Registration Opens (North Lawn)
4:50 pm – All Ringers Returned (North Lawn)
5:00 pm – Beginning Rehearsal (North Lawn)
5:30 pm – Enter Stadium/Bio Break
6:00 pm – Check-in/Registration Closes
6:20 pm – Enter Tunnel
6:58 pm – Ring Anthem (Time Estimated)
7:04 pm – Return Equipment to Vehicles (Parking Lot)
The time for rehearsal and moving around the stadium is tight. Please arrive with soft-soled, closed-toed, closed-heeled shoes so you can get around as quickly as possible.
All ringers will be required to be checked in with our registration team before 5:00 pm. Ringers who are late or miss the rehearsal will not be allowed on the field to ring the national anthem. It is important to be on time for rehearsal as you will receive instructions and updates from the conductors and registration team.
There will be no time to return to vehicles or other portions of the stadium between the rehearsal and playing on the field.
---
Game Tickets
Everyone** will need their state-issued photo ID to retrieve their tickets from our registration/check-in (3 pm to 6 pm) or the Rangers box office (after 6:15 pm). Remember that Area 9 has everyone's ticket and field access pass. (Season ticket holders are reminded to bring their tickets with them.)
The name on the ticket must match your photo ID. Common versions of names (example: Bob for Robert or Sue for Susan) are acceptable. Middle names are also acceptable. Nicknames are not acceptable to hold any ticket. Please contact us should you need to update the name on your ticket(s).
Any requested updates must be communicated to Area 9 prior to 6:00 pm on August 9, 2016. We will be providing the Rangers with the final attendee list on August 10, 2016; this list is for security purposes.
Pro Tip: Remember that Friends & Family tickets do not have field access rights. The Rangers' box office is unable to grant you access to the field as part of this event. Field access for ringers is controlled by Area 9 and the security team at Globe Life Park.
Pro Tip: Your ticket to enter the park will only be given to you at our registration table. Friends, family, directors, or other people will not be able to retrieve your ticket for any reason.
Pro Tip: Ringers under 18 must have a parent or legal guardian accompany them on the field with their own ringer ticket.
**Tickets for children under the age of 16 will be released to their parent or legal guardian as children will not typically have a state issued ID.
---
Can't Use Your Ticket?
We currently have no individuals requesting tickets via our waiting list. All registrations with Area 9 were final upon the completion of your registration. We are unable to offer any refunds for any reason. The Rangers are also not offering refunds as all ticket sales are final.
---
Registration & Check In
We have a team of 3 well-seasoned volunteers who will be taking first-class care of every single person who will be attending the event. Remember that we have 3 volunteers at registration while there are 857 of you. Please help them (and yourself) by allowing plenty of time to check-in the day of the game, having check-in tickets ready (only Ringers will have these), and having your state/government issued ID with you (children under 16 do not need an ID; they will need a parent or legal guardian with them). We have a three-hour window to allow everyone to get their tickets and t-shirts.
There is an area just west of our registration tent and North Lawn where you can drop off people and equipment (see map below). There is very little shade in our rehearsal area. Please come prepared with what you need to stay cool while keeping in mind you will have no time to return anything to your vehicle between the rehearsal and the performance.
Ringers: Double check the schedule to make sure that you don't miss the rehearsal. We recommend being checked in by 4:50 pm. Arriving with just a few minutes until rehearsal may delay your time on North Lawn to rehearse. Checking-in or arriving after 5:00 pm may result in missing some or all of the rehearsal and losing the ability to ring from the field. Remember to bring lots of water so you stay hydrated.
Friends & Family: You are welcome to pick up your tickets anytime our registration is open (3:00 pm to 6:00 pm). Please understand that we may give preference to those holding Ringer tickets so they may attend the rehearsal. For those arriving closer to the game, we will close our registration at 6:00 pm and transfer all unclaimed tickets to the stadium box office at the first base gate by 6:15 pm where you can retrieve your tickets.
---
Event T-Shirts
We are unable to offer the ability to purchase additional t-shirts to those who did not purchase a shirt while registration was open. We were unable to get additional t-shirts at an affordable cost when the rush shipping was calculated.
---
FAQs
What should I wear to this event?

For those who did not purchase a t-shirt, please wear a solid red, white, or blue shirt. Tank tops are not allowed. Wear comfortable soft-soled, closed-toed, closed-heeled shoes as you will be standing during rehearsals and walking out on the baseball field as part of this event. Shoes with cleats, heels, or wheels are not permitted as they will cause damage to the field. You can wear any color gloves you like or not wear them at all. You are welcome to wear whatever style of pants or shorts you would like.
We are asking that all clothing be free from holes and be clean. All clothing must also be free from logos and text as this game is televised. Official Rangers shirts/polos (red, white, or blue in color) and the official event t-shirt purchased from Area 9 are allowed to be worn on the field.
You may wish to review the Rangers' Fan Code of Conduct for their clothing requirements and modesty requirements.
Pro Tip: Sunglasses will be allowed on the field. Rangers caps or visors along with solid color caps/visors will also be allowed on the field only if medically necessary. Becuase of television rights, we are unable to allow other branded hats or headwear on the field. Large hats will not be allowed because of the limited space available on the field. All hats are welcome at the afternoon rehearsal.
Is there an age limit to enter the event?
Ringers under 18 must have a parent or legal guardian accompany them on the field with their own ringer ticket.
What are my parking options getting to the event?

All attendees arriving prior to 4:00 pm are to park at Lot C at the request of the Rangers organization. Their lots don't normally open up until 4:00 pm, but the Rangers are opening this lot early just for us. Parking is $17 for each vehicle and $40 for a bus/RV/vehicle-with-trailer; all fees are paid directly to the lot attendants. They will have one courtesy cart operating prior to 4:00 pm. Pre-game courtesy carts will be for attendees and small cases only. Anyone with a large amount of equipment to drop it off needs to drop off at North Lawn before parking. We will have more information on returning your bells and cases to your vehicles on Saturday. If you park in a private lot (gray lots), there will be no courtesy cart service.
Please make sure that all cases and bells are at North Lawn for rehearsal prior to 4:50pm. Street closings will occur around 5:00 pm. No equipment drop offs will be allowed after 4:50 pm as it may restrict general traffic flow.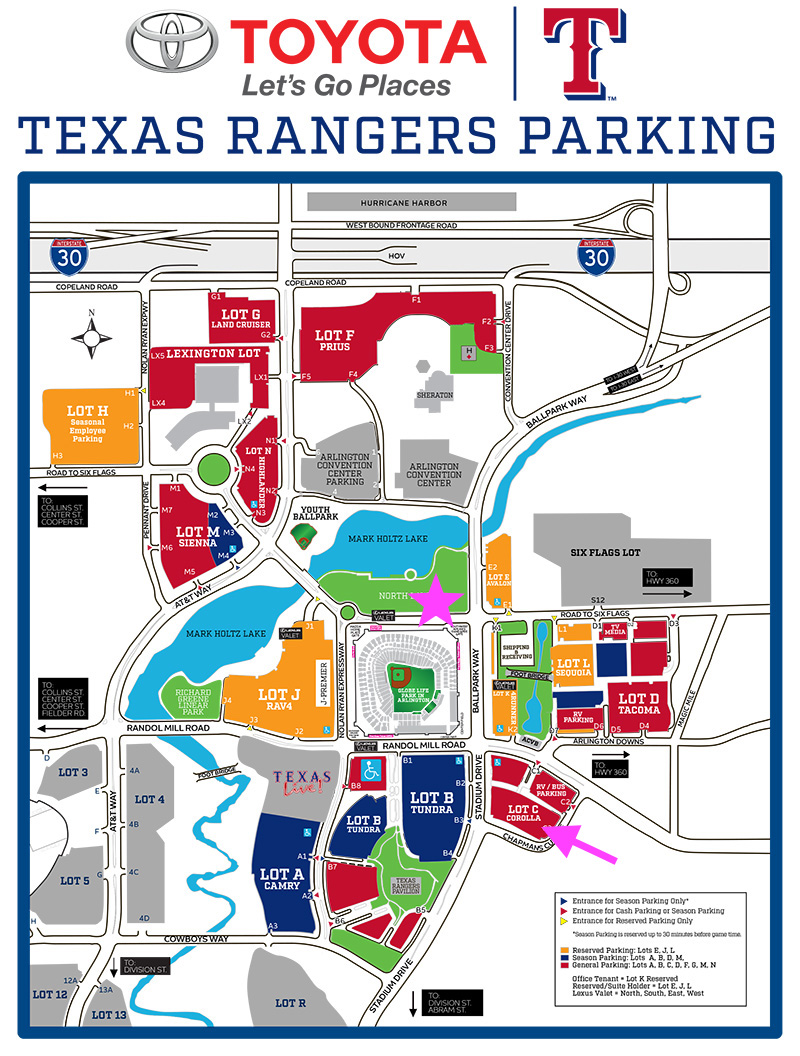 Map Key:
Registration/Drop Off is the pink star
Parking Lot C is the pink arrow
What can/can't I bring to the event?
Please bring all handbells required for your participation and cases for storage. Music stands will not be allowed on the field. Area 9 and the Texas Rangers will not be providing any equipment for this event. The Rangers have informed us that we will be required to return all instruments, cases, and other equipment to our vehicles after ringing the national anthem; no equipment or cases can be stored in the stadium during the game for security purposes. Neither the Texas Rangers nor Area 9 assumes any responsibility or liability in the event of damage to or loss of any equipment. Area 9 recommends that you have your equipment adequately insured.
Firearms or weapons of any type are strictly prohibited at this event by the venue.
What if it rains?
Some weather forecasts are calling for chances of rain on Saturday. We will ring the national anthem rain or shine. Please bring ponchos or rain coats for yourself to stay dry and a towel to dry off your handbells should they get wet. Please remember that handbells can get wet as long as you dry them off within a reasonable amount of time. If you choose not to attend the event due to rain, you are still responsible for collecting your park entry ticket(s) and t-shirt(s). Area 9 will not be mailing tickets or t-shirts to anyone not collecting these items unless postage is paid by the registrant.
Is my registration/ticket transferrable? or Can I update my registration information?
The deadline for updating or transferring any registration has passed. There will be no allowance for late update or transfer requests.

---
Area 9 and the Texas Rangers' organization reserves the right to cancel this event if the number of registrations is deemed insufficient. Area 9 reserves the right to return registrations prior to the deadline if capacity per the Texas Rangers organization is reached.