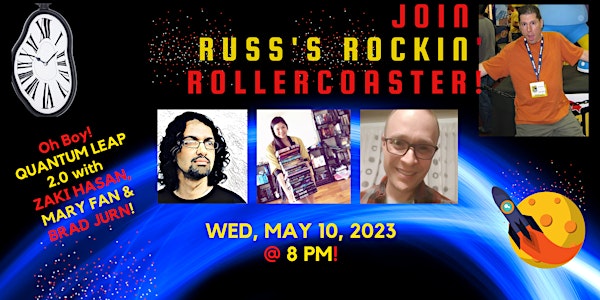 Oh Boy! Quantum Leap 2.0 with ZAKI HASAN, MARY FAN & BRAD JURN!
Host Russ Colchamiro interviews commentators Zaki Hasan, Mary Fan & Brad Jurn about the Quantum Leap reboot
Date and time
Wednesday, May 10 · 5 - 6pm PDT
About this event
ZAKI HASAN is a professor of Communication and Media Studies and member of the San Francisco Bay Area Film Critics Circle. His reviews and analyses have appeared in venues such as The San Francisco Chronicle, IGN, and Philly Weekly, and he is co-host of the MovieFilm Podcast. He has also contributed to books on the Star Wars, Planet of the Apes, and Blade Runner franchises.
MARY FAN is YA and SFF author based in Jersey City. Her books include Stronger Than a Bronze Dragon (YA steampunk fantasy), the Starswept trilogy (YA sci-fi), the Flynn Nightsider series (YA dark fantasy), the Fated Stars series (YA high fantasy), and the Jane Colt trilogy (sci-fi). Her short works have appeared in numerous anthologies, including Thrilling Adventure Yarns, Love, Murder & Mayhem, Magic at Midnight, Pangaea III: Redemption, and MINE!: A celebration of liberty and freedom for all benefitting Planned Parenthood. She is also the co-editor of Brave New Girls, a YA anthology series about girls in STEM benefitting the Society of Women Engineers scholarship fund and the editor of Bad Ass Moms, an anthology from Crazy 8 Press.
When she's not writing, she can usually be found shadow boxing, singing opera to her cat, or hanging upside-down from her pull-up bar.
BRAD JURN is a Sci-Fi and Brave New Girl's author who's story "The Microscope" was featured in Brave New Girls: Chronicles of Misses and Machines. Brad studied Broadcasting at St. Clair County College and majored in film at Grand Valley State University. He is currently writing an anthology of spec-fiction stories titled: "What Keeps Me Safe: Tales of Parental Prowess, Perseverance, and Protection."
RUSS COLCHAMIRO is the author of Crackle and Fire, Fractured Lives, and Hot Ash, the first three novels in his ongoing Sci-Fi noir series featuring hardboiled private eye Angela Hardwicke. He is currently working on the fourth Hardwicke novel.
A member of Crazy 8 Press, Mystery Writers of America, and Private Eye Writers of America, Russ is also the co-author and editor of the noir novella collection Murder in Montague Falls, editor of the Sci-Fi mystery anthology Love, Murder & Mayhem, has contributed short stories to more than fifteen anthologies, including various Hardwicke mysteries, and is the author of the Sci-Fi adventure novels Crossline, Finders Keepers, Genius de Milo, and Astropalooza.
Russ also hosts his popular Russ's Rockin' Rollercoaster podcast, interviewing a who's who of science fiction, crime, mystery, and horror authors.
He lives in Northern New Jersey with his wife, two ninjas, and black lab, Jinx, who may be an alien herself.