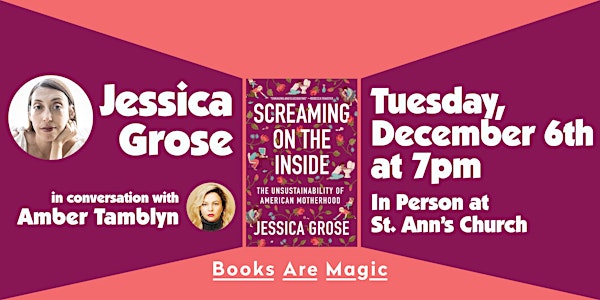 Offsite: Jessica Grose: Screaming on the Inside w/ Amber Tamblyn
"A deeply researched and highly relatable analysis of American motherhood, past and present." —Kirkus Reviews (starred review)
When and where
Location
St. Ann & the Holy Trinity Church 157 Montague Street Brooklyn, NY 11201
Refund Policy
Contact the organizer to request a refund.
About this event
Event guidelines:
All guests must be vaccinated to attend, and must provide proof of vaccination with either Excelsior Pass or vaccination card in order to enter event.
All attendees are encouraged to wear face masks.
Tickets are limited to restrict capacity.
Additional copies of the book will be available for purchase at the event.
This event will be broadcast for free online here: https://youtu.be/8oXl2sYnBeo
Home address is collected for contact tracing purposes; it will not be used otherwise.
As a reminder: If you are not feeling well, please do not come to the event; email us and we'll work it out.
If you have any questions regarding these guidelines or to request accessibility accommodations, please contact eventhelp@booksaremagic.net.
In this timely and necessary book, New York Times opinion writer Jessica Grose dismantles two hundred years of unrealistic parenting expectations and empowers today's mothers to make choices that actually serve themselves, their children, and their communities.
Close your eyes and picture the perfect mother. She is usually blonde and thin. Her roots are never showing and she installed that gleaming kitchen backsplash herself (watch her TikTok for DIY tips). She seamlessly melds work, wellness and home; and during the depths of the pandemic, she also ran remote school and woke up at 5 a.m. to meditate.
You may read this and think it's bananas; you have probably internalized much of it.
Journalist Jessica Grose sure had. After she failed to meet every one of her own expectations for her first pregnancy, she devoted her career to revealing how morally bankrupt so many of these ideas and pressures are. Now, in Screaming on the Inside, Grose weaves together her personal journey with scientific, historical, and contemporary reporting to be the voice for American parents she wishes she'd had a decade ago.
The truth is that parenting cannot follow a recipe; there's no foolproof set of rules that will result in a perfectly adjusted child. Every parent has different values, and we will have different ideas about how to pass those values along to our children. What successful parenting has in common, regardless of culture or community, is close observation of the kind of unique humans our children are. In thoughtful and revelatory chapters about pregnancy, identity, work, social media, and the crisis of the Covid-19 pandemic, Grose explains how we got to this moment, why the current state of expectations on mothers is wholly unsustainable, and how we can move towards something better.
Jessica Grose is an opinion writer at the New York Times. She is also the author of two novels, Soulmates and Sad Desk Salad. She was named one a top professional under 35 by LinkedIn in 2016, and Glamour called her a "Game Changer" in 2020 for her coverage of parenting during the pandemic. She lives in Brooklyn with her husband and daughters.
Amber Tamblyn is an Emmy, Golden Globe, and Independent Spirit Award-nominated actress, writer, and director. She is the author of seven books, including the critically acclaimed Era of Ignition: Coming of Age in a Time of Rage and Revolution. Her seventh book, Listening in the Dark, is a bestselling anthology about reclaiming the power of women's intuition. Tamblyn reviews books of poetry by women for Bust and is a contributing writer for the New York Times and The Cut, writing on themes of gender inequality and women's rage.