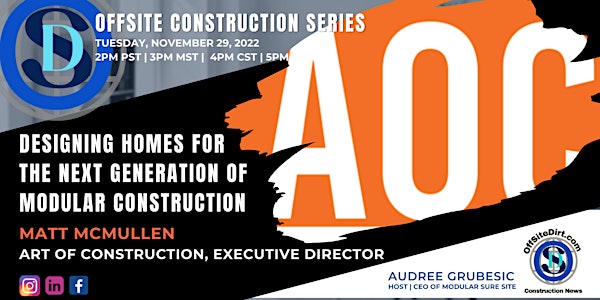 Offsite Dirt & Art of Construction, Designing Homes for the Next Generation
Offsite Dirt & Art of Construction, Designing Homes for the Next Generation
About this event
Art of Construction's very own Matt McMullen, a traditional architect that moved into the modular design and construction. Why did Art of Construction move into offsite design? Trades, Schedule and Budget are several of the benefits Matt discuss. There are many more constraints in modular or volumetrics construction from his experience. He takes boxes or module designs and stacking them like architectural JENGA. He has brought together both the offsite and onsite design. They design homes as a reflection of the client, how they live and their property site constraints.
Offsite Dirt is a media and event company that showcases all the current news, techniques, technology, influencers, and conversations in offsite construction. This form of construction encompasses volumetric, modular, prefab, panelization, and single and/or multi-trade assemblies.
Offsite Dirt has a two-pronged mission: to inform the construction industry and the general public on the intricacies of what's currently happening in the fast-growing offsite construction field, and to provide a meeting place for offsite construction professionals where information, opinions and resources can be freely exchanged.
While we will frequently highlight specific players in this industry, Offsite Dirt encourages the discussion and exploration of all offsite construction companies, products and techniques in general. We are committed to finding the best way forward for our industry, and the world, as a whole.
This event will become available at 5pm est on Tuesday, November 29, 2022 at. www.OffsiteDirt.com
www.facebook.com/offsitedirt
www.linkedin.com/offsitedirt