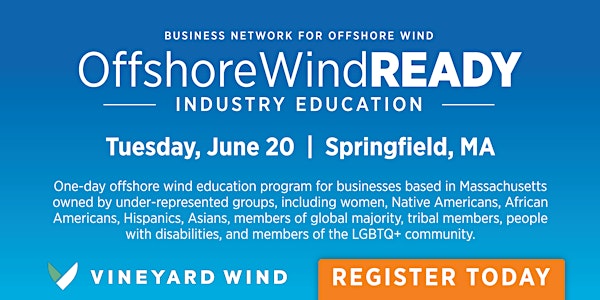 Offshore Wind Ready - Springfield
Attend a one-day offshore wind training designed for diverse Massachusetts businesses and organizations.
By Business Network for Offshore Wind
Date and time
Tuesday, June 20 · 10am - 4pm EDT
Location
University of Massachusetts, Springfield 1500 Main Street Springfield, MA 01103
About this event
As the offshore wind industry in Massachusetts continues to expand, it is crucial that we ensure equal opportunities for participation and benefits for historically marginalized communities. This includes businesses owned by groups that have been historically excluded from economic opportunities, such as Wampanoag, Narragansett, Nipmuc, Native Americans, African Americans, Cape Verdeans, Indigenous, Hispanics, Asians, women, veterans, LGBTQ individuals, people of color, and people with disabilities.
Historically, these communities have been disproportionately impacted by negative effects of energy production, such as pollution, displacement, trafficking, and exploitation. In an effort to create a more safe, inclusive, and equitable offshore wind industry that benefits all members of our communities, The Business Network for Offshore Wind and Vineyard Wind are offering a complimentary one-day offshore wind supply chain training program to Massachusetts-based businesses owned by underrepresented groups, including women, veterans, minorities, tribes, individuals with disabilities, and LGBTQ individuals.
This training will provide an overview of the expanding offshore wind industry in the United States and offer insight on how participating businesses can enter the supply chain. The offshore wind industry is well-established in Europe and the United Kingdom, and is now starting to grow in the U.S. The current federal goal is to build 45 GW of offshore wind energy by 2045, enough to power 13.5 million homes and small businesses. Massachusetts is well-positioned to play a major role in achieving this goal, which means there are many opportunities for local businesses that provide products and services related to the industry.
The first step in the process is for companies to understand how the industry works and how their business can enter the supply chain. The Business Network for Offshore Wind is offering the Offshore Wind Ready training on Tuesday June 20, 2023, from 10:00 a.m. to 4:00 p.m. at the University of Massachusetts Springfield. The goal of the training is to raise awareness about the opportunities offshore wind has to offer and provide participants with the tools and resources they need to get started. Thanks to our partnership with Vineyard Wind, this training is available for free to eligible businesses (a value of $575) and includes complimentary breakfast and lunch.
We look forward to seeing you there and supporting the growth of your business in the offshore wind industry.
Location/Directions
University of Massachusetts - Springfield Building
1500 Main Street
Springfield, MA 01115
About the organizer
The Business Network for Offshore Wind is a 501(c)3 organization dedicated to delivering education and building the U.S. offshore wind supply chain. All event and membership proceeds are invested back into the offshore wind industry.