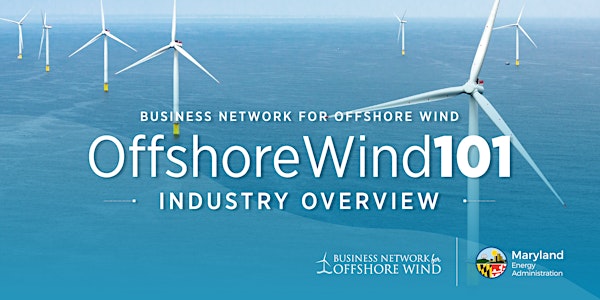 Offshore Wind 101 for Maryland Companies
Offshore Wind 101 is a half-hour webinar designed for Maryland businesses seeking an introduction to the offshore wind industry.
About this event
Date
This registration is for the Offshore Wind 101 webinar taking place on Wednesday, July 27 at 12:00 p.m. After you register, you will receive an email containing a link to the webinar.
Pricing
Free
Offshore Wind 101 for Maryland Companies
Offshore wind is the fastest growing renewable energy sector in the United States. Dozens of offshore wind projects are in the works, and with the Biden Administration's goal of installing 30 GW of offshore wind by 2030, the industry is poised to get a lot of steel into the water.
With two large wind farms in development, Maryland is poised to become a hub for this new industry. This unprecedented investment in the state's offshore wind industry means there will be a high demand for a trained offshore wind supply chain.
There are a significant number of entry points into the offshore wind market. From manufacturing to marketing, there is an urgent need for new businesses in the supply chain. Offshore Wind 101 offers your business a starting point as you explore working in this exciting new industry.
Attend Offshore Wind 101 and you will:
Gain a basic understanding of industry operations
Learn about the variety of businesses that are needed in the supply chain
Identify potential next steps for your business
Who should attend?
Any Maryland-based company or individual interested in learning more about the U.S. offshore wind industry.