A design-focused gathering hosted by your favorite power duo, Abstract and Sketch (with our friends Funsize and Real Thread)
About this Event
Looking for your (design-minded) people? 🙋‍Join us for a night of inventive drinks, delicious snacks, and conversation around all things design.
What is Offline Mode: Design Friends IRL?
We know that nothing can replace human connection, face-to-face. That's why we wanted to create a time and space to unplug from email, Slack, and your laundry list of to-dos to connect with fellow designers in real life.
Agenda
Make connections that will open doors to future opportunities, profess your 🖤for dark mode, and nerd out about design systems and processes (you know you want to).
Here's what else you can expect:
Remarks from Abstract CEO, Josh Brewer — as our industry matures, it is critical that we demystify the design process. Design is not magic. It is an observable, repeatable process that the whole company should understand.
Food/drinks like house-mixed boozy punches, local taps, well-conceived cocktails
Live screen printing, provided by our friends at Real Thread
Free custom gifts and swag [insert Oprah meme here]
Friendly faces, warm conversation, and maybe a new Twitter (or IRL) friend
Do I need a ticket?
With the city abuzz with thousands of fresh faces, we've devised a two-tiered ticket plan to best accommodate everyone.
Donor — $5
Guaranteed entry
x2 free drink tickets (all varieties available)
Abstract goodie bag
Free snacks/appetizers
Limited edition, live screen printed t-shirt, provided by our friends at Real Thread*
Priority check-in and enthusiastic high fives at the door
All proceeds from ticket sales will be donated to local, Austin based projects on DonorsChoose.org**
General Admission — Free
First come, first serve entry***
x1 free drink ticket (all varieties available)
Free snacks/appetizers
Limited edition, live screen printed t-shirt, provided by our friends at Real Thread*
* while supplies last!
**100% of the proceeds will go towards a variety of design oriented, professional development projects in Austin, TX (via DonorsChoose.org)
***reserving a Free ticket in advance doesn't guarantee a spot, but ensures you're on the first come, first serve list... we encourage everyone to arrive early!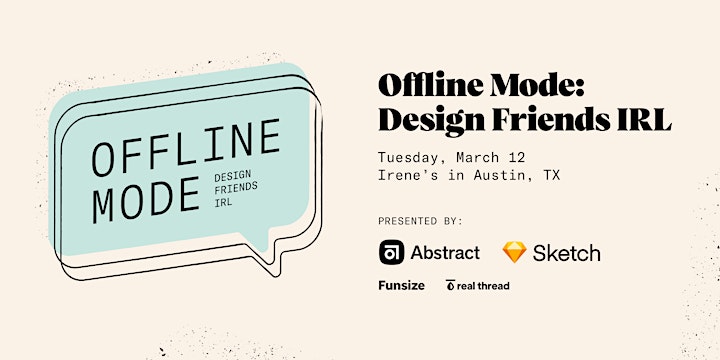 Friends
Please be sure to thank those who helped graciously support and literally sponsor this event.
Abstract — the design workflow management system that empowers design teams and stakeholders to seamlessly manage, version, and collaborate on Sketch files. With Abstract, design finally has a single source of truth.
Sketch — the definitive tool for digital design. With a powerful vector editor, intuitive UI and an expansive plugin ecosystem, Sketch has everything you need to get started on your next project.
Funsize — a digital service and product design agency that works with inspiring design and engineering teams to uncover opportunities, evolve products, bring new businesses to market, and prepare for the future. We envision and craft high-performing and industry-leading user experiences for mobile devices, web-based software, wearables, connected spaces, and beyond.
Real Thread — a custom t-shirt printer that makes ordering t-shirts easy, enjoyable and dare we say, fun! Whether for your company, brand, or passion project, the Real Thread team is there to help you create custom t-shirts you'll love wearing again and again. And again.