Official Launch/Fundraiser Event - Black Cooperative Investment Fund (BCIF)
Description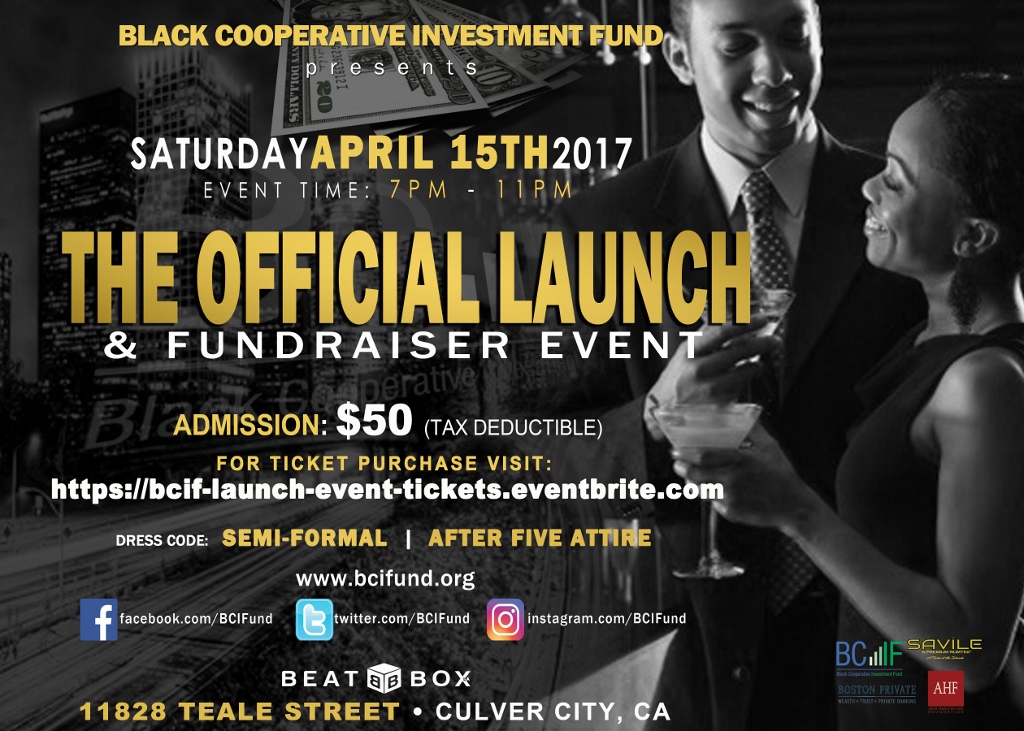 The Black Cooperative Investment Fund (BCIF) is HERE!
The Official Launch and Fundraiser Event
JOIN US FOR A FESTIVE NIGHT OF UNITY, NETWORKING, AND BLACK EMPOWERMENT! COME CELEBRATE THE LAUNCH OF BCIF - ONE OF THE MOST IMPORTANT MOVEMENTS FOR SOUTHERN CALIFORNIA'S AFRICAN AMERICAN COMMUNITY SINCE THE CIVIL RIGHTS ERA. BCIF IS CALIFORNIA'S ONLY COMMUNITY-BASED, NON-BANK CONTROLLED, MICROLENDING NONPROFIT ORGANIZATION THAT IS SPECFICALLY FOCUSED ON ECONOMIC EMPOWERMENT FOR THE BLACK COMMUNITY.
Your ticket includes:
Contribution Directly into a Community-Based Pool That Will Be Distributed in Microloans to the Black Community

Eligibility to Win One of Three Fantastic Prizes (Each with $300 Value); Must Be in Attendance to Win the Prize

Great Music

Networking with Like-Minded, "Woke" Individuals

One Plate of Eclectic Soul Food Appetizers

One Glass of Beer or Wine

Photo Booth

Joining the MOVEMENT!
Semi-Formal/After Five Attire. Event ticket price is 100% tax-deductible!
Don't miss out on the movement that is taking Southern California by storm! This event will reach capacity. Get your tickets TODAY!
Online ticket sales end at 5:00 pm the day of the event. Tickets can be purchased at the door as well.
FOR MORE INFORMATION, CONTACT BCIF AT: 310-904-6336 OR INFO@BCIFUND.ORG
#WeaponizeYourDollars
#ChangeNotCharity
#NoTalkAllAction
#TheTimeIsNow
#StayWoke