Official Launch/Fundraiser Event - Black Cooperative Investment Fund (BCIF)
Description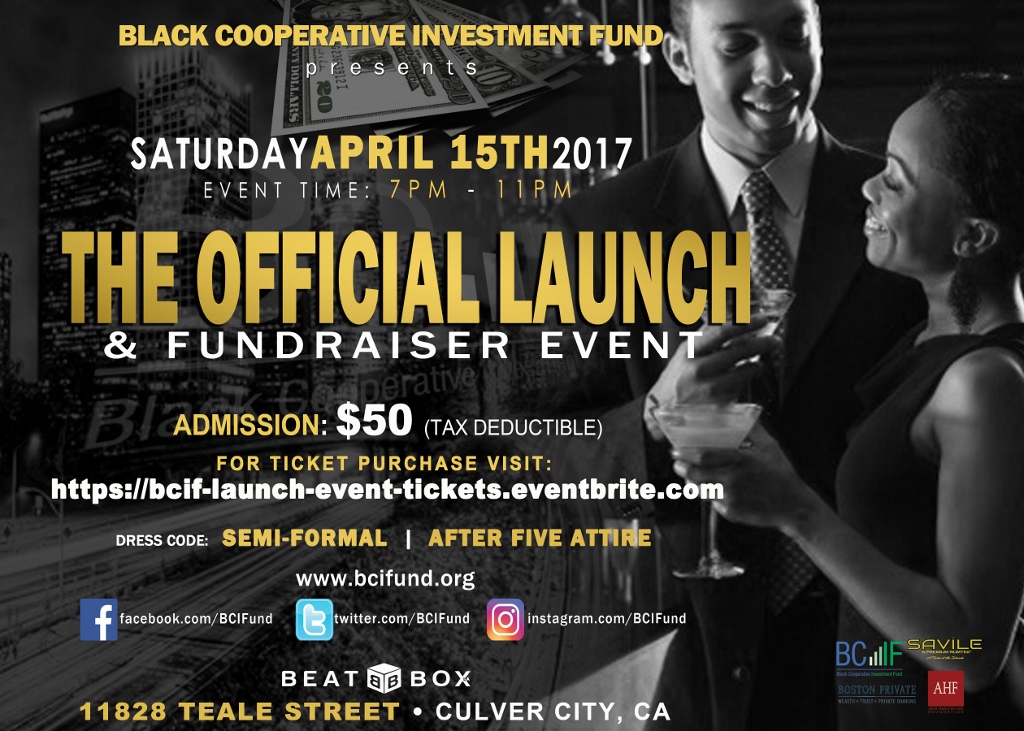 The Black Cooperative Investment Fund (BCIF) is HERE!
The Official Launch and Fundraiser Event
JOIN US FOR A FESTIVE NIGHT OF UNITY, NETWORKING, AND BLACK EMPOWERMENT! COME CELEBRATE THE LAUNCH OF BCIF - ONE OF THE MOST IMPORTANT MOVEMENTS FOR SOUTHERN CALIFORNIA'S AFRICAN AMERICAN COMMUNITY SINCE THE CIVIL RIGHTS ERA. BCIF IS CALIFORNIA'S ONLY COMMUNITY-BASED, NON-BANK CONTROLLED, MICROLENDING NONPROFIT ORGANIZATION THAT IS SPECFICALLY FOCUSED ON ECONOMIC EMPOWERMENT FOR THE BLACK COMMUNITY.
Your ticket includes:
Contribution Directly into a Community-Based Pool That Will Be Distributed in Microloans to the Black Community

Eligibility to Win One of Three Fantastic Prizes (Each with $300 Value); Must Be in Attendance to Win the Prize

Great Music

Networking with Like-Minded, "Woke" Individuals

One Plate of Eclectic Soul Food Appetizers

One Glass of Beer or Wine

Photo Booth

Joining the MOVEMENT!
Semi-Formal/After Five Attire. Event ticket price is 100% tax-deductible!
Don't miss out on the movement that is taking Southern California by storm! This event will reach capacity. Get your tickets TODAY!
Online ticket sales end at 5:00 pm the day of the event. Tickets can be purchased at the door as well.
FOR MORE INFORMATION, CONTACT BCIF AT: 310-904-6336 OR INFO@BCIFUND.ORG
#WeaponizeYourDollars
#ChangeNotCharity
#NoTalkAllAction
#TheTimeIsNow
#StayWoke
Organizer of Official Launch/Fundraiser Event - Black Cooperative Investment Fund (BCIF)
Based in Los Angeles, The Black Cooperative Investment Fund (BCIF) is a 501(c)(3) nonprofit, community-based fund that utilizes cooperative economics to build financial assets for Southern California's African American community. Founded in 2016 and officially launched in 2017, BCIF pools dollars from individuals and corporations that are passionate about economic empowerment for the African American community and distributes those funds via microloans. 
BCIF is California's only community-based, non-bank controlled, African-American focused, microlending organization. At full scale, BCIF projects that it will generate at least $1.2 million in net financial assets for every $500,000 – 2.4 times the amount of the fund (a net gain of 140 percent on the fund's investment).
BCIF's vision is to provide a dedicated, reliable, and perpetual source of capital to create assets and build wealth for, and within, African American communities.
Without intentional efforts to build and leverage its own economic capacity, the African American community is facing economic genocide! The growing American backlash toward efforts to uplift people of color and the general ineffectiveness of traditional (and/or outdated) social justice efforts require the African American community to galvanize its resources to spur its own economic growth. BCIF believes economic empowerment is the primary platform for social justice efforts as we move forward in the 21st Century. By moving the needle forward economically, we believe there will be significant strides in the political, social, and environmental justice landscapes for the Black community.
JOIN THE MOVEMENT! Learn more about BCIF at: www.bcifund.org
#WeaponizeYourDollars
#ChangeNotCharity
#NoTalkAllAction
#TheTimeIsNow
For more information, contact info@bcifund.org or 310-904-6336.
Follow us: Facebook.com/BCIFund | Twitter.com/BCIFund | Instagram.com/BCIFund