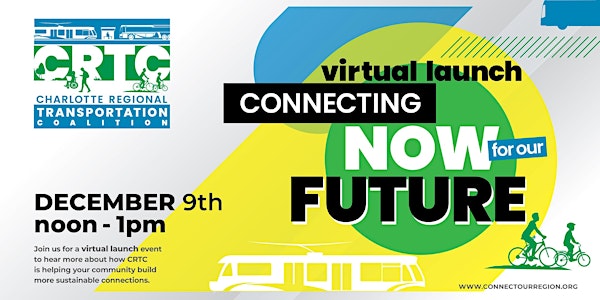 Official Launch Party - Charlotte Regional Transportation Coalition
CRTC Virtual Launch Event
About this event
Help us shape the future of transportation across the Charlotte area.
We're the Charlotte Regional Transportation Coalition. We need your help to shape and build the multifaceted transportation networks that will make this wonderful area safe, accessible, and equitable for everyone.
We envision a vibrant Charlotte region that's fully connected through investments in walking, biking, and public transit options — safe, sustainable, and equitable options that enhance the quality of life for all people and communities.
Why should you care about the future of transportation in our region? CRTC's regional focus is a recognition of transportation's role in improving community quality of life and expert recommendations that connect good transportation options to economic mobility. The organization's theme is "Connecting Now for The Future."