About this Event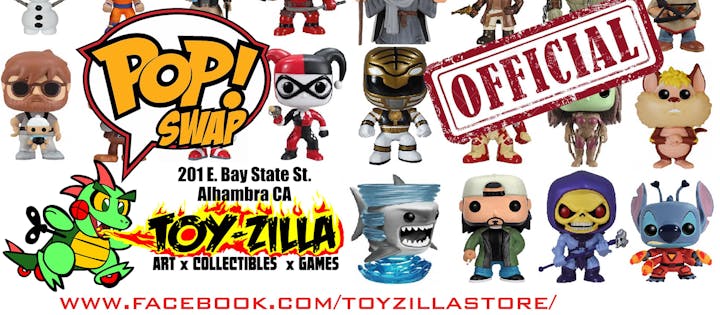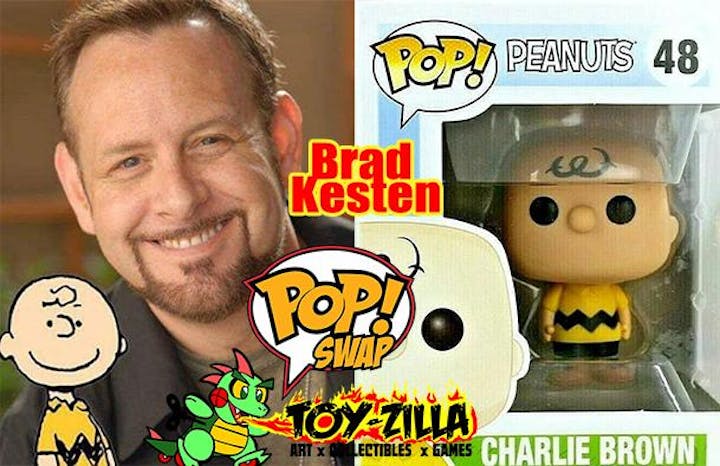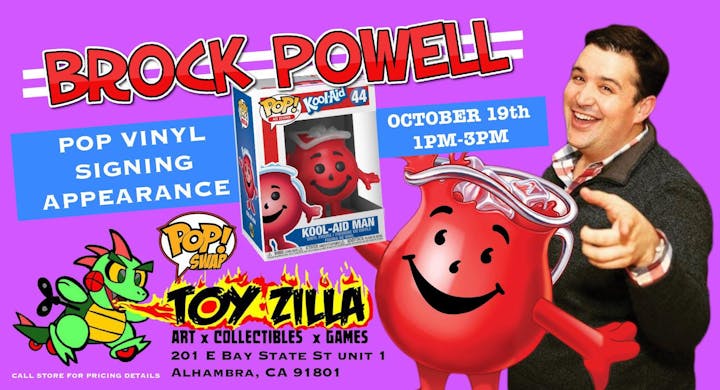 ALL NEW! Official TOY-ZILLA POP SWAP - INDOOR EVENT!
FREE EVENT! SATURDAY OCTOBER 19th
OPEN TO PUBLIC FROM 12PM TO 4PM
SCORE A POP WORTH $100 OR MORE!
GET A POP SIGNED BY SURPRISE CELEBRITY GUESTS - KOOL-AID MAN & CHARLIE BROWN!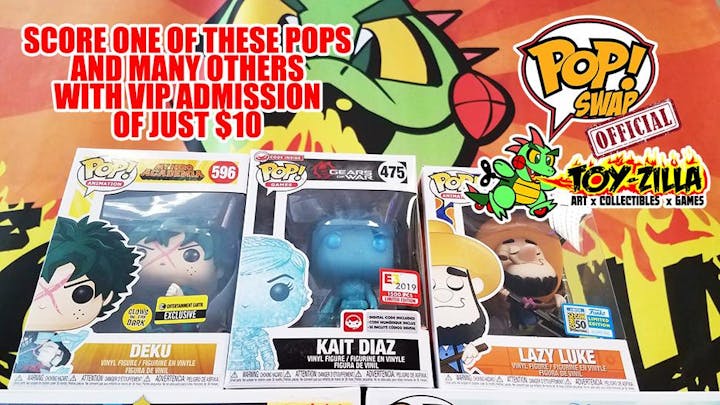 TOY-ZILLA is the ultimate toy store, now celebrating it's 2nd year in Alhambra, open 6 days a week! TOY-ZILLA is the ONLY store where you can buy, sell and trade all types of collectible toys! We have hosted panels, film screenings and have a monthly swap meet. Now Introducing:the Official TOY-ZILLA POP SWAP, a monthly event for local Funko collectors to buy, sell and trade everything Funko, hang out and discuss upcoming pop releases and swap pops in the ultimate white elephant gift exchange! We will provide tables for vendors to display and/or sell your pop collection. And get a special POP signed at the event from TWO GUESTS OF HONOR- Brad Kesten, the voice of Charlie Brown, will be signing along with OH YEAH!! Brock Powell the Kool-Aid Man. We will chat with Brock about breaking into voice acting, and how the voice of Goofy, Bill Farmer, helped him get his start and some of the out other jobs he has had along the way! Still free tickets available! And discounted autograph tix! https://www.eventbrite.com/e/official-funko-pop-swap-at-toy… #funkopop #toyzillastore #brockpowell Guests will be Voice Actors who provide the voices of popular characters featured as Funko Pop! vinyls. General admission for the event is FREE. Buy a Vendor Table if you are bringing items to sell or display. Please note house rules for selling, which will be explained below.
TYPES OF TICKETS:
GENERAL ATTENDEE - FREE! (Can Enter at 12PM)
VIP ATTENDEE EARLY BIRD (Includes 1 Mystery Pop! Can enter at 11AM) JUST $10
VENDOR (6 foot table provided. Admission for up to 2 people to Enter at 10AM) JUST $25
ADD-ON
SIGNED POP WITH AUTOGRAPH FROM MYSTERY GUEST OF HONOR – JUST $30 in advance, $40 at event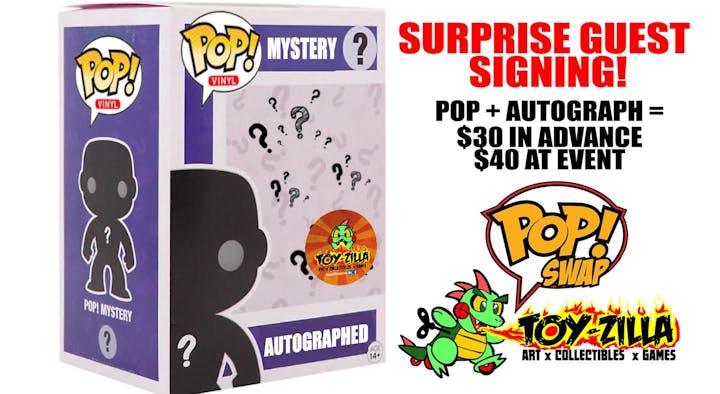 *RULES FOR SELLING
You may only "sell" merchandise if you purchase a vendor table at the event. Trading is permitted as long as no money changes hands. Selling to TOY-ZILLA is always permitted.
SCHEDULE
10AM Vendor Setup Begins
11AM VIP Early Bird Admission
12PM OPEN TO PUBLIC - FREE ADMISSION
1:30PM - POP WHITE ELEPHANT GIFT EXCHANGE *See Rules Below
1PM- 3PM - Surprise Celebrity Guest Pop Signing!!! Kool Aid Man
4PM – White Elephant Gift Exchange
5PM - EVENT ENDS
LOCATION: INDOORS AT
TOY-ZILLA, 201 E Bay State St, Alhambra, CA 91801-3903, United States
Parking is free and there should be enough for everyone.
WHAT TO BRING:
1. Funko Pop Toys - Want to share, sell or trade your stuff or just display? Either is fine! If you're a vendor bring change and bags for your customers. If you want to participate in the White Elephant Gift Exchange bring one Wrapped POP worth $10 or More. Only one Entry per person!
2. Cameras - Smile Everyone! Pictures and/or videos are a great way to capture the moment, so feel free to bring your cameras!
3. Positive Attitude - Be yourself, be cool and enjoy the company of being around fellow fans and collectors because everyone is getting together to have a great time!
* WHITE ELEPHANT GIFT EXCHANGE RULES
(Please read; if you bring a gift, you are acknowledging the rules listed below)
To participate in the White Elephant Gift Exchange all you have to do is bring a wrapped gift that is valued at $10 or more. The gift must be a Funko Pop or collectible vinyl toy, brand-new and/or an unopened item with no significant damage to its box. When selecting your White Elephant Gift, be sure to get something someone may want to steal! That's right... STEAL!
Here's how the White Elephant Gift Exchange works...
The participants of the White Elephant Gift Exchange will draw numbers starting with 1 and up to the total number of participants.
Once the order has been established, each person takes his or her turn choosing a gift.
The 1st participant opens a gift from the pile and then shows it to everyone.
The next player can either "steal" an already opened gift or be adventurous and go for a wrapped gift from the pile.
If the participant chooses to steal an unwrapped gift, the person whose gift was stolen now repeats their turn and either steals another person's gift (they cannot immediately steal back the gift that was just stolen from them) or they can unwrap a new gift.
Note – Since gifts can be stolen, the gift in your possession is not actually yours until the game is over. However, a gift is labeled as "frozen" after it has been stolen a total of 3 times. So the 4th person to have the gift in their possession owns it.
When all the gifts have been opened, the person that had the first pick will have a chance (if they want) to steal a gift that is still available. Once they have made their decision, the game is over.
Once again, all you have to do to participate in the White Elephant Gift Exchange is bring a wrapped gift that's brand-new or unopened and valued at $10 or more.