Official DC Book Launch Party for How to Become a Nonprofit Rockstar

Thursday, November 18, 2010 from 4:00 PM to 6:00 PM (EST)
Event Details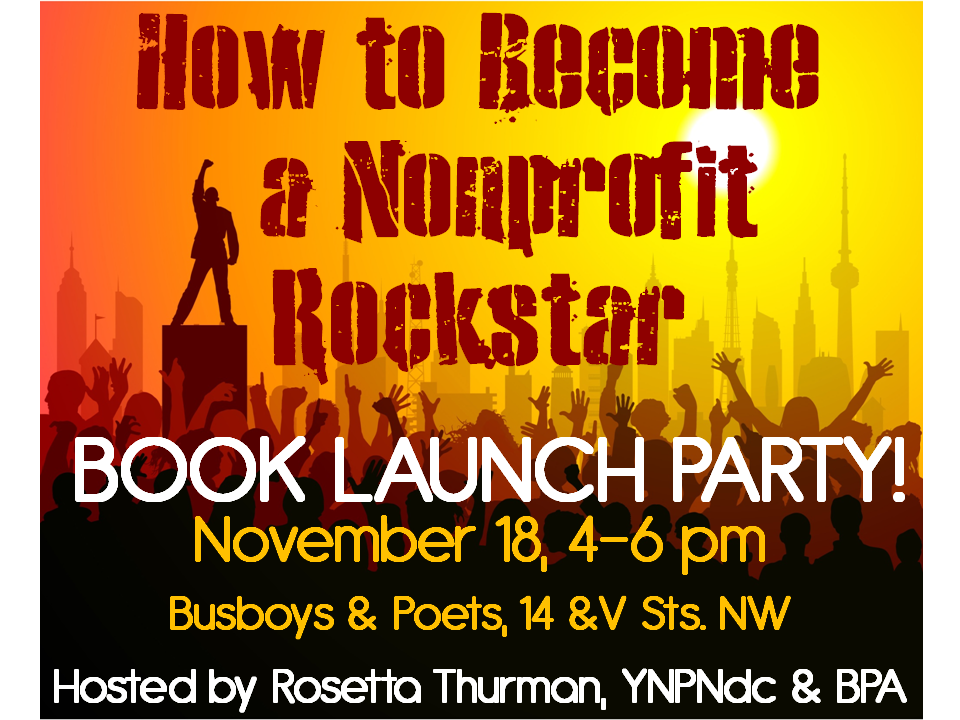 Top nonprofit blogger Rosetta Thurman has co-authored the first book of its kind to offer career advice beyond just getting your foot in the door of a nonprofit organization. How to Become a Nonprofit Rockstar: 50 Ways to Accelerate Your Career provides an accessible, do-it-yourself map of how to build a successful career in the nonprofit sector. As a result of reading this book, young professionals will be able to develop valuable nonprofit expertise, practice authentic leadership, and establish a strong personal brand.
The Party
Rosetta Thurman, YNPNdc and the Black Philanthropic Alliance (BPA) present the official DC book launch party and panel for How to Become a Nonprofit Rockstar! Join us for a discussion panel and book signing at one of our area's hottest locations: Busboys and Poets! Enjoy red velvet cake and rosé wine with us in celebration of the book's November release. 
When: Thursday, November 18, 4:00pm-6:00pm (4:00-5:30pm discussion panel, 5:30-6:00pm book signing & networking)
Where: Busboys and Poets, 2021 14th St. NW (U Street Corridor)
Metro: Busboys is located at the corner of 14th and V Street NW - 2 blocks from the Metro Green Line - U Street Cardozo stop.  
Parking: Some street parking is usually available.
RSVP required as seating will be limited.
The Panel
Rosetta will talk about the themes in the book and will be joined by a panel of young nonprofit rockstars who will share their journeys into leadership positions as well as their ideas for how to create a successful nonprofit career path. We'll be talking strategies for finding a great nonprofit job, how to move up in your career and not go broke in the process! A book signing will follow the panel and books will be available for purchase on site.
Melissa Johnson, Executive Director of the Neighborhood Funders Group 
Melissa Johnson is the Executive Director of Neighborhood Funders Group. Prior to NFG, Melissa served as the national field director for the National Committee for Responsive Philanthropy.  With over 10 years of experience in the nonprofit  sector, she has served as a philanthropic consultant helping to seed giving circles, develop models of community philanthropy, and advising foundations on issues of social justice and racial equity. Melissa's career in philanthropy began in her work with community foundations in her native state of North Carolina where she served as a program officer and other key roles in rural and urban grantmaking, funding collaboratives, and major community initiatives. Additionally, her prior work at the North Carolina Center for Nonprofits grounded her commitment to build nonprofit capacity and strengthen the sector as a whole. She holds a B.A. in English and Sociology from Wake Forest University and a Masters of Social Work from the University of North Carolina at Chapel Hill with a concentration on community practice and community development.  Melissa's voluntary service has spanned several organizations including Emerging Practitioners in Philanthropy, Guatemala Human Rights Campaign-USA, North Carolina's Youth for Tomorrow (ncyt), NCNG Emerging Leaders Network, United Way of Greensboro, YWCA of Greensboro, Resource Generation, and the University of North Carolina's School of Social Work Alumni Council.
Elisa Ortiz, State Campaigns Director, Smart Growth America
Elisa Ortiz is a young nonprofit leader who has worked in a variety of issue-based and infrastructure-focused nonprofit organizations. She currently works at Smart Growth America as the State Campaigns Director teaming with state partners to conceptualize, plan, and implement state smart growth campaigns. Her previous experience includes work on nonprofit leadership and organizational effectiveness (including co-authoring Work With Me: Intergenerational Conversations for Nonprofit Leadership, a hands-on workbook designed to help nonprofits identify and leverage the expertise of all generations in the work place), low income housing issues, women's rights, reproductive justice and other political advocacy work. In addition to her full-time job, Elisa also serves on the Leadership Council for the Young Nonprofit Professionals Network of DC and (separately) as a citizen member of the Arlington County Transportation Commission. She keeps an eye on the nonprofit sector from the bottom up at her blog Onward and Upward and tweets at @emortiz.
Elisa graduated from Utica College of Syracuse University in upstate New York with a degree in Political Science in 2002 and has lived in Arlington, VA ever since. Outside of work, she loves to read, dance, sing (particularly karaoke), and cultivates a very small container garden on her balcony.
Christian Gonzalez, Outcomes Manager, CentroNía
Christian works at CentroNía as the Outcomes Manager. In this position he teams with Program Directors throughout the organization to monitor outcome measures across all programs, improving problem-solving, program quality and integration of program delivery.

Christian is originally from California and attended the University of California, Riverside for his BA before moving on to Harvard University for his MA. Christian loves DC because he gets to meet people from all over the world and from all over the United States.  He's also becoming fond of experiencing all of the seasons, which does not happen in Southern California. In addition to working with YNPNdc, Christian is active with Big Brothers and Big Sisters of America (DC Chapter). 
Kimberly Palmer, author of Generation Earn: The Young Professionals Guide to Spending, Investing & Giving Back
Kimberly Palmer, senior editor and personal finance columnist for US News & World Report, writes the magazine column and daily blog, Alpha Consumer. She has appeared on NBC's Today show, CNBC, CNN, and local television and radio shows across the country. She has also written for the Washington Post, the Wall Street Journal, and the Asahi Shimbun/International Herald Tribune in Tokyo as a Henry Luce scholar. She holds a master's degree in public policy from the University of Chicago and a bachelor's degree in history from Amherst College. She and her husband just welcomed their first baby and moved from a rented apartment in Washington, DC into their own townhouse.
When & Where
Busboys and Poets
2021 14th St. NW
Washington, DC 20009


Thursday, November 18, 2010 from 4:00 PM to 6:00 PM (EST)
Add to my calendar
Organizer
Rosetta Thurman
Rosetta Thurman is passionate about sharing career advice and fresh ideas to educate and inspire young professionals and people of color who want to create rewarding and meaningful careers. 

Rosetta writes about nonprofits, leadership and social change on her popular blog at rosettathurman.com. She also blogs for the Chronicle of Philanthropy and the Stanford Social Innovation Review.
Rosetta is the Principal Consultant of Thurman Consulting, where she provides speaking, training, coaching and coaching services for nonprofits, foundations, associations, universities and socially responsible companies.