Description
Unwind from your day with a great OMY yoga session and see how yoga and meditation at work can transform your day. No yoga experience necessary.
DETAILS
5:30 | arrival
5:45 - 7 | yoga


About Office Meet Yoga
The workday has its rough spots, from commute slogs and deadline pressures to some serious sit-a-thons at the desk. Yoga at the office can make all the difference.
Led by Laurie Eagle, OMY is a team of seasoned yogis bringing mindfulness, desk stretch and yoga classes to hard-working creative souls when and where it really counts: at work.
P.S. BYO mat!
*By registering and voluntarily participating in any classes and related activities, I consent to the use of my image in Office Meet Yoga (OMY) editorial, commercial and promotional materials in any manner and any media throughout the world in perpetuity, and all resulting intellectual property shall be the sole property of OMY. I will permit that my image from participation in an event to be edited at the sole discretion of OMY and I will expressly release the Released Parties and any of their licensees and assignees from and against any claims, demands and actions that student may have or may hereafter have for invasion of privacy, defamation, or any other cause of action whatsoever arising out of the production, distribution, broadcast, exhibition or other forms of communication by OMY.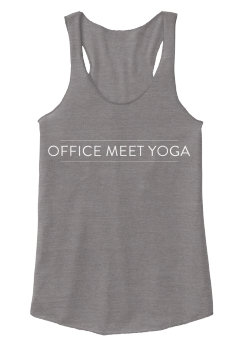 Office Meet Yoga | First Thursday
$27.99
We partnered with Teespring to create some awesome merchandise for this event. Show your support and look good wearing it. Check it out!