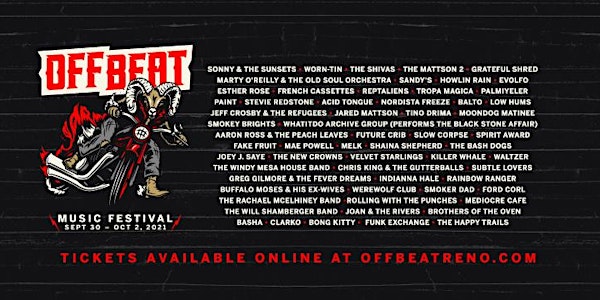 OffBeat Music Festival 2021
It's Time To Go Off The Beaten Path. Discover New Music. Discover Reno. COVID-19 protocols in place, read description prior to purchase.
When and where
Location
Reno Midtown Reno - Various Locations Reno, NV 89502
About this event
We're Back!!!!
And yes, there are STILL discoveries to be made. There are new, unknown, unheralded bands to see before they blow up and have their songs blasting in every earbud, before they're headlining every festival and are selling out every venue from Tokyo to Tulsa. There are new songs to hear, in places you've never heard them. Songs that will and notes that, played live, will have a different charged energy, that will never be heard in the same way ever again. There's the food you've never had from the chef of that one restaurant you've been meaning to try. I mean, you never even knew half these bands and restaurants and venues and artists were even here in the Biggest Little City.
That's the spirit of the OffBeat Music Festival. It's a citywide, multi-venue festival that's all about discovering the amazing things being created right here in Reno –  music, food, art and more. Performances are at a mix of venues creating a "festival crawl" where you have the option of discovering new music from a choice of 60+ performances over 3 days at different locations around the core of Reno. Go off the beaten path and make some new discoveries.
2021 Lineup Includes:
Sonny & The Sunsets
Worn-Tin
Grateful Shred
The Shivas
The Mattson 2
Marty O'Reilly & The Old Soul Orchestra
Sandy's
Howlin Rain
Evolfo
Esther Rose
French Cassettes
Reptaliens
Tropa Magica
Palmiyeler
Paint
FAQs (COVID Policies & Wristband Redemption)
PLEASE REVIEW COVID-19 POLICIES BEFORE PURCHASE
What are your COVID-19 health and safety policies this year?
 * This information will be updated often. Please check back regularly – all content is subject to change.*
ENTRY REQUIREMENTS
To protect the safety and comfort of our attendees, artists, staff and venue partners –– OffBeat will be implementing the following COVID-19 requirements for entry into our 2021 Festival:
All attendees, staff, performers, artists and volunteers aged 12 and older will need to show proof of vaccination. This must be shown to our staff when picking up your festival wristband or credentials. 
If you are unvaccinated, you must present proof of a negative PCR or Rapid Diagnostic test performed at a testing center or lab within 48 hours of attendance. For example, 3 Day ticket holders may be tested on Wednesday, September 29th or after for their negative test results to be honored on all festival days.
After proof of documentation has been provided, you will receive a "pre-check" wristband that is to stay on your wrist, like your festival wristband, for the day(s) you're attending. Please be advised that our health and safety requirements are subject to CDC guidelines and federal, state and local requirements including mask wearing, social distancing and capacity regulations. This information will continue to be updated as we get closer to the festival, so please monitor our social media channels and website for additional information. Should these protocols change, we will update the situation as soon as possible.
COVID PRE-CHECK PROCESS
OffBeat will have a convenient location where all attendees must go to have their required proof of vaccination or negative test results checked prior to receiving their festival wristbands. Location(s) for this process will be announced prior to the event on this page and through our social media channels. PLEASE NOTE: This will be a required first step for anyone who wishes to attend the festival regardless of whether they are a multi-day festival wristband holder or just wish to attend a single venue on a single day. All attendees must have "pre-check" proof prior to arrival at any of our venues. We will have additional information for this process in the coming weeks. 
MASKS
As of July 30, 2021, Face coverings are required by the State of Nevada indoors in Washoe County regardless of vaccination status. Please bring a face covering and have one with you at all times. We will have some available at our venues if you lose yours.
VACCINATION & TESTING
We strongly encourage all of our attendees to be fully vaccinated against COVID-19. In order to be fully vaccinated in time for OffBeat, you'll need to have received your last Pfizer (or single Johnson & Johnson) dose by September 15th.
If you are not yet vaccinated, either Pfizer or Johnson & Johnson vaccine can be completed in time for the OffBeat this year. To do that, please receive your first dose of Pfizer no later than September 6th or your single dose of Johnson + Johnson no later than September 15th.
If your plan is to be tested, tests must be performed by a testing center or lab and home tests will not be accepted. Therefore, if you are:
Attending all days of the festival, you must take a test no earlier than Tuesday, September 28th.
Attending starting on Friday, you must take a test no earlier than Wednesday, September 29th.
Attending on Saturday only, you must take a test no earlier than Thursday, September 30th.
Additional local information and resources for COVID-19 vaccinations can be found here.
Additional local information and resources for COVID-19 testing can be found here.
COVID-19 WARNING
COVID-19 is an extremely contagious disease that can lead to severe illness and death. According to the Centers For Disease Control and Prevention, senior citizens and guests with underlying medical conditions or are unvaccinated are especially vulnerable. There is an inherent and elevated risk of exposure to COVID-19 in any public place or place where people are present and there is no guarantee, express or implied, that those attending the festival (or any part of it) will not be exposed to COVID-19.
We have taken enhanced health and safety measures for you, our artists and staff. You must follow all posted instructions while attending OffBeat Music Festival.
By attending OffBeat Music Festival, you voluntarily assume all risks related to exposure to COVID-19
WRISTBAND REDEMPTION
* Unfortunately due to changes in our venues, Single Day wristbands will only be available depending on overall wristband sales and, if available, will go on sale closer to the festival date. SEE FAQ BELOW FOR WRISTBAND REDEMPTION INFO
Do I have to redeem my ticket to get a wristband for the event?
Yes!! Attendees must redeem their tickets for wristbands at our box office at The Virgil in Midtown Reno or at The Alpine on 4th St. The address is –
Wristband redemption hours at The Alpine (324 E. 4th St, Reno, NV 89512)
Wednesday, September 29th - 4 pm to 7 pm
Thursday September 30th – 4 pm to 7 pm
Wristband redemption hours at The Virgil (301 Vassar St, Reno, NV 89502) are:
Friday October 1st – 3 pm to 10 pm
Saturday October 2nd – 5 pm to 10 pm
For other Frequently Asked Questions, you can go to our website FAQ at: