Description
Off The Record is a Birmingham-based music meetup. The event is centered around making time to listening and appreciating music – specifically, an album in full.
It works something like this: people will arrive, grab food/drinks from the lovely bar and café, and then we'll sit back and listen to an entire album together, followed by a group chat about it – yep, a bit like a book club.
The theme and album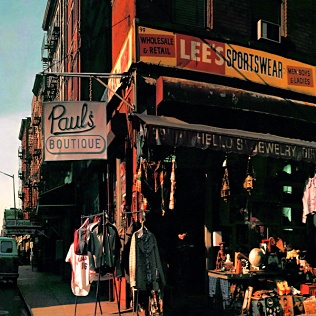 This month our theme is "Thirty" – it's our 30th event, it's the 30th of January, and we're going to listen to music with a link to the number 30. Maybe it's a 30-year-old album, an album with 30 performers, a record with 30 songs or an album released by a 30 year old. However tenuous the connection, we want to hear things related to the number 30.
The album we'll be listening to is the classic "Paul's Boutique" by the Beastie Boys, which turns 30 years old this year. The album was famed for its groundbreaking use of samples and its cult status amongst hip-hop fans despite the record label's disapproval at the time.
Our host for January is Off The Record stalwart Rob Lindsay, a "Social Media-er and adopted Brummie", who is easily distracted by musical rabbit holes. Rob is a huge fan of sampling and turntablism (as evidenced by his previous OTR hosting effort with the Avalanches back in 2017) and will play Lou Bega to anyone at any opportunity.
After the main album is done, it's over to you. If you know a song from an artist/album with a connection to the number 30, then bring it along. If it's on your phone, Spotify, YouTube or cassette Walkman (possibly), we'll get it on the loudspeakers and you can share it with the world.
---
What's this all about?
What's the point? Why not just listen to it beforehand? Well, half-listening to an album while you're grappling for a seat on the bus or pretending to work at your desk for the last hour of a Wednesday isn't the best way to make time for experiencing a record. We want to try to experiment with putting aside time to engage properly with an album, really devote half an hour or so to taking it in, then hearing what other people thought of it. And discovering new stuff that other people really love. That's the idea.
How much does it cost?
The event is free. The pub does good food so if you fancy some food while you're listening then you're in the right place. Cherry Reds has a brilliant beer selection and does teas and coffees too.