Description
Off The Record is a Birmingham-based music meetup. The event is centered around making time to listening and appreciating music – specifically, an album in full.
It works something like this: people will arrive, grab food/drinks from the lovely bar and café, and then we'll sit back and listen to an entire album together, followed by a group chat about it – yep, a bit like a book club.
The theme and album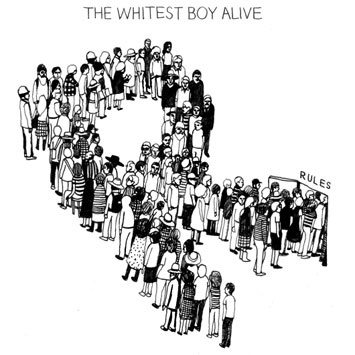 This event, we'll be following the theme A European Union – music made by a combination of artists from the continent of Europe. And apparently there was some sort of referendum recently, too.
The album we'll be listening to is The Whitest Boy Alive – "Rules", released in 2009. The band are a Norwegian/German group (hence our European Union theme) and feature singer Erlend Øye of Kings of Convenience fame. It's been described as electro-pop, indie pop and minimalism, and the band have since broken up.
This time, our session will be curated by Abdul Cabdullahi, a Norwegian who's lived in UK for about 10 years. Abdul is an architect and in addition to music, enjoy watching sports (mainly football and handball). He picked our theme because of his "appreciation of the single market Europe has as well as the ease to travel in between".
We'll be listening to this record in full on the night, but wait, there's more! After we've heard the main album, it's over to anyone else who wants to play a single song that fits our theme: A European Union. We're not too strict, but the idea is that you'll pick a song that matches the theme, introduce it to the rest of the group, and then we'll listen to it.
If you know of a band whose members include a mixture of Europeans, or indeed they sing about the European Union (surely Kraftwerk have a b-side about this), then bring along a song of theirs and share your story with the group! If it's on Spotify or you have it on a portable device, bring it along and you can tell everyone why you love the song (and the album).
What's this all about?
What's the point? Why not just listen to it beforehand? Well, half-listening to an album while you're grappling for a seat on the bus or pretending to work at your desk for the last hour of a Wednesday isn't the best way to make time for experiencing a record. We want to try to experiment with putting aside time to engage properly with an album, really devote half an hour or so to taking it in, then hearing what other people thought of it. And discovering new stuff that other people really love. That's the idea.
How much does it cost?
The event is free. The pub does good food so if you fancy some food while you're listening then you're in the right place. Cherry Reds has a brilliant beer selection and does teas and coffees too.