Off the Grid Expo

Multiple Dates
Event Details

Are you prepared for an emergency?
Most families don't even have food & water stored for the 3 days required, let alone a devastating natural disaster, a pandemic or an economic CRISIS which can last even longer. With all the overseas chaos happening, the price of gas and oil skyrocketing, it's time to get prepared.
Self-sufficiency is something most of us are unaware of. We simply know to go grocery shopping and we buy pre-made foods. It's time to learn how to preserve & grow your own foods, learn about solar generators, guns and gun safety and equip your families with the items needed for survival.
Off the Grid Expo features over 50 vendors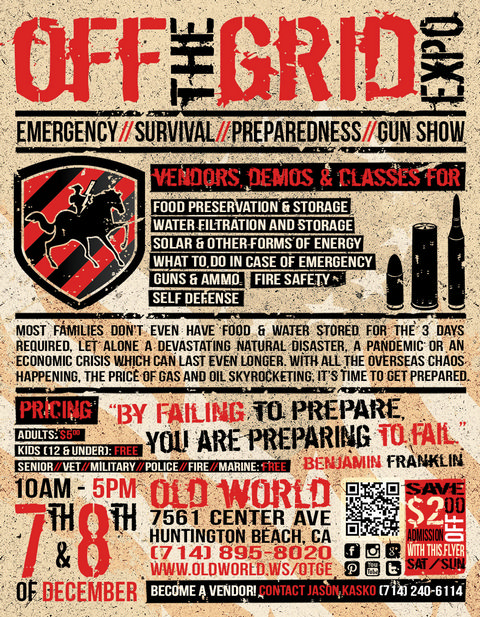 These vendors will include Solar Power, Armed Protection, Food Supply, Water Storage & Filtration and much more. Along with specialized vendors, we will have guest speakers, classes and demonstrations.
You'll learn about fire safety, CPR classes, what to do in an emergency situation for children and families, earthquake and disaster preparedness and more.
Join us for a 2 day Survival and Prepareness Expo on December 7th and 8th
Where

Old World Huntington Beach - Event Halls and Expo Center
7561 Center Ave
Huntington Beach, CA 92647


Multiple Dates
Add to my calendar
Organizer
Old World Huntington Beach