Off the Field Players Wives 12th Annual Super Bowl Fashion Show
When and where
Location
Sheraton Hotel 500 Canal St New Orleans, LA 70130
Refund Policy
Contact the organizer to request a refund.
Description

Presents
"The Ladies Behind the Mask"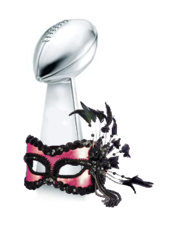 Dear Friend,
Off the Field Players' Wives Association invites you to attend "The Ladies Behind the Mask" our 12th Annual Super Bowl Fundraiser. Now in its twelfth year, Off the Field Players' Wives Association is dedicated to supporting philanthropic initiatives focused on enhancing the quality of life for families around their local communities.
This year, we're excited to showcase one of the country's top retailers, Saks Fifth Avenue at Canal Place. The 2013 Super Bowl Annual Awards Gala benefactors are 34 Ways Foundation, Inc., the victims of Hurricane Isaac and The Family Justice Center of New Orleans Domestic Violence Program. The 34 Ways Foundation is a private, non-profit, tax-exempt 501(c)(3) Foundation established in 2002 as a support organization to provide guidance and encouragement to children through Health and Wellness programs. Its mission is to help kids by promoting sports, academics and other mentoring programs that build character, teach discipline, and encourage good health and education. The foundation desires to enrich communities by providing programs in local schools, parks and recreation centers, and support groups for all youth ages 11- 18. The standing motto of 34 Ways Foundation is "Teaching, Reaching and Educating Youth 4 Life!" This goal oriented message is a simple one in that it inspires and motivates the community to encourage youth to attain their goals. 34 Ways Foundation encourages young people to establish permanent attitudes of self-reliance, confidence, self-discipline, responsibility, volunteerism, and exemplary character thereby benefiting their own lives, and more importantly, the lives of others.
Your attendance will help assure the success of the 12th Annual Super Bowl Awards Gala. Please get your tickets today!
Sincerely,
Off the Field Players' Wives Association
Phone: 1-888-362-4445 / Fax: 480-304-9301
ericka.lassiter@otfpwa.org
www.offthefieldpwa.org