OFF ROAD NIGHTS Expo, San Diego's Largest Off-Road Show.
About this Event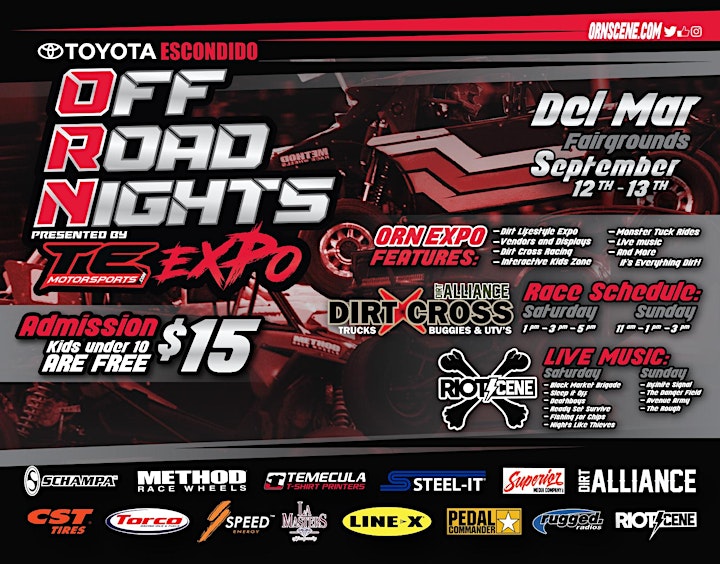 The ORN Expo Del Mar, "Where the Dirt meets the Surf." The ORN EXPO stands as the ultimate action sports-inspired Dirt Lifestyle Expo featuring industry leading vendors, exhibits and displays, along with an off road car show, live music and off road racing all weekend long. The Dirt Cross racing will feature UTVs, ATVs, Trucks, Buggies and Mini Moto racing in the wold famous Del Mar Arena.
The "al new Interactive Kids Zone will also offer carnival rides and monster truck rides to keep the kids smiling all weekend long.
The event fully cultivates the brands that represent each of its core disciplines, from off road racing and UTV's, to overlanding, Jeeps, motocross and More. There is something for the whole Family.
GATES OPEN -Saturday 9/12, 11AM-7PM - Sunday 9/13, 9AM-5PM
TICKET INFO - Each Ticket is good for Saturday "or" Sunday, You will receive a band for the day you show up at scan-in. Admission includes, Expo, Racing and Concerts. (Adults are $15 and kids under 10 are Free)