| | |
| --- | --- |
| OFF-CENTRE: The (15th) Annual SPRING DANCE CONCERT | |
Event Details
DANCE STUDIES  presents:
OFF-CENTRE: the (15th) annual SPRING DANCE CONCERT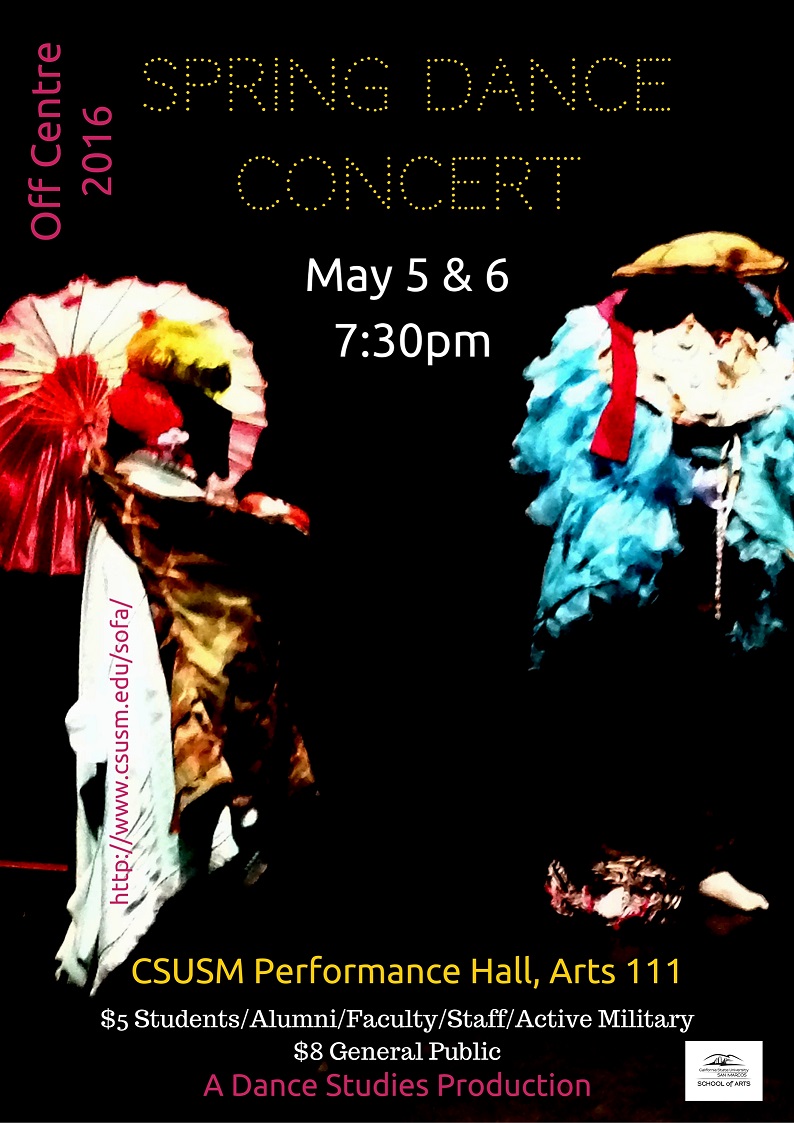 May 5 and 6, 7:30pm
PERFORMANCE HALL, ARTS 111
Tickets: $5 CSUSM students/faculty/staff/activity duty, $8 general public
(advance purchase recommended - it will sell out!)
All proceeds benefit Dance Studies at CSUSM.
THIS YEAR'S HIGHLIGHTS INCLUDE:
New Choreographic Works by Students in Choreography Workshop
Featuring original collaborative choreography by 32 students from DNCE 390 with mentoring by Anya Cloud. Drawing from diverse artistic backgrounds and identities, students will present thought-provoking and exciting new choreographic works. The choreographers and performers are particularly responding to real aspects of the current world and considering the question 'Why make this dance now?'.
The First Ever CSUSM Dance Studies Alumni work:
CSUSM alumni, directed by Kristianne Salcines, are working on a piece that is as diverse as the people in it. In this dance, we take control. We are aware of our differences. We challenge our personal images of ourselves by diving deep into our demographic categories and deconstructing them. We are going back to our roots, trying to understand where we came from and ask how might this affect our moving bodies? As individuals we have our own experiences in our body, our skin, our cultural background; how can we integrate ourselves and how can we create a new kind of people within our community of diversity. We ask ourselves, who are you wearing?
Guest Artist: Brian Gerke
12 dance minors will be performing exciting new choreography by award winning guest artist Brian Gerke. Brian's choreographic work has been featured across Europe. He served as the Director of Contemporary Dance at the National Ballet Academy of Iceland 2009-2012 and he danced for several seasons with the Iceland Dance Company; in 2014 Brian was named Best Dancer of Iceland. In addition to his own work, Brian has worked with diverse artists including Sharon Eyal, Johann Inger, John Jasperse, Donna Uchizono, Lar Lubovitch, Hilary Easton, and Jane Comfort among others. His work is known for rich imagery, intensely virtuosic physicality, and specificity. 
New Ensemble Work: UN/COVER
Created and performed by 24 students, directed by Karen Schaffman, the work delves into physical states that invite our personal lives, selves, and body into the ensemble. 
How do we cover, uncover, and recover through physical research?  And in the process, what do we discover about ourselves and one another?
Organizer
School of Arts - CSU San Marcos
OFF-CENTRE: The (15th) Annual SPRING DANCE CONCERT