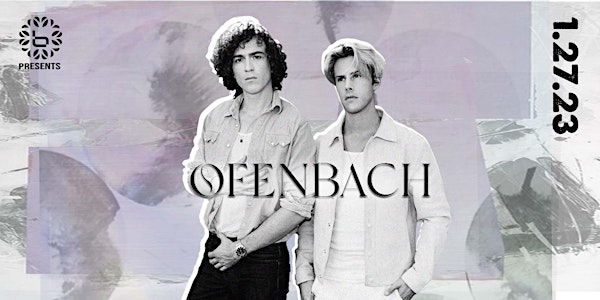 Ofenbach at Bloom 1/27
OFENBACH @ BLOOM NIGHTCLUB 1/27
When and where
Location
Bloom Nightclub 919 Fourth Avenue San Diego, CA 92101
About this event
Bloom Nightclub presents OFENBACH on Friday 1/27
VIP Table Reservations >>> 619.800.0991
Club DJs and producers Dorian Lo and César de Rummel have been active as Ofenbach since 2014, the year the Paris-based duo fell under the spell of house music. Fast learners, they've quickly translated their passion into pop successes that include the slinking French Top Ten single "Be Mine" (2016), a bopping chart-crowning remix of Nick Waterhouse's "Katchi" (2017), and the well-received Ofenbach (2019), an EP boasting two additional Top 40 hits. Their debut studio album, I, arrived in 2022.
Childhood friends Lo and de Rummel started playing music together in the 2000s, inspired at first by such blues-rooted rock acts as the Rolling Stones and White Stripes. The young musicians had a creative epiphany when they heard the productions of Robin Schulz, then set off on fusing elements of traditional rock and electronic dance music with pop appeal. After an assortment of singles and remixes released during 2014 and 2015, Ofenbach broke through in 2016 with "Be Mine," which landed within the Top Ten of several pop charts across Eurasia, including France, where it earned a diamond certification.
By the end of 2017, Miriam Makeba, James Bay, Nick Waterhouse, and Portugal. The Man were among the wide range of artists whose tracks had been remixed by the duo. Their take on Waterhouse's "Katchi" became their second chart-topper at home. Following "Party," their 2018 collaboration with Lack of Afro, Ofenbach issued their self-titled EP in early 2019, and reached number 85 on the French album chart, thanks to the Top 40 singles "Paradise" and "Rock It." Over the next couple years, they remixed tracks by Schulz and Faouzia, and added to their tally of Top 40 hits with "Head Shoulders Knees & Toes" and "Wasted Love." Their 2022 full-length I included guest appearances by R3hab, Ella Henderson, Dyo, and many others.
Instagram: https://www.instagram.com/ofenbachmusic/
Facebook: https://www.facebook.com/weareofenbach
Soundcloud: https://soundcloud.com/weareofenbach
Bloom Nightclub
919 4th Avenue, San Diego, CA 92101
www.bloomdtsd.com
www.facebook.com/bloomdtsd
www.instagram.com/bloomdtsd
www.twitter.com/bloomdtsd
info@bloomdtsd.com
(619) 800-0991
*Artist subject to change - all sales final, no refund or exchanges